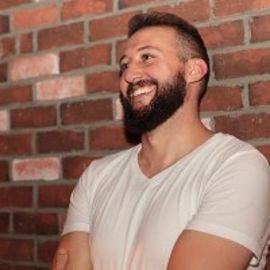 Everything Matt does is designed to catalyze growth in others. He's obsessed with  exploring the future of work and what's possible when organizations sit on the  foundation of a strong, values based culture. He imagines a world where the need for  work-life balance is a thing of the past. A world in which workplaces are intent on  creating powerful, supportive cultures so that people can focus on living a balanced life.  He lives for "A-ha!" moments and loves celebrating the growth of others.   
As a millennial and former college athlete, Matt has an exceptional ability to relate  concepts across his various life experiences, allowing him to connect with audiences  across the board. His curiosity has lead him into a diverse array of roles, from marketing  and sales, to product management and customer service, to helping companies  implement organizational governance such as self-management and Holacracy.   
In 2015, through the organization he worked for, Matt attended a Why Discovery  Workshop. After experiencing the process and seeing the impact it had on he and his  colleagues, he advocated strongly to bring it into their company culture, eventually  becoming a workshop facilitator and trainer himself.   
Matt now travels across the country, combining Simon's concepts with his own  experience to help teams and individuals discover their Why, give them tools to uncover  their true potential, and inspiring them to pursue more purposeful work. 
Videos
---
Related Speakers View all
---
Kris Boesch

Founder & CEO of Choose People, Author of "Culture W...

Adrian Gostick

Founder of The Culture Works & Bestselling Author of...

Mike Abrashoff

Former Commander of USS Benfold & Author of "It's Yo...

Peter Docker

Leadership & "Start With Why" Culture Expert

Tim Sanders

Bestselling Author, Technology Pioneer, Expert on Co...

Libby Gill

Leadership Expert, Executive Coach & Award-Winning A...

Kristen Hadeed

Founder of Student Maid

Harish Shah

The Singapore Futurist

Garrison Wynn

Comedian & Motivational Business Expert

Dr. Jackie Freiberg

Corporate Culture & Leadership Strategist, Best-Sell...

Marcus Buckingham

Peak Performance Expert, Best-Selling Author, Resear...

Mary Gormandy White

Co-Owner of MTI Business Solutions

Liene Stevens

Author, speaker, and behavioral psychology expert wh...

Nicole Yeary

Founder & CEO of Ms.Tech

Ryan Estis

Business Performance Expert & Agent of Change

Dr. Sheila Murray Bethel

Global Leadership, Change, Motivation Expert; Author...

Sonia McDonald

CEO & Founder of LeadershipHQ, Executive Coach & Aut...

Emma-Kate Swann

Vice President of Leadership & Transformation at Hea...

David Mead

Leadership & Workplace Culture Expert

Seth Mattison

Co-Founder & Chief Movement Officer of Luminate Labs...
More like Matt