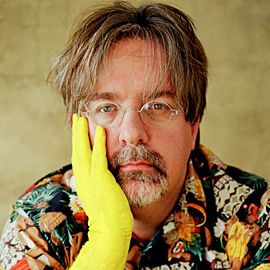 Matt Groening was born on February 15, 1954, in Portland, Oregon. He attended Evergreen State College and was the editor of the campus newspaper. He moved to LA in 1973 and sold his comic strip "Life in Hell" to LA Weekly. Producer James L. Brooks, asked Groening to create animated shorts for The Tracey Ullman Show and "The Simpsons" was born. The show has earned 10 Emmys and has run for 22 seasons.
Though he later borrowed some of his family's names for characters in The Simpsons, the real members of Groening's family bore little resemblance to their cartoon namesakes. His father, Homer Groening, was an English major and World War II vet who was a respected documentary filmmaker; mother Margaret Wiggum Groening never had blue hair.
Groening first invented a dysfunctional family whose names he mostly borrowed from his own parents and siblings. ("Bart," not a member of the real Groening family, is an anagram of "brat.") The Simpsons family premiered on The Tracey Ullman Show on April 19, 1987. Ullman's show was soon canceled, but the Simpsons were popular enough to earn their own spin-off series, which premiered in 1989. More than 20 million viewers tuned in for the 20th anniversary episode in January 2010.
In 1997, hoping to build on the success of "The Simpsons," Groening created "Futurama," a second animated series for the Fox network. It was canceled after four years, but maintained a strong cult following among fans. In 2009, Comedy Central announced that it would relaunch the series on the cable network the following year. The revived "Futurama" picked up the 2011 Emmy Award for Outstanding Animated Program.
Still an active cartoonist, Groening formed the comic book publisher Bongo Comics Group in 1994. He collects unofficial Simpsons merchandise and has grown accustomed to his dedicated fans and their sometimes unorthodox ways of showing their devotion.