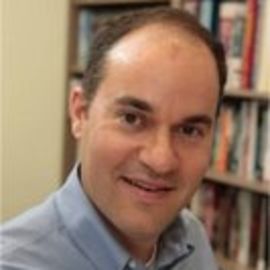 Matthew Kahn
Professor of Economics, UCLA Institute of the Environment
Matthew E. Kahn is a Professor at the UCLA Institute of the Environment, the Department of Economics, and the Department of Public Policy. He is a research associate at the National Bureau of Economic Research. Before joining the UCLA faculty in January 2007, he taught at Columbia and the Fletcher School at Tufts University. He has served as a Visiting Professor at Harvard and Stanford. He holds a Ph.D. in Economics from the University of Chicago. He is the author of Green Cities: Urban Growth and the Environment (Brookings Institution Press 2006) and the co-author of Heroes and Cowards: The Social Face of War (Princeton University Press 2009).In Fall 2010, his new book titled Climatopolis will be published by Basic Books.
Related Speakers View all
---
Doug Fine

Globe-Trotting Journalist, Award-Winning Climate Cor...

James Redford

Documentary Filmmaker, Writer & Co-Founder of The Re...

David Crane

Strategic Advisor Executive at Pegasus Capital Advis...

Daniel Esty

Hillhouse Professor of Environmental Law and Policy ...

Ian Bowles

Environmentalist & Energy Expert; Co-Founder of Wind...

Martin Keller

Director of National Renewable Energy Laboratory & P...

Kartik Chandran

Environmental Engineer & Associate Professor at Colu...

Michael Shellenberger

Founder & President of Environmental Progress; Exper...

Joseph Romm

Author, Blogger, Physicist & Climate Expert

Tristram Stuart

Environmental Campaigner, Author, Businessman

Tom Steyer

California Business Leader; Philanthropist and Clean...

Rick Ridgeway

Environmentalist, Mountaineer, Expedition Author, VP...

Harvey Wasserman

Journalist, Author, Democracy Activist & Advocate fo...

Rob Harmon

President and CEO of EnergyRM

Andrew Winston

Sustainability Expert & Author of "Green to Gold"

Bjorn Lomborg

Political Scientist & Author of "The Skeptical Envir...

Marcelo Mena Carrasco

Former Environment Minister of Chile

Greg Gershuny

Executive Director of Aspen Institute's Energy & Env...

Erin Craig

VP, Energy & Climate Practice at 3degrees; Expert on...

Bob Kopp

Climate Scientist, Geobiologist & Climate Policy Sch...
More like Matthew