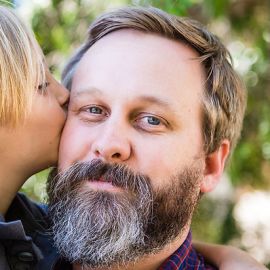 Matthew Logelin
Founder of the Liz Logelin Foundation & Best-Selling Author of "Two Kisses For Maddy: A Memoir Of Loss & Love"
Matthew Logelin is an author, blogger, public speaker, and charity founder. In 2011, he published Two Kisses for Maddy: A Memoir of Loss and Love, which was a New York Times best seller. His blog, Matt, Liz and Madeline: Life and Death, All in a 27-Hour Period, received over 40,000 hits per day at its height in 2008. Both the blog and the memoir document his grief and sudden single parenthood following the unexpected death of his wife, Liz Logelin, 27 hours after the birth of the couple's first child. A screen adaptation of the memoir starring Kevin Hart and presented by the Obamas premieres in 2021 on Netflix. In 2009, Logelin established The Liz Logelin Foundation, a non-profit organization providing financial grants to families with children who have lost a parent. In 2018, he was featured on an episode of the podcast Reply All, where the hosts attempted to help him take down viral ads featuring misrepresentations about his and his wife's story.
Logelin had begun a blog many years before his wife's death. At one time titled simply Matt Logelin.com, it was originally a place to document his photography as they traveled the world together, one of their great hobbies as a couple, as well as amusing experiences at his job. The blog later became a source of information for family and friends once his wife was admitted to the hospital for closer monitoring during her seventh month of pregnancy.
After her death, he kept blogging as an outlet for his grief and a way to document his journey as an unexpected single father to a premature infant. As news of his wife's death spread, Logelin found himself and his blog thrust into the national spotlight. His experience was profiled in People Magazine, on the daytime shows of Rachael Ray and Oprah Winfrey, and in Minneapolis and Los Angeles-area newspapers.
In 2009, Logelin left his job at Yahoo! and moved to India for two months with his daughter, where he began writing a memoir about his experience. Two Kisses for Maddy: A Memoir of Loss and Love details his courtship and marriage, as well as the moments surrounding his wife's death and the first year of his daughter's life without her mother. The book was adapted into the 2021 Netflix movie "Fatherhood" and features Kevin Hart starring as Matt. "Fatherhood" is presented by Barack and Michelle Obama's Higher Ground Productions.
Videos
---