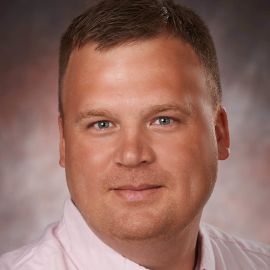 Matthew Sandusky
Child Sexual Abuse Survivor, Motivational Speaker & Founder of Peaceful Hearts Foundation
The Jerry Sandusky child sex abuse scandal was one of the most highly publicized sex abuse cases in history. During the trial, Matthew disclosed that his adopted father, Jerry Sandusky sexually abused him from the ages of 10 to 16. Matthew's disclosure interview to the police was leaked to the media. He and his family were placed in the center of a media firestorm.
Through the traumatic experiences Sandusky has experienced, he has decided to take on the role of advocate for CSA survivors. Sandusky is giving survivors a voice to raise awareness to an epidemic that still remains mostly silent. He is also showing survivors there is hope and that healing does happen.
Founder of Peaceful Hearts Foundation, along with his wife Kim, Sandusky helps promote stronger statute of limitation laws, education for children, stronger mandated reporter laws, and other legislation as the need arises. Peaceful Hearts also helps survivors of childhood sexual abuse find the support and love they need and deserve.
Sandusky is also an accomplished author, chronicling his years of abuse in his memoir, Undaunted: Breaking my silence to overcome the trauma of child sexual abuse, which sheds light on the truth about abuse and the healing journey that a victim goes through to become a survivor.
As an internationally recognized spokesperson, on the topic of child sexual abuse, Matthew is asked regularly to comment on breaking news. He has done a one-on-one interview with Oprah Winfrey, been featured in two documentaries, Happy Valley and Invisible Scars, and is regularly published in major newspapers across the country.
Sandusky attended Penn State University, studying Business. He was married in 2011 to his wife Kim. They still currently reside in State College, PA along with their five children.
Videos
---
Related Speakers View all
---
Amanda Nguyen

Founder of Rise & Author of the Sexual Assault Survi...

Adama Iwu

Senior Director, Government Relations, Visa, co-foun...

Theresa Flores

Human Trafficking Survivor, Best Selling Author, Vic...

Kori Cioca

U.S. Coast Guard Veteran, Sexual Assault Survivor & ...

Michelle Knight

Cleveland Kidnapping Victim, Survivor & Author of "F...

Andrea Pino

Women's & Civil Rights Activist; Founder of End Rape...

Keith Smith

Male Rape Survivor; Speaker on the Topic of Childhoo...

Ed Smart

Child Safety Advocate, Supporter of the AMBER Alert ...

Robin Givens

Actress, Author & Domestic Abuse Awareness Advocate

Elizabeth Smart

Abduction Survivor, News Correspondent & Child Safet...

Judge Rosemarie Aquilina

30th Circuit Court Judge for Ingham County, Michigan...

Erin Merryn

Author, Child Abuse Advocate & Activist for "Erin's ...

Maralee McLean

Child Advocate & Domestic Violence Expert

Gloria Gaynor

Grammy Award-Winning Disco Singer Known for "I Will ...

Robin Quivers

Radio Personality; Author; Actress; News Anchor & Co...

Mallory Hagan

Brand Strategist, Body Positivite Advocate, Former C...

Carissa Phelps

Social Entrepreneur, Advocate & Author of "Runaway G...

Aly Raisman

Olympic Gymnast, Gold Medalist, Captain of the "Fier...

Brenda Combs

Inspirational Educator & Survivor; Founder of Findin...

Dave Pelzer

Motivational Leader; Best-selling Author of "A Child...
More like Matthew