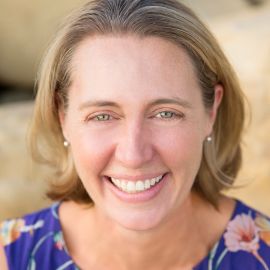 Maureen Healy is a sought-after speaker, educator and expert in children's emotional health. She writes a popular blog for "Psychology Today", which has reached millions worldwide. Healy's most recent book, "The Emotionally Healthy Child", won the Nautilus Book Award, Book Excellence and Foreward Indie in 2019.
With 15+ years of experience, Maureen has guided 1000's of parents and their children, worked with educators globally, taught in the classroom, and given keynote talks throughout North America, Europe and Asia. She's also appeared across all media outlets such as: ABC's "Midday Live" in San Francisco, YPO and Forbes, PBS's "This Emotional Life" series, and Scholastic magazine, as examples.
Healy's educational credentials include a BA and MBA from Clark University in Worcester, MA and a PhD program in Child Clinical Psychology at Fielding Graduate University in Santa Barbara, CA. Additionally, Healy has studied with happiness teachers globally, which has bolstered her joy immensely. She says, "Life is never boring," especially as she continues to learn from every experience she has and person she meets.
Speech Topics
---
THE EMOTIONALLY HEALTHY CHILD: MINDSET + HABITS
Small children have big feelings and oftentimes they don't know what to do with them. Helping children learn to identify, regulate and constructively express their feelings has become part of every teacher's job! Learning tools that you can use in the classroom (or at home) to help children stop, calm and make smarter choices, especially when emotionally challenged is essential to any child's healthy (and happier) development. Invite Maureen to learn new ideas, proven tools and get inspired along the way.
SCIENCE OF HAPPIER CHILDREN
We all want to raise and teach happier children, but the question is always how? Maureen demystifies the keys to becoming happier with a focus on compassion in the classroom (or at home) and shares the latest scientific findings as to what leads children toward and away from their deepest joy. Maureen also covers the latest findings on digital devices, trauma and how everyday habits can be developed in the classroom to help children build resilience and cultivate healthier emotions.
WELL-BEING CENTERED SCHOOLS
Schools throughout the United States (and world) are refocusing their efforts on nurturing student well-being along with academic achievement. Understanding the "best practices" of well-being centered schools reveals 5 things they do differently, which demonstrate a commitment to nurturing the "whole" child and has produced higher academic outcomes and measured pro-social behaviors. With her engaging style, Maureen also covers the latest scientific findings on violence prevention, bullying, and at-risk student populations so more schools can become centers of well-being.
Connecting with our Children: How Our Presence Impacts Our Child's Development
The power of our presence is transformative for ourselves, and for our children. Scientific research shows that when we "show up" as parents, teachers and professionals and pay attention a child becomes more resilient and feels more secure (safe) in this world. A child's ability to feel safe and secure in this world is essential for them to gain the courage, confidence and clarity to bring their unique gifts into the world. Audience members learn scripts, strategies and scientifically proven suggestions to help them "tune in" versus "tune out" in one of life's most important roles - raising our children.
Cultivating Calm during (and post) Covid-19
Emotional Health: 7 Science Based Strategies for Teachers & Parents (especially helpful in and after pandemic)
Post Pandemic Growth: The 4 Essential Takeaways for Every Student
Helping Teachers Thrive in the New Educational Normal - What must change, and Looking at the Upside
Cultivating Calm during (and post) COVID-19
Creating calmness isn't necessarily easy during a global health crisis, but it is possible. Maureen shares how students can learn emotional flexibility, and the tools needed to navigate the new educational normal in 2020 and beyond.
Audience takeaways:
? How to employ science-based strategies to help students calm (and family members too!) ? What to say in emotional moments when the "wheels come off the bus" with students ? Understanding the science of emotional flexibility and how to help children learn it ? Strategies to keep students connected and engaged even during online learning
Emotional Health for Parents during the pandemic
Parents are feeling the stress of the COVID-19 Pandemic in a multitude of ways. Maureen has been working with parents globally to help them de-stress, and use science-based strategies to move toward improved emotional health. Of course, this isn't always easy, but it is often possible. Audience takeaways: • Gain clarity on simple, yet effective tools for you and your whole family • Develop your own "parenting toolbox" for surviving 2020 • A deeper understanding of what an emotionally healthy mindset looks like during crisis (Pandemic or otherwise), and why it's pivotal in building resilience
Emotional Health in Hybrid Education (online/IRL)
Students are returning to school (online, in-person) despite feeling anxious, stressed, distracted, and uneasy about the current pandemic. And of course, teaching in a pandemic isn't always easy either, but a few key strategies and methods can help educators in their classroom keep their students calm, connected and moving toward feeling, as well as ultimately doing their best. Audience takeaways: • Discover science-based (and teacher tested) practices to optimize distance learning • Strategies to improve focus and connection for students during pandemic • Awareness of the signs of emotional distress, and when to "raise the flag" regarding a student in your classroom (in-person, virtual) • A deeper understanding of the big picture of "the emotionally healthy student" and how as teachers, we can nurture this mindset
Helping Children Bounce Back
Resilience is a skill that children can learn to develop regardless of their circumstances. If a boy or girl learns certain ideas, and practices inner-strength building strategies (home, classroom, hospital, after-school) they can build resilience. Resilience is essential to form a healthy mindset, and create positive experiences in life (academic, social, emotional, physical / well-being). Audience takeaways: • Resilience and emotional health are learnable skills • Children who learn how to build the skill of resilience are better positioned for positive outcomes • Scientific studies reveal what resilience is, and how to nurture it in children • With her engaging style, Maureen shares powerful ideas and practical strategies to help you nurture resilience in children.