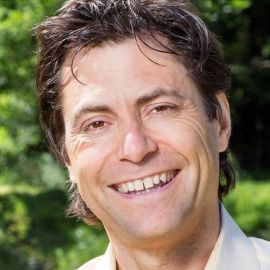 Max Tegmark is a professor of physics and AI research at MIT. He is President of the Future of Life Institute and Scientific Director of the Foundational Questions Institute. His research has ranged from cosmology to the physics of cognitive systems, and is currently focused at the interface between physics, AI and neuroscience.
He is the author of over 200 publications and the books "Life 3.0: Being Human in the Age of Artificial Intelligence" and "Our Mathematical Universe: My Quest for the Ultimate Nature of Reality". His work with the Sloan Digital Sky Survey on galaxy clustering shared the first prize in Science magazine's "Breakthrough of the Year: 2003."
A native of Stockholm, Tegmark left Sweden in 1990 after receiving his B.Sc. in Physics from the Royal Institute of Technology (he'd earned a B.A. in Economics the previous year at the Stockholm School of Economics). His first academic venture beyond Scandinavia brought him to California, where he studied physics at the University of California, Berkeley, earning his M.A. in 1992, and Ph.D. in 1994.
After four years of west coast living, Tegmark returned to Europe and accepted an appointment as a research associate with the Max-Planck-Institut für Physik in Munich. In 1996 he headed back to the U.S. as a Hubble Fellow and member of the Institute for Advanced Study, Princeton. Tegmark remained in New Jersey for a few years until an opportunity arrived to experience the urban northeast with an Assistant Professorship at the University of Pennsylvania, where he received tenure in 2003.
He extended the east coast experiment and moved north of Philly to the shores of the Charles River (Cambridge-side), arriving at MIT in September 2004. He is married to Meia-Chita Tegmark and has two sons, Philip and Alexander.
He has received numerous awards for his research, including a Packard Fellowship (2001-06), Cottrell Scholar Award (2002-07), and an NSF Career grant (2002-07), and is a Fellow of the American Physical Society. He has also been featured in dozens of science documentaries.
Speech Topics
---
Life 3.0: Being Human in the Age of Artificial Intelligence
Related Speakers View all
---
Dr. Michio Kaku

World-Renowned Futurist & Theoretical Physicist

R "Ray" Wang

Founder, Chairman & Principal Analyst at Constellati...

Marc Randolph

Entrepreneur, Netflix Co-Founder, National Best-Sell...

Mitch Lowe

Co-founding Executive of Netflix & President of RedBox

Randi Zuckerberg

CEO & Founder of Zuckerberg Media; Bestselling Autho...

Uri Levine

Entrepreneur & Co-Founder of Waze

Ray Kurzweil

Chairman of Kurzweil Technologies; Inventor; Futurist

Peter Diamandis

Founder & Executive Chairman of the XPRIZE Foundatio...

Iqram Magdon-Ismail

Co-Founder of Venmo

John Rossman

Former Amazon Executive, Author & Expert on Digital ...

Guy Kawasaki

Chief Evangelist of Canva & Executive Fellow of the ...

Brian David Johnson

Futurist & Director of Future Casting, Intel Corpora...

Beena Ammanath

Executive Director of Deloitte AI Institute & Founde...

Marshall Van Alstyne

Expert on Network Business Models; Questrom Chair Pr...

Josh Linkner

Five-Time Tech Entrepreneur; Hyper-Growth CEO; NY Ti...

Jim McKelvey

Co-Founder of Square, Serial Entrepreneur, Inventor,...

Kara Swisher

Host of Sway Podcast, Contributing Opinion Writer, N...

Ayesha Khanna

The Leading Expert on Our Intelligent Future

Amber Case

Cyborg Anthropologist & Founder of Geoloqi, Inc.

Erik Qualman

Top Digital Transformation Expert, Futurist & Bestse...
More like Max