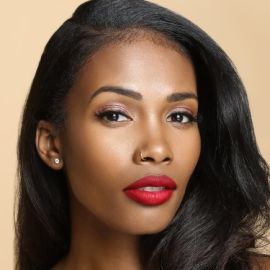 Melissa R. Butler is a Detroit native who strategically launched the start-up beauty brand The Lip Bar, turning it into a nationwide phenomenon. Butler obtained her Bachelor's Degree in Business Finance from Florida A & M University before going on to work on Wall Street as a licensed stockbroker.
Her journey from stocks and bonds to beauty is one that she describes as natural, not because she loved makeup, but because she was frustrated with the industry and therefore created a solution. She hated traditional beauty brands and their narrow conception of beauty and excessive amounts of chemicals. It was her belief in health and inclusion that lead her to make lipstick in her kitchen and develop the vegan line The Lip Bar. Her goal is to empower women everywhere of all ages, races and body types to be confident in their own skin and remember that they are enough.
Butler and The Lip Bar have been featured in Essence, Ebony, People, Elle and Cosmopolitan Magazines as well as LinkedIn, Fast Company and The Huffington Post. She has also taken The Lip Bar on "Shark Tank" and "The Bethenny Show." In 2018, she solidified her passion for disrupting beauty norms in her TED Talk on beauty and culture.
The Lip Bar is headquartered in Detroit and can be found on TheLipBar.com as well as Target stores across the nation. Butler continues to take the beauty world by storm through innovation, integrity, and passion.
Videos
---