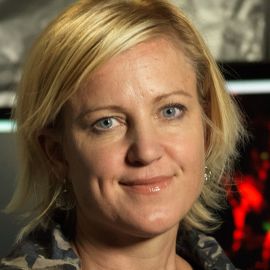 Melody Swartz
William B. Ogden Professor in the Institute for Molecular Engineering at the University of Chicago
Melody A. Swartz is the William B. Ogden Professor in the Institute for Molecular Engineering at the University of Chicago, where she holds a joint appointment in the Ben May Department for Cancer Research.
She started her independent career as an Assistant Professor at Northwestern University in the Department of Biomedical Engineering before moving to the Ecole Polytechnique Fédérale de Lausanne (EPFL), where she was promoted to Full Professor and eventually served as Director of the Institute of Bioengineering.
Trained as a bioengineer, she uses quantitative approaches in immunobiology and physiology, including biotransport and biomechanics, to develop a deeper understanding of how the lymphatic system regulates immunity in homeostasis and disease, particularly in cancer and chronic inflammation.
Her lab applies this knowledge to develop novel immunotherapeutic approaches in cancer, including lymph node-targeting vaccine approaches, as well as in vitro model systems that recapitulate relevant features of the tumor-immune interface.
Among her many honors, Swartz was named a MacArthur Fellow in 2012, and was elected to the National Academy of Arts and Sciences in 2018.
Swartz obtained her BS from Johns Hopkins and PhD from MIT, both in Chemical Engineering, and carried out postdoctoral work at Harvard Medical School and the Brigham & Women's Hospital.
Videos
---
Related Speakers View all
---
David Baker

Director of the Institute for Protein Design

Linda Partridge

Director, UCL's Institute of Healthy Ageing; Foundin...

Dr. Hendrik Poinar

Evolutionary Biologist Specializing in Ancient DNA

Dianne Newman

Microbiologist; Newman Lab at the California Institu...

Christine Seidman

Thomas W. Smith Professor of Medicine at Harvard Med...

Laurie H. Glimcher

President & CEO of Dana-Farber Cancer Institute; Can...

Michael Archer

Paleontologist Michael Archer is working to bring ba...

Mina Bissell

Iranian-American Biologist; Known for her Research o...

Jill Farrant

Professor of Molecular & Cell Biology at the Univers...

Rebecca Richards-Kortum

Inventor and Bioengineering Professor at Rice Univer...

Tyler Allen

Cancer Researcher & Ph.D. candidate at North Carolin...

Luca Turin

Writer & Biophysicist

Douglas McCauley

Professor of Marine Biology, UC Santa Barbara; Direc...

Adrienne Oda

Lead R&D and Manufacturing Engineer at Healionics

Dr. Marc Milstein

Scientist, Researcher, and Professional Speaker on H...

Maria Flynn

President & CEO / Orbis Biosciences

Jay Bradner

President at the Novartis Institutes for BioMedical ...

Dr. Tierney Thys

Marine Biologist, Educator & Filmmaker

Tracey Goldstein

Virologist, Associate Director of One Health Institu...

Kai W. Wucherpfennig, MD, PhD

Professor, Microbiology and Immunobiology, Harvard M...
More like Melody