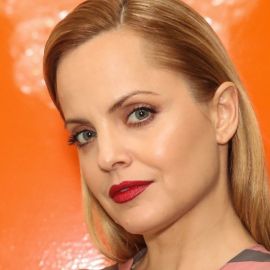 Mena Alexandra Suvari (born February 13, 1979) is an American actress, fashion designer, and model. Shortly after beginning her career as a model, she appeared in guest roles on such 1990s television shows as Boy Meets World and High Incident. She made her film debut in the drama Nowhere (1997).
Her film debut was made working with director Gregg Araki in the cult-classic Nowhere (1997) which was soon followed up by the blockbuster American Pie (1999), for which she did her own singing, and the five-time Oscar-awarded American Beauty (1999) directed by Sam Mendes, in which she was nominated for a BAFTA Award as Best Supporting Actress. Mena most recently wrapped on TV Lands pilot American Women, starring opposite Alicia Silverstone and produced by John Wells
She achieved international fame for her roles in the 1999 films American Beauty as Angela Hayes (for which she was nominated for a BAFTA Award), and as Heather in American Pie (1999). She reprised her role as Heather in American Pie 2 (2001) and American Reunion (2012). She has also appeared in The Rage: Carrie 2 (1999), Loser (2000), Sugar & Spice (2001), Spun (2002), Trauma (2004) and the HBO drama series Six Feet Under in 2004.
Suvari is a model for Lancôme cosmetics and print ads for Lancôme Paris Adaptîve and has been featured in several fashion blogs and magazines such as Vogue. She is a long-time supporter and activist for the African relief organization, the African Medical and Research Foundation. She is also active in feminist issues and is involved with charities whose cause is breast cancer and "End Violence Against Women" campaign.
Suvari married German-born cinematographer Robert Brinkmann on March 4, 2000. Brinkmann was seventeen years her senior. On April 24, 2005, Suvari filed for legal separation, citing irreconcilable differences; the divorce was finalized in May 2005.
In 2007, Suvari began dating Italian-Canadian concert promoter Simone Sestito, whom she met at the 2007 Toronto International Film Festival. Suvari and Sestito became engaged in July 2008 during a vacation to Jamaica. They were married on June 26, 2010 in a private chapel in Rome. The couple chose Rome as their wedding locale because most of Sestito's family lives near the city. On January 13, 2012, Suvari filed for divorce from Sestito in Los Angeles, citing irreconcilable differences and listing November 1, 2011 as the date of separation. The divorce was finalized in October 2012.
Videos
---