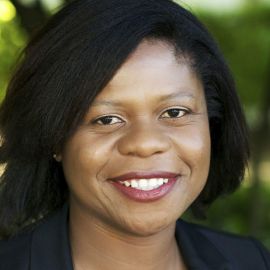 Merline Saintil is a technology and business leader with experience assisting privately held and Fortune 500 companies including Intuit, Yahoo, PayPal, Adobe, Joyent, and Change Healthcare to develop global award-winning products.
Saintil has a track record of scaling high-performing teams and leading large-scale transformation initiatives for software (B2B and B2C) companies by helping teams round out their skill sets, create alignment, and embrace the hard decisions to maximize outcomes. She strategically gets in front of emerging technologies and is a change management leader who is at her best leading in challenging environments with a calm and steady hand.
An active member of the CXO community, Saintil is a sought-after speaker and quoted in many major publications, including WSJ, Forbes, Fortune, CNET, CIO Review, and Business Insider. Saintil was recognized by Business Insider as #6 of the 22 Most Powerful Women Engineers in the World, honored as a Women of Influence 2017 by Silicon Valley Business Journal, and received a Lifetime Achievement Award by Girls in Tech.
Saintil is a STEM Advocate, and she is passionate about mentoring emerging leaders and supporting women and girls in leadership and technology.
She serves on the Board of Directors for Banner Corporation, a bank holding company in Washington state where she advises the company on cyber risk and key technology trends and is a member of the Risk Committee and Compensation Committee. She is also on the Board for Lightspeed, which supports cloud-based commerce platforms. She is a member of the National Association of Corporate Directors (NACD) and is certified in Cybersecurity Oversight by NACD and the Carnegie Mellon Software Engineering Institute. She is also a member of the Board of Directors of Nav Inc., a Kleiner Perkins late-stage portfolio company that helps small businesses build, protect, and leverage their credit data and get access to streamlined financing.
Saintil, who is originally from Haiti, holds a bachelor's degree from Florida Agricultural and Mechanical University. She also holds a master's degree in software engineering management from Carnegie Mellon.