Meryl Streep
Award-Winning Actress and Producer
Meryl Streep is considered one of the greatest actresses working today. A graduate of Vassar College and Yale Drama School, she is equally adept at performing on stage or in front of the cameras. Streep began her career on the New York stage in the late 1960s and appeared in several Broadway productions, including a 1977 revival of the Anton Chekhov drama "The Cherry Orchard."
Meryl Streep broke into films in the 1970s with a role in the drama "Julia." The next year she appeared in "The Deer Hunter" opposite Robert De Niro and Christopher Walken, for which she earned her first Academy Award nomination for Best Supporting Actress. That same year, she won her first Primetime Emmy for her role in the film "Holocaust." In 1979, her portrayal of a woman who abandons her family only to come back and fight for custody of her son in "Kramer vs. Kramer" brought Streep her first Academy Award win for Best Supporting Actress.
A chameleon on screen, Meryl Streep spent much of the 1980s submerged in a variety of roles. In "Sophie's Choice," she convincingly played a Polish woman traumatized by her experiences during the Holocaust. Streep won her second Academy Award-her first for Best Actress-for her work on this film. In "Out of Africa," she took on the role of a Danish plantation owner living in Kenya. The role earned her another Academy Award nomination.
She received an Academy Award nomination for her work in several films, including two big-screen adaptations-one of Carrie Fisher's novel "Postcards from the Edge" and the other Robert James Waller's romantic drama "The Bridges of Madison County."
In 2002, she appeared in two critically acclaimed films, "The Hours" and "Adaptation." Streep was nominated for an Academy Award for her portrayal of author Susan Orlean in "Adaptation." The following year, Streep lit up the small screen in the television adaptation of the award-winning play "Angels in America." She won her second Emmy Award for her work on the program, which had her tackling several roles.
Streep got a chance to show some of her comic skills as a villain in the political thriller "The Manchurian Candidate." Continuing to explore light-hearted fare, she starred in "Prime," a romantic comedy with Uma Thurman and Bryan Greenberg. She also played the inimitable magazine editor, Miranda Priestly, in "The Devil Wears Prada," for which she earned Academy Award, SAG and Golden Globe nominations for Best Actress. That same year, she was cast as country music singer Yolanda Johnson in Robert Altman's "A Prairie Home Companion" and continued in musical roles as Donna in the film adaptation of the ABBA musical, "Mamma Mia!"
Returning to more serious work, Streep appeared in the 2008 film "Doubt," which addresses sexual abuse in the Catholic church. She played a nun who becomes suspicious of a priest's behavior toward a young student. Streep earned her Academy Award and Golden Globe nominations, as well as a SAG award for Best Actress.
For her next project, Streep took on one of the culinary world's most beloved figures, Julia Child. She played the famous chef in the film "Julie & Julia," based on the best-selling nonfiction book of the same title. For this role she won the Golden Globe Award for Best Actress, and received an Academy Award nomination for this performance. She then starred in Nancy Meyers' romantic comedy "It's Complicated," which earned her a Golden Globe nod.
In 2011, Streep received widespread acclaim for her work in "The Iron Lady." She portrayed former British prime minister Margaret Thatcher. Streep's thoughtful and nuanced performance as Thatcher garnered her several awards, including a Golden Globe and her third Academy Award.
Streep has been married to sculptor Don Gummer since 1978. The couple has four adult children, including daughter Mamie Gummer, who has been pursuing a career as an actress.
treep reteamed with Mamma Mia director Phyllida Lloyd on The Iron Lady (2011), a British biographical film about Margaret Thatcher, which takes a look at the Prime Minister during the Falklands War and her years in retirement. Streep, who attended a session of the House of Commons to see British MPs in action in preparation for her role as Thatcher, called her casting "a daunting and exciting challenge". While the film had a mixed reception, Streep's performance gained rave reviews, earning her Best Actress awards at the Golden Globes and the BAFTAs as well as her third win at the 84th Academy Awards. Former advisers, friends and family of Thatcher criticized Streep's portrayal of her as inaccurate and biased. The following year, after Thatcher's death, Streep issued a formal statement describing Thatcher's "hard-nosed fiscal measures" and "hands-off approach to financial regulation", while praising her "personal strength and grit".
Streep reunited with Prada director David Frankel on the set of the romantic comedy-drama film Hope Springs (2012), co-starring Tommy Lee Jones and Steve Carell. Streep and Jones play a middle-aged couple, who attend a week of intensive marriage counseling to try to bring back the intimacy missing in their relationship. Reviews for the film were mostly positive, with critics praising the "mesmerizing performances [...] which offer filmgoers some grown-up laughs – and a thoughtful look at mature relationships".
In 2013, Streep starred alongside Julia Roberts and Ewan McGregor in the black comedy drama August: Osage County (2013) about a dysfunctional family that reunites into the familial house when their patriarch suddenly disappears. Based on Tracy Letts's Pulitzer Prize-winning eponymous play, Streep received positive reviews for her portrayal of the family's strong-willed and contentious matriarch, who is suffering from oral cancer and an addiction to narcotics, and was subsequently nominated for another Golden Globe, SAG, and Academy Award. At the National Board of Review Awards in 2013, Streep labeled Walt Disney as "anti-semitic" and a "gender bigot". Former actors, employees and animators who knew Disney during his lifetime rebuffed the comments as misinformed and selective. The Walt Disney Family Museum issued a statement rebuking Streep's allegations indirectly, citing, among others, Disney's contributions to Jewish charities and his published letters stating that women "have the right to expect the same chances for advancement as men". However, Disney's grandniece, Abigail Disney, wholeheartedly agreed with Streep's statements, stating that he was an "anti-Semite" and "racist" who was also an exemplary filmmaker whose work "made billions of people happy".
In 2014's The Giver, a motion picture adaptation of the young adult novel, Streep played a community leader. Set in 2048, the social science fiction film recounts the story of a post-apocalyptic community without war, pain, suffering, differences or choice, where a young boy is chosen to learn the real world. Streep was aware of the book before being offered the role by co-star and producer Jeff Bridges. Upon its release, The Giver was met with generally mixed to negative reviews from critics. Streep also had a small role in the period drama film The Homesman (2014). Set in the 1850s midwest, the film stars Hilary Swank and Tommy Lee Jones as an unusual pair who help three women driven to madness by the frontier to get back East. Streep does not appear until near the end of the film, playing a preacher's wife, who takes the women into care. The Homesman premiered at the 2014 Cannes Film Festival where it garnered largely positive reviews from critics.
Directed by Rob Marshall, Into the Woods (also 2014) is a Disney film adaptation of the Broadway musical with music and lyrics by Stephen Sondheim in which Streep plays a witch. A fantasy genre crossover inspired by the Grimm Brothers' fairy tales, it centers on a childless couple who set out to end a curse placed on them by Streep's vengeful witch. Though the film was dismissed by some critics such as Mark Kermode as "irritating naffness", Streep's performance earned her Academy Award, Golden Globe, SAG, and Critic's Choice Award nominations for Best Supporting Actress. In July 2014, it was announced that Streep would portray Maria Callas in Master Class, but the project was pulled after director Mike Nichols's death in November of the same year.
In 2015, Streep starred in Jonathan Demme's Ricki and the Flash, playing a grocery store checkout worker by day who is a rock musician at night, and who has one last chance to reconnect with her estranged family. Streep learned to play the guitar for the semi-autobiographical drama-comedy film, which again featured Streep with her eldest daughter Mamie Gummer. Reviews of the film were generally mixed. Streep's other film of this time was director Sarah Gavron's period drama Suffragette (also 2015), co-starring Carey Mulligan and Helena Bonham Carter. In the film, she played the small but pivotal role of Emmeline Pankhurst, a British political activist and leader of the British suffragette movement who helped women win the right to vote. The film received mostly positive reviews, particularly for the performances of the cast, though its distributor earned criticism that Streep's prominent position within the marketing was misleading.
In February 2016, Streep was president of the main competition jury at the 66th Berlin International Film Festival. Her only film that year was the Stephen Frears-directed comedy Florence Foster Jenkins (2016), an eponymous biopic about a blithely unaware tone-deaf opera singer who insists upon public performance. Other cast members were Hugh Grant and Simon Helberg. For her performance, Streep won the Critics' Choice Movie Award for Best Actress in a Comedy,[204] and received Academy Award, Golden Globe, SAG and BAFTA nominations.
In April 2017, Streep again worked with Rob Marshall and Emily Blunt, in Mary Poppins Returns, playing the title character's cousin Topsy.The film also reunites Streep with Colin Firth and Julie Walters. She also committed to portray Kay Graham to Tom Hanks' Ben Bradlee in Steven Spielberg's drama The Papers, which centers on The Washington Post's publication of the 1971 Pentagon Papers.
Videos
---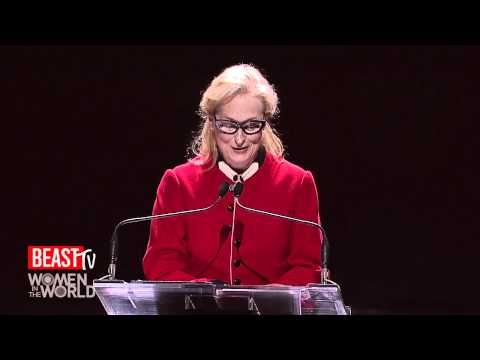 Related Speakers View all
---
Oprah Winfrey

CEO of OWN

Angelina Jolie

Actress, Director, Screenwriter, Author and Humanita...

Ellen DeGeneres

Award-Winning Comedian, TV Host, Actress & LGBTQ Act...

Viola Davis

Academy Award Winning Actress for Her Role in "Fence...

America Ferrera

Award-Winning Actress & Producer; Humanitarian

Susan Sarandon

Academy-Winning Actress & Activist

Sofia Vergara

Colombian Actress, Comedian; Best Known for Her Curr...

Brooke Shields

Actress & Mental Health Advocate

Beyonce Knowles

American Singer, Songwriter, Record Producer, Actres...

Jennifer Lawrence

Oscar-Winning Actress

Kerry Washington

Actress, Producer, and Activist

Natalie Portman

Academy Award-Winning Actress

Gwyneth Paltrow

Actress, Entrepreneur & Owner of Goop.com

Queen Latifah

Singer-Songwriter, Rapper, Actress, Television & Rec...

Ashley Judd

Actress, Activist, and Humanitarian

Lena Dunham

Filmmaker and Actress known for "Tiny Furniture" & H...

Scarlett Johansson

Actress, Model, & Singer; Known for Portraying the B...

Charlize Theron

Academy Award-Winning Actress; Best Known for "Monst...

Melissa McCarthy

Actor, Producer

Jennifer Lopez

Actress, Dancer, Recording Artist & Judge on "Americ...
More like Meryl