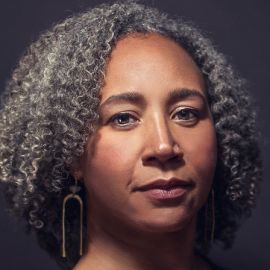 Mia is a pathfinder, community curator, and storyteller who steadily engages the leadership and wisdom of people experiencing injustice to chart new visions of American life. She has a gift for making visible and leveraging the brilliance of everyday people so that our collective gifts reach larger spheres of influence, cultural and political change, and create wellbeing for everyone. Mia's approach marks a departure from traditional institutionalized change work, which seeks solutions from select "experts," people often removed from the problems they're charged to solve.
She plays an important role in pointing to people's lived experiences to inform institutional learning and transformation. In How We Show Up, her upcoming book about how we make family and community, Mia charts swaths of community life and points us toward the promise of our collective vitality. In her work on guaranteed income as Senior Fellow of the Economic Security Project, she taps into the voices and visions of low-income people to re-imagine the American social contract. The media and storytelling fellowship she's piloting through Chanel Black aims to change the story and the storyteller when it comes to the lives of one of America's most maligned protagonists: unmarried Black mothers.
Previously, as founding Co-Director of Family Story, Mia lifted up a new national story about what makes a good family. (More love, inclusion, and connection, less marriage, biology, and law.) As Vice President of the Family Independence Initiative, she leveraged the power of data and stories to illuminate and accelerate the initiative low-income families take to improve their lives.
Believing that, taken collectively, we are the guides we most need, Mia has made an art out of inviting people into rich explorations of how we map paths forward. Her New America public dialogue series centering Black women as agents of change; her 2018 City, Arts & Lectures interview with Janet Mock, her 2016 TED conversation with the founders of Black Lives Matter; and her 2015 TED talk "The Story We Tell About Poverty Isn't True" (viewed over 1.7 million times) all draw targeted attention to the stories of people who are finding their way into leadership roles despite myriad barriers, while also highlighting the vibrant terrain of all marginalized people who are leading on the ground and solving for tomorrow.
Mia was an inaugural Ascend Fellow and faculty member with The Aspen Institute, a New America California Fellow, and Advocate-in-Residence with University of Pennsylvania's School of Social Policy and Practice. She has been published widely and speaks at conferences and universities across the country. Mia, a graduate of Oberlin College, stays "apocalypse ready" by gardening, keeping bees and chickens, studying herbalism, and occasionally practicing archery. Her children, partner, and chosen family are her home.
Videos
---
Related Speakers View all
---
Kathryn Edin

Sociologist & Bloomberg Distinguished Professor at J...

Linda Tirado

Author On Poverty and the Working Class

Erin Gruwell

Founder & Executive Director of the Freedom Writers ...

J.R. Martinez

Actor, Best-Selling Author, Motivational Speaker, Ad...

Ruby Payne

Founder of aha! Process, Inc. & Author of "A Framewo...

Anne Mosle

Executive Director of Ascend and Co-Chair of the Asp...

Nikki Giovanni

Poet, Educator & Best-Selling Author

Ron Sims

Former Deputy Secretary for the US Department of Hou...

James Bell

Founder & President of the W. Haywood Burns Institute

Dr. Mindy Thompson Fullilove

Research Psychiatrist; Professor of Urban Policy & H...

Israel Idonije

Retired Defensive End for the Chicago Bears; Entrepr...

Elizabeth Smart

Abduction Survivor, News Correspondent & Child Safet...

Rosanne Haggerty

Founder and President, Community Solutions

Lucy Marcil

Co-Founder of StreetCred & Provider of Economic Mobi...

Fania Davis

Co-founder & Director of Restorative Justice for Oak...

Olympia LePoint

Award-Winning Rocket Scientist, Self-Help Author & H...

Wes Moore

CEO of Robin Hood Foundation, Best-Selling Author & ...

Bakari Sellers

Author, Attorney, Political Commentator & Youngest A...

Ilyasah Shabazz

Daughter of Malcolm X, Professor & Author

Victoria Rowell

Classically Trained Dancer, Actress on "The Cosby Sh...
More like Mia