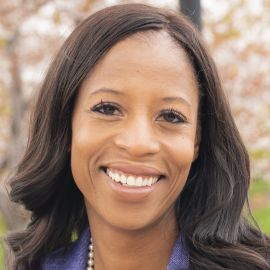 Mia Love
First Black Female Republican Congresswoman; Former Representative of the 4th Congressional District of Utah
Mia B. Love is a former Representative of the 4th Congressional District of Utah.
Love was elected to office in 2014. She is the first and only Republican black female to ever serve in The United States Congress. Love was appointed as the only freshman to serve on the Select Panel for Infant Lives, to investigate the selling of organs on the free market. She was also selected to serve on the Financial Services Committee (which handles regulation of our nation's financial institutions) Terrorism and Illicit Finance, Financial Institutions and Monetary Policy and Trade subcommittees.
While in office, she was a champion for reducing burdensome regulations and sponsoring legislation that make it easier for small and community banks to lend money to individuals and families. That bill (part of S. 2155) was signed into law in August of 2018. Rep. Love was also a leader in the push for immigration reform, and adamantly works to protect life at all stages of development, liberty and the pursuit of happiness for all. She was awarded the Marilyn Musgrave "Defender of Life Award" for her work in protecting life in Congress.
Rep Love was a headline speaker at the 2012 RNC convention in Tampa FL. Prior to her work in Congress, Rep. Love served as a city councilwoman and mayor in her hometown of Saratoga Springs, Utah.
Mia is currently a CNN correspondent and was recently appointed as a non-resident senior fellow at The United States Studies Centre at the University of Sydney.
Mia is passionate about getting Americans out of government poverty programs that are meant to trap and destroy families and promoting free market principles. She has advocated for limited government, fiscal discipline and personal responsibility.
Mia is currently a CNN correspondent and was recently appointed as a non-resident senior fellow at The United States Studies Centre at the University of Sydney. Most importantly, Mia is the daughter of legal immigrants from Haiti, a wife, a mother of three children and a proud American.
Videos
---
Related Speakers View all
---
Jason Mattera

Emmy-Nominated Journalist, Conservative Activist & A...

Trey Gowdy

Attorney, Politician & Former Federal Prosecutor

Lawrence B. Jones III

Conservative Commentator and Editor-in-Chief, Campus...

Linda Chavez

Conservative Political Commentator, Chairman of the...

Zerlina Maxwell

Political Analyst, Sexual Assault Awareness Advocate...

Anna Escobedo Cabral

Former Treasurer of the United States; Partner, The ...

Governor Susana Martinez

Former Governor of New Mexico; Nation's First Hispan...

Ken Blackwell

Conservative Columnist, Former Ohio State Treasurer ...

John Legend

EGOT Winning Musician, Producer & Philantropist

Ishmael Beah

Activist; Storyteller from Sierra Leone; Author, "A ...

Grover Norquist

Founder & President of Americans for Tax Reform, Aut...

Julianne Malveaux

Author, Economist, Founder & Thought Leader Economic...

Donna Brazile

Veteran Political Strategist, Bestselling Author, Fo...

Tiffany Cross

Co-Founder & Managing Editor of The Beat DC

Quentin James

Co-founder of The Collective PAC

Candace Owens

Political Activist, Conservative Commentator & Found...

James O'Keefe

Guerilla Journalist, Conservative Political Activist...

Ijeoma Oluo

Writer & Social Activist

Linda Thomas Greenfield

Former Ambassador and Assistant Secretary, U.S. Stat...

Elaine Welteroth

New York Times Best-Selling Author, Award-Winning Jo...
More like Mia