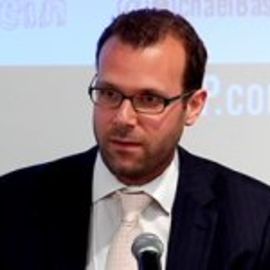 Michael A. Bassik
Senior Vice President Michael A. Bassik manages Global Strategy Group's digital practice
Michael Bassik is Managing Director and U.S. Digital Practice Chair at Burson-Marsteller, a leading global public relations and communications firm. In addition to his role at Burson-Marsteller, Michael is CEO of Proof Integrated Communications, a full-service integrated marketing and advertising firm within WPP Group.
Michael is an accomplished digital strategist with more than 11 years of experience. He has built several successful online public affairs practices and has been honored for his industry-leading work by Yahoo!, the American Association of Political Consultants and POLITICO.
Throughout his career, Michael has been a pioneer in the field of digital communications. He has blended digital strategy, public affairs and political communications to lead effective campaigns. He has worked with several high-profile clients including IBM, Google, the Democratic National Committee, John Kerry for President, Hillary Clinton for President and Obama for America.
Most recently, Michael was Senior Vice President at Global Strategy Group where he established and managed the full-service digital public affairs division. In this role, he developed and oversaw the execution of award-winning online marketing, reputation management and media relations programs for some of the firm's largest and most highly visible clients, including IBM, Google, Al Jazeera English, Oprah Magazine, Ultimate Fighting Championship (UFC) and Dan Malloy for Governor (CT).
Prior to Global Strategy Group, Michael was Chief Digital Officer for the radio network Air America Media. At Air American Media, Michael successfully led digital strategy through the worst recession in decades, growing the outlet's online audience and revenue by over 200% – including a new, profitable website and multimillion-dollar subscription podcast business. He also created Ad Progress Network, a stand-alone advertising network representing cross-media ad inventory from Air America, The New Republic, Mother Jones, The Nation and AlterNet.
Earlier in his career, he established America Online's political advertising division, the first such division among the internet portals. As the Director of Political Advertising, he executed the first political advertisements on the internet and worked with the Interactive Advertising Bureau (IAB), Yahoo!, MSN and The New York Times to author industry-wide policies regarding political and issue-advocacy advertising.
Michael has appeared on Bloomberg Radio and NPR's Morning and Weekend Editions. He was also featured in The New York Times, The Washington Post, The Wall Street Journal, The Los Angeles Times, The International Herald Tribune, BusinessWeek and Advertising Age.
Michael received his Bachelor of Arts in Political Science and Spanish from the University of Pennsylvania and his law degree from American University's Washington College of Law. He is a member of the New York State Bar and sits on the advisory board of the Personal Democracy Forum and E-Voter Institute.