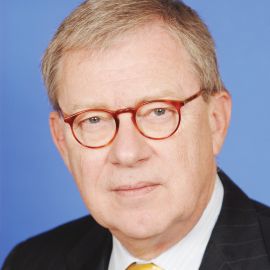 From 1974 to 1981 he was vice president of Peter D. Hart Research Associates, Inc., of Washington, a public opinion polling firm specializing in political campaigns.
Barone was born in Highland Park, Michigan, in 1944, the son of Charles Gerald Barone, a surgeon, and Alice Darcy Barone, a teacher. He was brought up in Detroit and Birmingham, Michigan. He graduated from Cranbrook School in 1962, Harvard College (magna cum laude) in 1966 and Yale Law School in 1969, and was an editor of the Harvard Crimson and the Yale Law Journal. He worked on numerous political campaigns from 1964 to 1972 in Michigan and other states and was a summer intern to Mayor Jerome P. Cavanagh of Detroit in 1967 and 1968. He served as law clerk to Judge Wade H. McCree, Jr., of the United States Court of Appeals for the Sixth Circuit from 1969 to 1971.
Barone is the principal co-author of The Almanac of American Politics, issued every other year, beginning with the 1972 edition, which was nominated for a National Book Award and Our Country: The Shaping of America From Roosevelt to Reagan (Macmillan Free Press, 1990). He has published articles in publications including the Harvard Crimson, Yale Law Journal, Washington Post, New York Times, Wall Street Journal, Los Angeles Times, Newsday, Detroit Free Press, Detroit News, New Republic, National Review, Economist, Readers's Digest, Reason, American Spectator, Times Literary Supplement and the Italian publication Libro Aperto. In 1992 he received the Carey McWilliams Award from the American Political Science Association for "a major journalistic contribution to our understanding of politics."
Barone has appeared as an analyst/commentator on various radio and television programs including The McLaughlin Group, The Today Show, CBS This Morning, Good Morning America, CBS News, NBC News, Cable News Network, C-SPAN, This Week with David Brinkley, and Meet The Press.
Programs:
National politics
Historical Politics
Presidencies
Videos
---