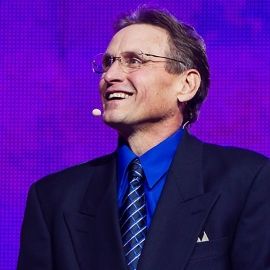 Michael Bergdahl
Former Wal-Mart Executive, Best Selling Author and Human Resources and Retail Sales Speaker
Michael Bergdahl is a full-time motivational speaker, author and writer. Bergdahl worked in Bentonville, Arkansas for Wal-Mart, as the Director of "People" for the headquarters office, where he worked directly with Sam Walton. It was Sam Walton who gave Bergdahl the nickname, "Bird Dawg"!
When Sam Walton died, Bergdahl left Wal-Mart and went to work as a member of an executive turnaround team at American Eagle Outfitters (AE). The AE leadership team turned the company around and took it public. The stock subsequently split 4 times while he was there! He then joined the turnaround team at Waste Management.
Bergdahl has appeared on CNN, CNBC, CNN FN, CBS National Radio and Bloomberg TV. He is considered an authority on Wal-Mart. The giant retailer's own Public Relations Department has referred Bergdahl to interviewers interested in gaining insights into the company. He is a columnist for VNU Publications and his articles have appeared in Retail Merchandiser, Investor's Business Daily, Convenience Store News, Progressive Grocer, Convenience Store Decisions Magazine, the Grocery Manufacturer Association's FORUM Magazine, the National Community Pharmacists Association's America's Pharmacist Magazine, American Management Association's MWorld Magazine and the National Association of Convenience Stores Magazine.
He wrote a book about his experiences working for the World's largest retailer entitled: What I Learned from Sam Walton: How to Compete and Thrive in a Wal-Mart World, which was published in the USA and Internationally by John Wiley in August 2004. His book is being translated into versions in Chinese, Thai, Korean, Russian, Japanese and Spanish. He wrote his book to help Wal-Mart's domestic and international competitors develop proactive success strategies. Interestingly, his book is sold on both the Wal-Mart and Sam's Club web sites.
He recently completed his second book entitled, Sam Walton's Golden Rules for Success: 10 Ways to Prosper Personally and Professionally in Today's Wal-Mart World, which will be published in early 2006.
Michael Bergdahl is a motivational speaker who is one part business, one part inspirational, one part storyteller and one part entertainment. He has spoken at association and business conferences domestically and internationally to groups who are interested in improving their ability to compete successfully.
He wrote his book to help Wal-Mart's domestic and international competitors compete, survive and thrive in the shadow of the retail giant. He designed the book around the acronym "P.O.C.K.E.T.S." based on the fact that to succeed in a Wal-Mart World you have to carve out a "niche" or "business pocket" in order to be successful. Each of the letters in the acronym represents a chapter in the book as follows: P. – Price, O. – Operations, C. – Culture, K. – Key Item Promotion/Product, E. – Expenses, T. – Talent, S. – Service. In each chapter he addresses some of the inside strategies and tactics utilized by Sam Walton and Wal-Mart that make competition with them so difficult. Retailers, non-retailers, manufacturers and suppliers will gain competitive knowledge of the strategies and tactics necessary to compete, survive and thrive in a Wal-Mart World!
He and his wife, Sheryl, live in Pittsburgh, PA with their two children, Heather 17 & Paul 13.
Speech Topics
Building Bench--Attract/Retain & Upgrade
What is your standard for staffing talent in your organization? How do your people compare to those of your competitors? Are you selective in choosing very bright, high potential people for your business or do you settle for whoever walks through the door and applies? Are you getting your share of "A" Players? The selection and retention of quality employees is the foundation upon which every one of your other strategies is based. Staffing should be one of your most important competitive advantages. In this speech Bergdahl will challenge your staffing paradigms. He will share with you "World Class" Staffing strategies and tactics from his experiences working for PepsiCo's Frito-Lay Division. He will review the methods of creating a "human inventory" or "bench strength" analysis for your organization to help you improve your ability to compete. In the competitive world we live and work in the companies with the best talent…WIN!
F.I.R.S.T.--Secrets of Outperforming the Pack
From his experiences working for World Class "Best Practice" Companies like Pepsico's Frito-Lay Division and Wal-Mart, Michael Bergdahl shares with you some of the secrets of their success. As a turnaround team member at American Eagle Outfitters and Waste Management, learned what it takes to turn a failing company around. He shares the secrets of outperforming the pack in this speech using the acronym F.I.R.S.T. which stands for; Focus on the Customer, Inspirational Leadership, Results through People, Succession Planning/Bench-Building & Tactics for Driving the Business. Combining energy, storytelling and humor with his practical experience working with executives like Sam Walton, Bergdahl will entertain and provide practical and actionable business ideas to those in attendance.
Sam Walton's Goden Rules for Personal & Professional Success
Do you want to achieve greater levels of success in your personal and professional life? The answer of course is everyone does. In Michael Bergdahl's forthcoming book called, Sam Walton's Golden Rules For $ucce$$: Ten Ways to Prosper Personally & Professionally in Today's Wal-Mart World, he shares the success secrets of the world's most successful entrepreneur. In this speech, he will discuss Sam Walton's self professed ten rules for success which Mr. Sam embraced as he grew Wal-Mart from a single site to a 5000 store global enterprise. Audience members will take away success strategies they can use in both their personal and professional life.
What I Learned from Sam Walton--How to Compete and Thrive in a Wal-Mart World
Horror stories abound about Wal-Mart's entry into new markets and the subsequent destruction of competitors and downtown areas. In this speech, using the acronym, " P.O.C.K.E.T.S.", which stands for Price, Operations, Culture, Key Item Promotion, Expenses, Talent and Service, Michael Bergdahl describes several effective strategies competitors can and have used to counteract the inevitable pressure created by "big box" retailers. Finding Your niche in the market or "POCKET" is the key to Your survival! The key is to avoid the temptation to compete on price. You've got to make the commitment to differentiate yourself by looking for "POCKETS"! You will learn some secrets other companies have used to compete with Wal-Mart and survive"!
Speech Topics
---
High Expectations Are the Key To Everything
HEATKTE is not about how to bring out the best in others, it's about how to bring out the best in YOU!
My life and the lives of everyone in my family changed in an instant on July 7, 2003, at three o'clock in the morning. That was the moment my wife Sheryl, to whom I've been married for 27 years, had a catastrophic stroke; it was also the moment our lives would change forever.
Sheryl's reaction to her stroke was truly inspirational, and in fact her response and my response, have become defining moments in our lives. I learned that the challenges we faced, and that my family continues to face, are not insurmountable. When we first experienced adversity, I reacted as many people do by assuming I was not equal to the challenge; I had low expectations. Fortunately, Sheryl provided the inspiration I needed when I had lost faith in my own ability to deal with the life-changing challenges in front of us. Sheryl set her goals high and she convinced me to continue to also set my goals high to insure I would continue to achieve at the highest level.
Each and every one of us deals with challenges in our lives that interfere with the achievement of our goals. Why is it that some people always seem to land on their feet, while others fall down crippled under the weight of life's obstacles? Why do you think one average person experiences great success in life, while another average person doesn't? In almost all cases both individuals started out with similar capabilities, talent, and resources. So what is the difference? Successful people expect nothing less than success; they approach problems as opportunities, they have high expectations, and they triumph! They are driven by a can do attitude, and they begin every challenge they face with the belief they will find a way to succeed in the end.
In this inspirational speech with substance, Michael Bergdahl will explain how, based on his family life and his work experiences, he overcame adversity and achieved his goals in life; he'll explain how you can do it too! In this speech he discusses ideas, affirmations, tips, and strategies based on his new book about the six HEATKTE Keys to Success:
KEY #1: VISION & PURPOSE: I Will Pursue My Goals With Passion
KEY #2: PLAN & STRATEGIZE: I Will Control My Own Destiny
KEY #3: EFFORT & EXECUTION: I Will Overcome My Fears & Obstacles
KEY #4: AFFIRM & BELIEVE: I Will Commit to Achieving Success
KEY #5: ACHIEVE & SOAR: I Will Strive to Be the Best
KEY #6:,/i> PERSEVERE & ACCOMPLISH: I Will Never Quit
High Expectations Are The Key To Everything you want to accomplish in your life! Having high expectations isn't just the key to achieving success in some things, many things, or a lot of things; it is the key to achieving success in everything you do!
Your HEATKTE success journey begins, now!
The Sam Walton Way: What Would Sam Do?
Bergdahl teaches the core strategies and leadership rules that made Sam Walton a success.
On July 2, 1962, Sam Walton opened his first Wal-Mart Store in Rogers, Arkansas and in 2012; Wal-Mart will celebrate its 50th anniversary of that accomplishment.
I was fortunate to have had the opportunity to work with, and around, Sam Walton, the founder of Wal-Mart. That's how I learned that "THE SAM WALTON WAY" IS "THE WALMART WAY!" I wrote the book, THE SAM WALTON WAY, as a tribute, and to commemorate Mr. Sam's 50 year leadership legacy and in it I've captured his Best Leadership Practices.
Mr. Sam's leadership philosophies, values, strategies, and tactics have remained the foundation of the Wal-Mart culture for fifty years! Amazingly, Sam Walton, a small town retailer from Arkansas, transformed the way business is conducted around the world with his paradigm busting leadership strategies and tactics.
To this day, Wal-Mart's leaders continue to turn to Mr. Sam's leadership philosophies as a touchstone to guide them as they operate more than 10,000 Wal-Mart Stores and Sam's Clubs around the world. Interestingly, when faced with a difficult problem today's company leaders often still find themselves asking, "What Would Sam Do?"
In this speech, THE SAM WALTON WAY: What Would Sam Do?, based on my first hand observations and insights I gained from others who worked with Mr. Sam, I will discuss his best leadership practices that made Wal-Mart the World's Largest Company.
Wouldn't it be great to learn Sam Walton's success strategies? Now you can! In this speech, Michael Bergdahl will review Sam Walton's best practices, his 7 core strategies, and his 10 self-professed leadership rules. You might say, this speech is "one stop shopping" for everything you ever wanted to know about The Sam Walton Way!
Picking Wal-Mart's "POCKETS
Based on his first book, What I learned from Sam Walton: How to Compete & Thrive in a Wal-Mart World, this speech reveals "The Wal-Mart Way" through a discussion of the 7 key strategies of Wal-Mart.
Using storytelling, humor, inspiration and his real world experience working with Sam Walton as examples, Bergdahl unveils those seven strategies. He uses the acronym, "P.O.C.K.E.T.S.", which stands for Price, Operations, Culture, Key Item Promotion, Expenses, Talent and Service. Bergdahl believes, "Finding your unique niche in the marketplace or "POCKETS" is the key to success no matter what market or business you are competing in!"
In this speech he explains the key to each of Wal-Mart's seven strategies, and the Best Practices, that have made Wal-Mart the World's Largest Company. More importantly, Bergdahl will discuss specific strategies that audience members can take away from "The Wal-Mart Way" to make their businesses even more successful.
Conference participants will learn techniques other companies have used successfully to compete, survive and thrive in a Wal-Mart World! Bergdahl also reviews a checklist of success strategies and tactics audience members can implement in their businesses immediately upon return.
Whether your conference participants love Wal-Mart, or hate Wal-Mart, if they are in business anywhere around the globe, they will benefit by "Picking Wal-Marts POCKETS!" Note: Bergdahl will tailor his remarks to support your brand and conference theme!
The 10 Rules of Sam Walton
In Michael Bergdahl's book called, The 10 Rules of Sam Walton: Success Secrets for Remarkable Results, he unveils the tactics of the world's most successful entrepreneur.
In this speech, he discusses Sam Walton's 10 self-professed rules for success, which Walton embraced as he grew Wal-Mart from a single store to a 7000+ store global enterprise. Did you know that when he died Sam Walton was the world's richest man? He was worth US$100 billion which at the time was almost double the wealth of Bill Gates! Conference participants really want to learn the success secrets followed by the world's wealthiest man and now they can!
Based on his second book, The 10 Rules of Sam Walton, Michael Bergdahl will discuss "The Sam Walton Way" through a discussion of the tactics behind Sam Walton's self-professed rules for entrepreneurial success. Sam Walton credited these 10 rules as the reason he became the World's Richest Man.
Your conference participants will gain actionable ideas, from the tactics followed by Sam Walton, which they can adapt, and utilize in their businesses and personal lives. In this speech, Bergdahl uses great stories only an insider can tell about Sam Walton's unique brand of leadership!
Growing Your Business "The Sam Walton & Wal-Mart Way"
When he died, Sam Walton was the wealthiest man in the world with an estate worth over US $100 billion dollars! How did he achieve such phenomenal success in just over 30 years? How does Wal-Mart focus its 2 million employees, 7100 stores and 120 massive distribution centers? What were Sam Walton's secrets for growing Wal-Mart to become the world's largest company?
Wal-Mart's successful growth is a result of specific strategies and tactics put in place long ago by the company founder, Sam Walton. Sam Walton had a vision, a specific game plan, and rules upon which he focused his team to grow his business. In this speech Bergdahl discusses the success strategies and tactics of "The Sam Walton and Wal-Mart Way."
Audience members will learn the success secrets of the world's most successful merchant, Sam Walton, and the best practices of the world's largest company, Wal-Mart. The focus of this program is to help audience members transfer the knowledge gained into action to grow their own businesses, through innovation, risk taking, and thinking outside the box "The Sam Walton & Wal-Mart Way."
Change/Challenge/Choice
ompetition with manufacturers from countries like China is brutal. The manufacturing world as you've known it has changed and you and your team must be willing to Change also, if you intend to survive. The Challenge for manufacturers of products is what to do to re-level the playing field. In order to succeed you and your team must make the Choice do what's necessary to reinvent your business, and the way people think, to remain successful.
The fact is that competition is more difficult than ever before. Those who are used to simply picking up the fruit of their labors right off the ground or from the branches within closest reach are finding that success today requires that people stretch and even climb up into the branches to gather the highest hanging fruit to succeed. Unfortunately, Change is always hard for people, which adds to the Challenge faced by organizations forced to make the Choice to reinvent their business in order to compete, survive and thrive in this complex and competitive world. In this speech, Change/Challenge/Choice, Bergdahl will discuss the following strategies:
CHANGE
Get Efficient - you're going to need to produce more with less people
Benchmark Best Practices – seek out the ideas used by other manufacturers
Innovate – grow revenue by getting creative with products, services and service enhancements, technology, strategy and tactics. Brainstorm new ideas – new markets, services, bundling products, delivery, in-sourcing.
CHALLENGE
Continuously Improve – empower people to improve every area of your operation
Increase Productivity – improve "internal and external" customer service
Control Expenses - teach everyone in your organization to manage costs
CHOICE
Continuously Learn – learn from and imitate the success of others
Leverage People – tap into the creativity of your own people and change the way they think, focus everyone on your brand and a common agenda - "Your people make the difference."
Focus on your Competencies – play to your strengths and shore up your weaknesses
Customer Partnerships – become the supplier of choice, by asking your customers what kind of products and services they need, when they need them and what you can do to partner with them.
Related Speakers View all
---
Doug Lipp

Former Head of Training at Walt Disney University & ...

Bill Capodagli

Author of "Innovate the Pixar Way: Business Lessons ...

Josh Linkner

Five-Time Tech entrepreneur, Hyper-Growth CEO, New Y...

Robert Spector

Customer Service Expert, Bestselling Author & Creato...

Dr. Jackie Freiberg

Corporate Culture & Leadership Strategist, Best-Sell...

Pat Williams

Motivational Speaker & Sports Executive; Senior Vice...

Adrian Gostick

Founder of The Culture Works & Bestselling Author of...

Jason Young

Former Senior-Level Manager at Southwest Airlines & ...

R "Ray" Wang

Founder, Chairman & Principal Analyst at Constellati...

Dr. Kevin Freiberg

World-Wide Best-Selling Author, Speaker & Advisor

Bill Rancic

"The Apprentice" Winner; Entrepreneur; Star of "Giul...

Chip Conley

Strategic Advisor for Hospitality & Leadership at Ai...

Polly LaBarre

Founding Member of the Fast Company Magazine, Co-Fou...

Terry Jones

Digital Disruptor, Author & Venture Capitalist

Rob Waldo Waldman

Decorated Fighter Pilot; Power of Relationships & Tr...

Dennis Snow

Customer Service Expert, Formerly with the Disney In...

Daymond John

"Shark Tank" Investor; Founder & CEO of FUBU; Presid...

Tim Sanders

Bestselling Author, Technology Pioneer, Expert on Co...

Libby Gill

Leadership Expert, Executive Coach & Award-Winning A...

Richard Florida

Leading Urbanist, Economist & Author of "The Rise of...
More like Michael