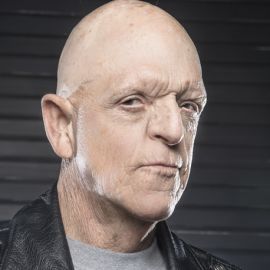 Michael Berryman
Actor, Veteran and Horror Genre Icon; Best Known for "One Flew Over the Cuckoo's Nest" & "The Hills Have Eyes"
Acting veteran and horror genre icon Michael Berryman was born in Los Angeles, California. He was born prematurely with Hydrochrotic Ectodermal Dysplasia, a rare condition leaving him with no sweat glands, hair, fingernails or teeth. Berryman's father was renowned neurosurgeon Sloan Berryman and his mother, Barbara, was a Registered Nurse. As a young child, Berryman had extensive cranial reconstruction at Children's Hospital in Los Angeles. Berryman took all these challenges and turned them into a golden career in film and television, thanks to legendary film director George Pal discovering Berryman, who at the time owned and worked at a gift shop/art gallery in Venice, California.
George Pal cast Berryman in the Western Doc Savage, then shortly after that Milos Forman discovered and cast Berryman in One Flew Over the Cuckoo's Nest.
Berryman went on to star as Pluto in Wes Craven's cult classic The Hills Have Eyes. Additionally, Berryman has appeared in such films as Weird Science, Star Trek IV, Armed Response, Cut And Run, Solar Crisis, The Devil's Rejects, etc. He also has appeared in more main-stream roles such as the comedy Spy Hard and family favorite Scooby Doo. Berryman's many television credits include Tales from the Crypt and X Files. Berryman portrays a gamut of characters, ranging from evil, dangerous and creepy to wise, gentle, sage, mystical, whimsical, comedic and even angels. Berryman is an adored favorite of horror and sci-fi movie fans worldwide.
Berryman has starred with Edward Furlong in the feature film Below Zero, as well as horror/ thrillers Erebus, Self Storage, starring opposite Eric Roberts, Red and Yella Kill a Fella and Army of the Damned. Most recently, he starred in the British-Canadian horror film Below Zero (2012), directed by Justin Thomas Orstensen.
Berryman and his wife Patty own and run a farm in Northern California where they have walnut, apple, pear, cherry and plum orchards and raise their beloved horses. He loves to bake pies.
Videos
---
Related Speakers View all
---
Kane Hodder

Horror Movie Actor; Famous for Playing Jason Vorhees...

Linnea Quigley

Actress, Film Producer, Model, Singer & Author; Best...

Lauren Potter

Actress Best Known for "Glee;" Special Needs Advocate

Jamie Brewer

Actress Best Known for "American Horror Story"; Firs...

R.A. Mihailoff

Actor & Producer Best Known for Leatherface: The Tex...

Royce Mann

Poet, Actor, Activist & Filmmaker

Matt Roloff

Star of "Little People, Big World"

Daeg Faerch

Actor; Known for Playing Young Michael Myers in Rob ...

Eddie Barbanell

Actor & Comedian with Down Syndrome; Known for "The ...

Patrick Fugit

American Actor known for roles in "Reckless," "Gone ...

Scott MacIntyre

Blind American Idol Finalist, Author & Transplant Re...

Jeffrey Dean Morgan

American Actor Best Known For His Role in "The Walki...

Anya Taylor-Joy

Argentinian-American Actress; Best Known For "The Wi...

Antoni Porowski

Chef, Model & TV Personality Known for Netflix's "Qu...

Mikayla Holmgren

First Miss USA State Pageant Contestant with Down Sy...

Bill Skarsgård

Actor & Producer

Gaten Matarazzo

Actor; Best Known for "Stranger Things"

Finn Wolfhard

Actor & Voice Actor; Best Known for "Stranger Things...

Brad Snyder

Two-Time Paralympic Gold Medalist Swimmer & Navy Vet...

Tom Holland

English Actor & Dancer, Known for Playing Spider-Man...
More like Michael