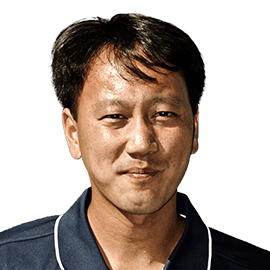 Michael Chang
Retired Tennis Star & International Tennis Hall of Famer; Won the French Open at age 17; Author of "Holding Serve"
Chang first came to the tennis world's attention as an outstanding junior player who set numerous "youngest-ever" records. He won his first national title, the USTA Junior Hard Court singles, at the age of 12. His early teens were spent setting record after record including the Fiesta Bowl, US Open and semifinals in Scottsdale, Arizona.
Chang's most significant youngest-ever record came in 1989 when he won the French Open at the age of 17 years old, becoming the youngest male player ever to win a Grand Slam title. His victory is equally remembered for an epic five-set encounter with Ivan Lendl in the fourth round. Chang became the first American man to win the French Open since 1955, and the first American man to win a Grand Slam since 1984. And in August 1989, Chang became the youngest player to be ranked in the world's top 5.
Chang was a key member of the US team which won the Davis Cup in 1990. In the semifinals at Austria, his dramatic comeback from two-sets down against Horst Skoff, led the US into its first Davis Cup final since 1984. Chang went on to defeat Darren Cahill in straight sets, as the US defeated Australia in the final. He was also on the US team which won the World Team Cup in 1993. His best performance in the year-end singles championship came in 1995, when he defeated Muster, Jim Courier, and then dominated Pete Sampras in the semifinals, before losing in the final to Boris Becker.
Chang represented the US in the 1992 Summer Olympics in Barcelona, reaching the second round before being eliminated by Jaime Oncins. Chang also participated in the 2000 Summer Olympics in Sydney, where he was eliminated in the first round.
Chang retired from the professional tour in 2003. During his career, he won a total of 34 top-level professional singles titles. His career-high singles ranking was world no. 2 in 1996, following his US Open finals performance. He was a year-end top-ten player for six consecutive years in the 1990s (1992–1997), a feat matched in the decade only by Pete Sampras. He is one of a few players to win ATP titles in three different decades. His three Indian Wells Masters titles was an ATP record which stood for 15 years, before being eclipsed by Roger Federer in 2012.
Since retiring from the top-level game, Chang has joined Jim Courier's senior tour, which began on March 10, 2006 in Naples, Florida. In 2008, he was inducted into the International Tennis Hall of Fame, and he has coached Kei Nishikori since 2014.
Chang served as Chairman of ATP Tour Charities in 1994. He has supported grassroots tennis development in Asia through his Stars of the Future program in Hong Kong and the Reebok Challenge across Asia. He was one of five athletes named in the second annual "Most Caring Athlete" list by USA Today Weekend in 1995. In 1997, he was given one of seven Asian-American leadership awards by A Magazine for his status as a role model for Asian-American youth. He has also served as a national spokesman for the National Fish and Wildlife Foundation in the US.
In 2001, Chang served as a goodwill ambassador for the 2008 Beijing Olympic bid committee. In 2002, Chang published a book about his career, Holding Serve: Persevering On and Off the Court.
Videos
---
Related Speakers View all
---
Jim Courier

Tennis Channel Analyst & Australian Open Commentator...

Andy Roddick

Tennis Commentator & Former Co-Host of Fox Sports Li...

Ivan Lendl

Retired World No. 1 Professional Tennis Player & Int...

John McEnroe

Retired World No. 1 Tennis Player in Singles & Doubl...

Roger Federer

Professional Tennis Player & Record Holder for Most ...

Michelle Kwan

Olympic Silver Medalist & Most Decorated Figure Skat...

Todd Martin

CEO of Designate, International Tennis Hall of Fame,...

Kristi Yamaguchi

Former Olympic Figure Skater, Olympic Gold Medalist ...

Monica Seles

Retired World No. 1 Tennis Player & International Te...

Martina Navratilova

Retired World #1 Tennis Player & International Tenni...

Jackie Joyner-Kersee

Olympic Legend, Philanthropist, American Record-Hold...

Mike Eruzione

Captain of the 1980 US Olympic Hockey Team & Subject...

Serena Williams

Iconic Professional Tennis Player & Olympic Gold Med...

Pete Sampras

Retired World No. 1 Tennis Player & International Te...

Billie Jean King

Former World #1 Professional Tennis Player & Sports ...

Dave Dravecky

Former Professional Baseball Player; Cancer Survivor...

Lindsay Davenport

Retired World No. 1 Tennis Player & International Te...

Rafael Nadal

Professional Tennis Player; Ranked as One of the Wor...

Bjorn Borg

Former World No. 1 Tennis Player, Widely Considered ...

Herman "Herm" Edwards

Arizona State Head Football Coach, Former ESPN Footb...
More like Michael