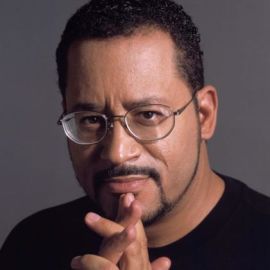 Michael Eric Dyson
MSNBC Political Analyst, Former Host of NPR's "The Michael Eric Dyson Show" & Bestselling Author
Michael Eric Dyson is one of the nation's most renowned professors, gifted writers, inspiring preachers, knowledgeable lecturers and riveting media personalities. As a professor who earned a PhD in Religion from Princeton University, Dyson has taught at some of the nation's most distinguished universities, including Brown, UNC Chapel Hill, Columbia, DePaul, the University of Pennsylvania, and Georgetown, where, for more than the last decade, Dyson has occupied the school's highest rank as University Professor of Sociology.
As a writer of more than 20 books, including bestselling volumes on Martin Luther King, Jr., Malcolm X, 2Pac, Marvin Gaye, Bill Cosby, and Barack Obama, Dyson has written a few classics – among the Reflecting Black: African American Cultural Criticism, his pioneering black cultural studies book, I May Not Get There With You: The True Martin Luther King, Jr., his first book on the civil rights icon that probed his radical dimensions, Holler if You Hear Me: Searching for Tupac Shakur, which, according to Publisher's Weekly helped to prove that hip hop books are commercially viable, and Is Bill Cosby Right? Or Has the Black Middle Class Lost Its Mind?, which helped to renew a conversation on class in black America. Dyson's book on Cosby, and his popular volume, Why I Love Black Women, both won prestigious NAACP Image Awards for nonfiction.
Dyson's New York Times bestselling The Black Presidency: Barack Obama and the Politics of Race in America, was a finalist for the prestigious 2016 Kirkus Prize. His New York Times bestselling Tears We Cannot Stop: A Sermon to White America, was called by the New York Times," one of the most frank and searing discussions on race…a deeply serious, urgent book, which should take its place in the tradition of Baldwin's The Fire Next Time and King's Why We Can't Wait." The book won the 2018 Southern Book Prize. Dyson's book, the New York Times bestseller What Truth Sounds Like: RFK, James Baldwin and Our Unfinished Conversation on Race in America, has been called by Kirkus Review "an incisive look at the role of politicians, artists, intellectuals, and activists in confronting racial injustice and effecting change," and an "eloquent response to an urgent – and still-unresolved – dilemma." The book was named by the Washington Post as one of the "50 notable works of nonfiction in 2018." His latest book, JayZ: Made In America, made it to the New York Times bestsellers list one week after its release.
As a preacher and sometime pastor for the last 40 years, Dyson – who was licensed and ordained at Detroit's historic Tabernacle Missionary Baptist Church under the legendary ministry of Dr. Frederick Sampson, and Dyson was twice named one of the nation's 15 greatest black preachers.
Dyson has lectured across the country, and around the world, in many of the best colleges and universities, public theaters and auditoriums, and for many corporations and unions.
He has also served for the last 30 years as a media commentator and host: he has appeared on every major radio and television show, including CNN, MSNBC, Real Time with Bill Maher, and The View.
Speech Topics
---
In Caricature: Racial Profiling & Its Impact on Black America
While America has made strides towards true equality amongst varying ethnic groups, there are still some glaring disparities. Recent events, including the arrest of Henry Gates Jr. in his own home, serve as a reminder that racial profiling still exists. Not only does profiling degrade entire groups of people, but it stifles growth and perpetuates negative stereotypes. In his keynote speech, "In Caricature: Racial Profiling and its Impact on Black America," public intellectual and best-selling author Michael Eric Dyson will answer three central questions surrounding racial profiling and its impact on minority communities.
Sociology of Hip-Hop: Jay-Z
What Have We Come To? Wars Between the Generations
African American Influence on Pop Culture
Dr. King for the 21st Century
Is Bill Cosby Right? Or Has the Black Middle Class Lost Its Mind?
Come Hell or High Water: Hurricane Katrina & the Color of Disaster
Martin Luther King Jr & (African) American Leadership in the 21st Century
Race, Racism & Race Relations in America
Related Speakers View all
---
Nikki Giovanni

Poet, Educator & Best-Selling Author

DeRay Mckesson

Civil Rights Activist & Host of "Pod Save The People"

Angela Davis

Feminist, Social Activist, Professor & Writer

Dr. Marc Lamont Hill

Temple University Professor, BET News Correspondent,...

Bakari Sellers

Author, Attorney, Political Commentator & Youngest A...

Dr. Cornel West

Philosopher, Professor, Political Activist, Author o...

Joy-Ann Reid

MSNBC Correspondent, Political Author & Former Host ...

Hill Harper

Actor, Author & Philanthropist; Best Known For "CSI:...

Van Jones

CEO of REFORM Alliance, CNN host, Emmy Award-winning...

Roland Martin

Award-Winning Journalist & Media Personality, Author...

Ijeoma Oluo

Writer & Social Activist Known for Her Work on Issue...

Yusef Salaam

One of the Central Park 5, Entrepreneur, Author, Tra...

Bobby Seale

Political Activist & Co-Founder of the Black Panther...

Tamika D. Mallory

Social Justice Leader & Movement Strategist

Ellen McGirt

Senior Editor at Fortune Magazine & "RaceAhead" Col...

Charles Blow

Visual Op-Ed Columnist for The New York Times; CNN C...

Elaine Welteroth

Co-host of CBS "The Talk," NYT Bestselling Author, A...

Dr. Bernice King

Minister, Attorney, Author & Daughter of Dr. Martin ...

Xernona Clayton

Creator of the Trumpet Foundation, Civil Rights Lead...

Angela Rye

Attorney, Principal & CEO of IMPACT Strategies, CNN ...
More like Michael