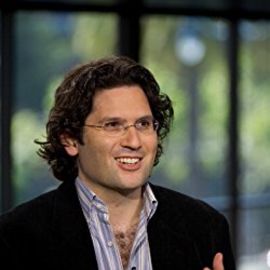 Michael Fertik is the Executive Chairman and Founder of Reputation.com. He founded the company with the belief that people and businesses have the right to control and protect their online reputation and privacy. A futurist with more than ten patents, Fertik is credited with pioneering the field of online reputation management (ORM) and lauded as the world's leading cyberthinker in digital privacy and reputation.
Fertik was most recently named Entrepreneur of the Year by TechAmerica, an annual award given by the technology industry trade group to an individual they feel embodies the entrepreneurial spirit that made the U.S. technology sector a global leader.
He is a member of the World Economic Forum Agenda Council on the Future of the Internet, a recipient of the World Economic Forum Technology Pioneer 2011 Award and through his leadership, the Forum named Reputation.com a Global Growth Company in 2012. Fertik is an industry commentator with guest columns in Harvard Business Review, Reuters, Inc.com and Newsweek.
Named a LinkedIn Influencer, he regularly blogs on current events as well as developments in entrepreneurship and technology. Fertik frequently appears on national and international television and radio, including the BBC, Good Morning America, Today Show, Dr. Phil, CBS Early Show, CNN, Fox, Bloomberg, and MSNBC. He is the co-author of two books, Wild West 2.0 (2010), and New York Times best seller, The Reputation Economy (2015).
Fertik founded his first Internet company while at Harvard College. He received his JD from Harvard Law School. He now teaches at Harvard Law School.
Fertik is an active technology investor as Founder and Managing Partner of Heroic Ventures.
Speech Topics
---
Big Data
Big Data is the new Big Idea. Multinationals, governments, and investors are all urgently seeking to crack the code on what Big Data actually means and what it will do to their current operations and opportunities. Leaders of all stripes are eager to get quickly past the hype and understand the huge creative and creatively destructive forces that Big Data represents.
Michael Fertik is one of the world's handful of acknowledged thought leaders on Big Data. The company he founded and leads, Reputation.com, is widely viewed as one of the biggest of the Big Data companies, in possession of one of the world's largest digitized and analyzed data sets on People, Places, and Things. He has authored numerous patents on Big Data and Analytics, and his forthcoming book, The Reputation Economy (Crown 2013) is a general audience deep dive into Big Data, Big Analysis, Big Science, and the future of global commerce. Using concrete examples taken both from today's real world and tomorrow's science fiction, Michael explains:
What Big Data actually means -- no more hype -Why NOW is the Big Data Moment

How Big Data is disrupting industry after industry, and how exactly that is happening

The difference between Big Data and Important Data -- what YOUR company needs to know now -How the Future looks in the era of Big Data

How you can make huge returns and thrive with and through Big Data

How to avoid the emerging pitfalls of Big Data
Reputation is Bigger than Brand: Building and Protecting your Business on the Next Image Frontier
Innovation: Making Innovation Work for Your Company / Culture
What's Next: Social Media, Technology and Innovation
Wild West 2.0: How to Protect and Restore Your Reputation on the Untamed Social Frontier
Social Success: Leveraging Social Media to Enhance your Brand and Your Customer Relationships
Related Speakers View all
---
Max Levchin

CEO, Affirm; Co-Founder of PayPal

Jon Bergmann

Pioneer of the Flipped Class Movement & Bestselling ...

Peter Thiel

Former CEO and Co-founder of PayPal; Technology Entr...

Sir Richard Branson

Businessman & Founder of Virgin Group

Jordan Goldman

Named "One of the top young entrepreneurs in America...

Matthew Bishop

Managing director, Rockefeller Foundation and Former...

Reid Hoffman

Co-Founder & Former Executive Chairman of LinkedIn; ...

Gary Vaynerchuk

Co-Founder & CEO of VaynerMedia

R "Ray" Wang

Founder, Chairman & Principal Analyst at Constellati...

Igor Beuker

World Authority on Marketing and Media

Amy Jo Martin

Author, Speaker, Founder/CEO, Podcast Host & Innovat...

Maynard Webb

Silicon Valley Company Builder, Founder of Webb Inve...

Nicole Yeary

Founder & CEO of Ms.Tech, A Company That Aims to Sup...

Craig Newmark

Founder of Craigslist; Internet Entrepreneur; Leader...

Clay Shirky

Expert on New Technology & Social Media, & How They ...

Peter Guber

Executive, Entrepreneur & #1 NYT Bestselling Author,...

Watts Wacker

Futurist & Commentator

Ray Kurzweil

Chairman of Kurzweil Technologies; Inventor; Futurist

David Kirkpatrick

Best-Selling Author of The Facebook Effect, Technolo...

Richard Florida

Leading Urbanist, Economist & Author of "The Rise of...
More like Michael