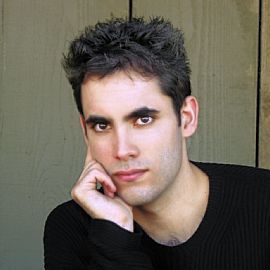 Michael Grandinetti is not your ordinary magician. With performances on national and international television, in stadiums, arenas, casinos, and theaters around the country, with Oscar-winning composers and symphony orchestras, for NFL and NBA halftime shows and major sporting events, for Fortune 500 companies, and even at The White House, Michael has made a name for himself around the world as an extremely talented and innovative illusionist.
Over the past 20 years, Michael has been driven to make magic contemporary and to give it a wide, mainstream appeal. He has had starring roles on NBC's "The World's Most Dangerous Magic II", The CW's "Masters of Illusion", and Pop TV's "Don't Blink", and has been featured on the Emmy-nominated FOX series "Bones", the 2015 "Hollywood Christmas Parade", "The Bold and the Beautiful", "Access Hollywood", "Entertainment Tonight", "SportsCenter", "NBA on TNT", "New York Today", "FOX & Friends", and "The Jerry Lewis MDA Telethon". Michael has also appeared as a guest on radio shows across the country and in print media including Parade Magazine, Starpulse, MAGIC Magazine, Young Hollywood, Pittsburgh Magazine, Tucson Living, DC Life Magazine, and The Marilu Henner Show. Michael was recently featured on the cover of TV Times magazine, released nationally in newspapers across the U.S. In addition, Entertainment Weekly named Michael as "a great magician who can truly communicate with a TV audience".
Possessing a true passion for amazing live audiences, Michael has performed at a wide range of venues including Heinz Hall with renowned composer Marvin Hamlisch and the Pittsburgh Symphony Orchestra, Harrah's Resort in Atlantic City and San Diego, United Center in Chicago, Bank of America Stadium in Charlotte, Casino Rama in Ontario, Canada, Grand Central Station in New York City, the Four Seasons Resort in Lanai, Hawaii, on the red carpet of ESPN's ESPY Awards at the Dolby Theater in Hollywood, and at The White House Easter Celebration. Michael was also honored to be the first illusionist ever invited to perform in the National Independence Day Parade in Washington DC. During this remarkable celebration of our country, Michael levitated a girl high above one of the floats as it moved down Constitution Avenue, while a live audience of 250,000 people lined the streets.
In addition, Michael was recently one of the headlining performers in "Masters of Magic", a large-scale production show which ran nightly for two months at the Grand Sierra Resort and Casino, in Reno, Nevada. Presented on the world's largest indoor stage, a full acre in size, Michael caused a 500lb motorcycle to appear in mid-air, levitated 10ft into the air under bright lights at the front of the stage, created interactive magic with everyone in the theater at the same time, and melted his body through a 7ft tall wall of solid, examined steel.
Michael is currently starring in the hit CW television series "Masters of Illusion", returning for its third season this summer and now airing in over 100 countries around the world. Hosted by Dean Cain (Lois & Clark: The New Adventures of Superman, Hit The Floor), "Masters of Illusion" showcases the world's top magicians and illusionists in front of a live audience in Hollywood. During the run of the series, Michael has performed both grand illusions and interactive stage magic including shrinking a girl to the size of a basketball, vanishing borrowed rings and causing them to reappear baked inside a loaf of bread, bringing a painting to life, and escaping from a platform suspended 20ft above the stage. Special guest Ace Young, star of American Idol and Hair on Broadway, assisted Michael onstage during the show for his "Walking Through Steel" illusion. Michael is also a headlining performer in "Masters of Illusion Live!", the largest touring magic production in the world.
To promote the launch of the series second season, Michael performed a daring live stunt in which he levitated in the air, for 4 hours, 15 feet above the Hollywood Walk of Fame. During the event, helicopters hovered overhead, traffic along busy Hollywood Boulevard came to a halt, and observers flocked from blocks away to wave their hands all around to try and figure it all out. The event was broadcast by news sources across the country and the Pittsburgh Post-Gazette listed the stunt as one of the 5 things they loved during the week.
Michael also starred in the recent Pop TV series "Don't Blink", a docu-series that took viewers inside the underground world of street magicians as they performed for the unsuspecting public and celebrity guests live on-location. For the series, Michael filmed 30 pieces of magic, from large-scale grand illusions to close-up sleight of hand, while surrounded by audiences at Hollywood Boulevard, Venice Beach, and Universal Studios.
Always dreaming big, Michael has pioneered live magic in one of the most challenging environments imaginable, major-league football stadiums, baseball stadiums, and basketball arenas. He has performed NFL halftime shows at Bank of America Stadium (Carolina Panthers) and University of Phoenix Stadium (Arizona Cardinals) while live audiences of over 70,000 people watched with a 360 degree view as Michael caused people to appear, vanish and shrink in size, right on the 50 yard line. The game at University of Phoenix Stadium was broadcast live on ESPN's Monday Night Football and legendary rock band Journey performed the national anthem. At Citizens Bank Park, Michael made the 7ft tall, 300lb Philadelphia Phillies mascot, The Phanatic, magically appear in the center of the outfield. At Kansas City's Kauffman Stadium, Michael performed one of the largest live interactive illusions in history when he read the minds of all 45,000 people in the stadium at the same time.
Michael has also created basketball halftime shows for teams including the Chicago Bulls, the Milwaukee Bucks, the Golden State Warriors, the University of Michigan, Penn State, USC, and for the Atlantic 10 Men's Basketball Championship at Barclays Center in New York City. Michael's halftime show for the Chicago Bulls NBA playoff game at United Center in Chicago, where he levitated at the center of the court while surrounded by a sold out crowd of 22,000 people, even caused commentators Shaquille O'Neal and Charles Barkley to comment in amazement during the live national broadcast on TNT. This is magic on a major scale.
Michael combined the worlds of magic and music when he created special performances and appeared as a featured guest artist with the Pittsburgh Symphony Orchestra, the Grand Rapids Symphony Orchestra, and the Huntsville Symphony Orchestra. During these shows, while the orchestras played musical selections specially themed for each illusion, Michael magically transformed a tuxedo into the orchestra's conductor, made roses bloom on the stage, levitated into the air while surrounded by the playing orchestra, and, for a finale, caused the orchestra itself to read the minds of the audience by playing pieces of music they were only thinking of.
Michael Grandinetti has come a long way since he received his first magic set for Christmas, and performed his first show, at the age of five. His personality and style were introduced to the world when he performed his original creation "The Spike Tower" on the NBC television special "The World's Most Dangerous Magic II". While covered with a mixture of gasoline and kerosene and secured by chains, Michael had only sixty seconds to escape before two walls of flaming steel spikes were thrust towards him at over 50mph. Bringing together seven illusionists from around the world, at just 21, Michael was the youngest performer on the show.
In addition, Michael has created and developed custom magic presentations for Fortune 500 companies and major corporations including Mazda, Hewlett Packard, Grainger, Ernst & Young, The American Marketing Association, Harley-Davidson, Rite Aid, and Bayer.
As a respected Creative Consultant, Michael has taught sleight of hand magic to the actors on CBS's "The Bold and the Beautiful", consulted on a national commercial featuring magic for the United States Treasury, created a special illusion design for the TBS show "Conan", starring Conan O'Brien, and provided historical information for "Spellbound", a biographical book on famed illusionist Doug Henning. His original creations have been featured around the world, including stage productions in Japan, Korea, and Italy. Michael was even called about the possibility of making Dubai's Burj Khalifa, the world's tallest building, magically appear – before it was built!
Michael Grandinetti is making the ancient art of magic charismatic and contemporary. By blurring the line between illusion and reality in a groundbreaking yet personable way, Michael gives the audience an engaging, entertaining, and one of a kind experience they will not forget.
Videos
---
Speech Topics
---
Visual Grand Illusions (Full Scale Stage Production)
Michael Grandinetti's full stage production is a theatrical experience, including fan-favorite illusions from Michael's international television and stadium appearances, that will leave a lasting impression on your audience. In this show, a beautiful woman is visibly divided in half with a 40" spinning buzz saw, a dancer appears inside a clear plexiglass cube and then visibly shrinks in size, borrowed objects travel through time and appear in surprising locations, large scale levitations are performed both on-stage and in the audience, a man melts his body through a 7ft tall, 300lb wall of solid, examined steel - and this is just the beginning of what you will see in Michael's Las Vegas style stage spectacular.
Performance fee: $17,500-$25,500 Number of people traveling: 5-6
Cutting Edge Magic and Illusion (Mid-Size Stage Show)
This high-energy show, combining grand illusion and stage magic with music, comedy, suspense, and audience participation, is perfect for venues from ballrooms, to outdoor stages, to theaters. You'll be amazed as Michael causes a stunning dancer to appear inside a clear plexiglass cube, visibly shrinks a girl to the size of a basketball, vanishes half of his body, causes an examined piece of paper to come to life and dance in the hands of an audience member, creates an engaging interactive illusion involving everyone in the audience at the exact same time, and for a finale, levitates high above the stage and more!
Performance fee: $9,500-$16,500 Number of people traveling: 3
An Evening with Michael Grandinetti (Platform Show)
Spend an unforgettable evening with master magician Michael Grandinetti as he combines never before seen platform magic with audience participation - pulling you right into the magic. Live stage effects include borrowed personal items appearing inside a locked glass case, vibrant roses appearing from a flash of light, in mid-air, the audience's secret thoughts are read and visually predicted, a piece of examined glass is bent and shaped, as if it were liquid, the entire audience participates in an illusion at the same time, and much more.
Performance fee: $6,500-$8,500 Number of people traveling: 2
Related Speakers View all
---
Murray SawChuck

Stage Illusionist & Comedian

Christopher Grace

Magician & Corporate Entertainer Coined as "The Sher...

Dave Kaplan

Juggler, Magician & Musician

Kevin Viner

Mentalist, Musician, Comedy

Giovanni Livera

Motivational Speaker & The Official Magician of the ...

The Bornsteins

Award-winning Magicians & Mind-Reading Duo

Marco Tempest

Cyber-Illusionist

Michael Karl

Corporate Mentalist and Speaker

Penn Jillette

Magician, Actor, Musician, Inventor, Television Pers...

Keith Barry

Irish Mentalist, Hypnotist and Magician; Former Ment...

Jonathan Pendragon

One of the Masters of the Grand Illusion

Craig Karges

Renowned Entertainer & Mentalist

Criss Angel

Master Magician and Illusionist, Star of "Criss Ange...

The Passing Zone

Comedy-Juggling Duo & Corporate Entertainers

Piff the Magic Dragon

Magician & NBC's "America's Got Talent"

Adam Trent

Magician & Entertainer

Andy Gross

Comic, Magician and Ventriloquist

James Galea

Australia's Top Magician

Justin Flom

World-Class Entertainer and Magician; Author of "Adv...

Bob Stromberg

Comedic Corporate Speaker & Entertainer
More like Michael