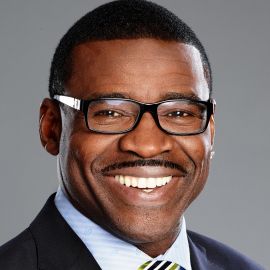 Michael Jerome Irvin was born in Fort Lauderdale, Florida and is the 15th of 17 siblings. He attended Piper High School and became a football celebrity when he played at St. Aquinas High School.
He was recruited by the University of Miami which offered one of the top collegiate football programs in the country. Under coach Jimmy Johnson, he set several school records for career receptions, receiving yards and touchdown receptions. He made a legendary performance in Miami's 1987 National Championship Team which propelled them into the National Championship Game. After leaving the university, he remains a supporter of the football program, giving tutorials to receivers and acting as a mentor off the field for younger players. He was inducted into the University of Miami Sports Hall of Fame in 2000.
Michael married Sandy Harrell in June 1990 and he has four children.
When not working, Michael usually spends his days making fun memories with his family. He is enjoying fatherhood and has been gaining new insights about life and living in general, just from interacting with his kids and family.
Being an exuberant personality, he is always eager to share the lessons he has learned from his experiences and the values that helped him succeed in his career and his life in general. The drive to help his team win in his professional footballs days has not left him and he is still as enthusiastic to help out in any way he can.
Michael joined the NFL Network broadcast team in 2009 and he can be seen on NFL Sundays and NFL GameDay Morning. He has also been featured in various commercials for the NFL Network.
He was a co-star in the 2005 remake of the The Longest Yard starring Adam Sandler and Chris Rock. He also starred in Jack & Jill in 2011. On TV, he played one of the "Pros" in an episode of Pros vs Joes.
Michael also hosted 4th and Long, a football-themed reality series on Spike TV. He appeared in an episode of Burn Notice in 2009 titled "Hot Spot". He also hosted a radio show on Miami's WQAM with Kevin Kiley which aired until 2012.
With so many things that he wants to share about success and life in general, he has chosen to focus on sharing his insights about fatherhood. He is also giving back to the community by creating and participating in activities that give a portion of their proceeds to important charities and help support their cause.
Michael is also educating and inspiring people to change themselves for the better and live their life to the fullest through his training camps and speaking engagements.
For more news about Michael's initiatives, activities and speaking events, or just stuff about what he's been up to, you can also check out his blog where he shares what he's been up to and where he's been regularly.
Videos
---
Related Speakers View all
---
Emmitt Smith

Leading Rusher in NFL History, Three-Time Super Bowl...

Jerry Rice

Hall of Fame Wide Receiver & Three-Time Super Bowl C...

Tim Tebow

ESPN College Football Analyst; Heisman Trophy Winner...

Vince Papale

Former NFL Player & Inspiration for the Movie "Invin...

Terrell Owens

Former NFL Wide Receiver, NFL Hall of Famer & Alzhei...

Archie Manning

Former NFL Great & Ambassador of Goodwill

Tony Romo

Lead NFL Game Analyst at CBS Sports & Former Dallas ...

Dan Marino

Pro Football Hall of Famer, Business Owner & Founder...

Herman "Herm" Edwards

Arizona State Head Football Coach, Former ESPN Footb...

Joe Theismann

World Champion Quarterback, Broadcaster & Entrepreneur

Ray Lewis

Celebrated NFL Linebacker, The Ray Lewis Family Foun...

Magic Johnson

Basketball Hall of Famer, Entrepreneur, Philanthropi...

Brian Holloway

Five-Time NFL All-Pro; Motivation & Team Building Ex...

Trent Dilfer

Retired NFL Quarterback & Former Football Analyst fo...

Inky Johnson

Sports Motivation Expert & Author; Former Collegiate...

Hines Ward

Retired American Football Wide Receiver, NBC Studio ...

Daryl Johnston

Retired NFL Fullback, 2x Pro-Bowler, 3x Superbowl Ch...

Herschel Walker

Former NFL Running Back, 1982 Heisman Trophy Winner ...

Boomer Esiason

NFL Football Legend & Studio Analyst

Mike Eruzione

Captain of the 1980 US Olympic Hockey Team & Subject...
More like Michael