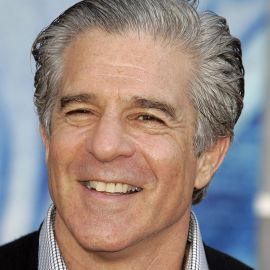 Lembeck was born in Brooklyn, New York, the son of Caroline Dubs and Harvey Lembeck, an actor and comedian. He began acting in the late-1960s and directing in the 1970s. His most notable acting role was as Julie Cooper's husband, Max Horvath, on the sitcom, One Day at a Time.
He played news caster Clete Meizenheimer on the series, Mary Hartman, Mary Hartman. He also played "Kaptain Kool" of Kaptain Kool and the Kongs on The Krofft Supershow from 1976 to 1978. He is also known for his role as Vinnie Fazio in The Boys in Company C in 1978. He was a member of the cast of the 1985-1986 situation comedy Foley Square.
Lembeck has had collaborations with the late actor Peter Boyle in both The Santa Clause 2 and The Santa Clause 3: The Escape Clause and also The Dream Team. Lembeck also directed Boyle in a number of episodes in Everybody Loves Raymond.
Lembeck's first film appearance came in the 1968 film Hang 'Em High where he portrays a store clerk with two spoken lines. He made his feature film acting debut with The In-Laws. He directed The Santa Clause 2 and The Santa Clause 3: The Escape Clause, as well as the Nia Vardalos movie Connie and Carla.
Lembeck works now as a full-time film and TV director. He won an Emmy for his work as a director on the Friends episode "The One After the Superbowl", and directed 20 other episodes of the series. He is married to actress Lorna Patterson.
Videos
---
Related Speakers View all
---
Michael McDonald

Michael James McDonald is an American stand-up comed...

Anderson Davis

Actor and Model; Starred in the Kraft "Zesty" Dressi...

Mark Ronson

Award-Winning Music producer and DJ

Al Pacino

Award-Winning Actor

Wilmer Valderrama

Actor, Producer, Activist & Television Personality

Simon Lovell

English Comedy Magician, Card Shark Actor and Con Man

F. Gary Gray

Director, Film Producer, and Actor; Best Known for D...

Armie Hammer

Actor; Best Known for His Role in "The Social Network"

Brendan Coyle

British Actor; known for Playing John Bates, the Val...

Liev Schreiber

American Actor, Producer, Director, and Screenwriter

Andy Serkis

Actor, Director & Author; Best Known as Gollum in th...

Aubrey Plaza

Actress, Comedian & Producer; Best Known for NBC's "...

Steve Buscemi

Actor; Known for "Boardwalk Empire," "Fargo" and "Re...

Woody Allen

Legendary Director, Screenwriter & Actor

Jeffrey Tambor

Emmy Award-Winning Actor of "Arrested Development," ...

Robert Redford

Actor, Director, Producer, Environmentalist & Founde...

Spike Lee

Academy Award-Winning Writer, Producer, Actor & Dire...

Tony Hale

Emmy Award-Winning Actor & Comedian

Ken Burns

Historian & Award-Winning Filmmaker

Joshua Michael Stern

An American film director and screenwriter. He has d...
More like Michael