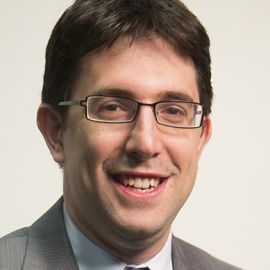 Michael Linden
Director, Tax & Budget Policy at American Progress
Michael Linden is the Director for Tax and Budget Policy at American Progress. Michael's work focuses on the federal budget and the medium- and long-term deficits. He has co-authored numerous reports on the causes of and solutions to our fiscal challenges, including "Path to Balance," which first proposed primary balance as an intermediate goal, and "A First Step," which included a detailed plan for achieving that goal. Michael also coined the phrase "deficit peacock." He is a frequent guest on CNBC, and his work has been cited by The New York Times, The Washington Post, and National Public Radio, among others.
Prior to joining CAP, he worked at First Focus, a national children's advocacy organization, serving as director and then senior director of tax and budget policy. While at First Focus, Michael authored both the inaugural and the second book in the Children's Budget series. Michael also wrote several reports on recession-induced child poverty, the last of which spurred the state legislature of Connecticut to establish a special task force on children in the recession.
Michael earned his master's degree in public policy from the University of California at Berkeley. While in the Bay Area, he consulted for a variety of clients including the Oakland Police Department, the Contra Costa Unified School District, and for then-mayor of Oakland Jerry Brown's successful campaign for state attorney general.
Michael was born and grew up in Pittsburgh, Pennsylvania, before attending college at Brown University. In addition to his hometown, Michael has lived in Munich, Providence, Chicago, Oakland, and now resides in Washington, D.C. with his wife and daughter.
Related Speakers View all
---
Alberto Alesina

Professor of Political Economy at Harvard University...

Christian E. Weller

Fellow

Seth Hanlon

Director, Fiscal Reform at American Progress

Michael Ettlinger

Vice President, Economic Policy at American Progress

Adam Hersh

Economist

David Smick

Chairman & CEO, Johnson Smick International, Inc.

Lee Ohanian

Economic Columnist, Professor & Research Director

Matt Miller

Fortune Columnist, Author & Radio Host

Bruce Bartlett

Author, Historian & Economist; Former Policy Adviser...

Dave Hanley

CEO of Tomorrow

Alan Reynolds

Senior Fellow.

David H. Stevens

CEO of the Mortgage Bankers Association. Previously ...

Adam Nash

VP of Product & Growth for Dropbox, Lecturer at Stan...

Lorenzo Bini Smaghi

Member, Executive Board of the European Central Bank...

Dr. Jihad Al-Wazir

Governor and Chairman of the Board, Palestinian Mone...

Allen Schick

Distinguished University Professor of Public Policy ...

George L. Perry

Senior fellow at the Brookings Institution

Eric M. Patashnik

Nonresident senior fellow in Governance Studies at t...

Fergus Hanson

Nonresident fellow in Brookings' Foreign Policy program

William G. Gale

Co-director and Economic Studies Program at the Broo...
More like Michael