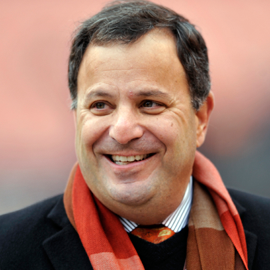 Michael Lombardi is an American football executive and media analyst. Until 2016, he was an assistant to the coaching staff of the New England Patriots and is a former analyst for the NFL Network and sportswriter at NFL.com. Lombardi also previously served as an NFL executive with the San Francisco 49ers, Cleveland Browns, Philadelphia Eagles, and Oakland Raiders. He currently works for the sports and pop culture blog The Ringer.
Lombardi began his NFL career in 1984 as an area scout under Bill Walsh of the San Francisco 49ers, where he stayed until 1987.
Lombardi joined the Cleveland Browns organization as Pro Personnel Director in 1987. Later, he became the Browns' Director of Player Personnel and worked under head coach Bill Belichick managing drafts, negotiating contracts and acquiring free agents.
In 1997, Philadelphia Eagles President Joe Banner hired Lombardi as a consultant to assist with the 1997 NFL Draft. Banner then named Lombardi Director of Pro Personnel of the Eagles in 1998.
Later that same year, Al Davis hired Lombardi to serve as Senior Personnel Executive of the Oakland Raiders, a position which he held until 2007. During his tenure with the Raiders, Oakland won three consecutive AFC West titles and advanced to Super Bowl XXXVII.
In October 2012, sportswriter Jason La Canfora reported that the Cleveland Browns were considering Lombardi for their vacancy at General Manager. He was hired for that position five months later. On February 11, 2014, the Browns replaced Lombardi with Ray Farmer.
Lombardi has worked as an administrator in the NFL for over 30 years and has worked for Bill Walsh, Al Davis and Bill Belichick. Sports and pop culture essayist Chuck Klosterman described Lombardi as, "a detail freak and a polymath," after spending time with him at the Cleveland Browns facility in the hours leading up to the 2013 NFL Draft. Lombardi has also been described as, "one of the most quiet but influential executives in the NFL." He has been credited as one of the first NFL executives to study the science of scouting players for moral character.
As a broadcaster, Lombardi has worked for ESPN, CBS Sports, Showtime, the NFL Network and Fox Sports. He began his career as a member of the media in 1996 when he spent part of that year as an NFL draft analyst for ESPN. He also spent portions of 1998 and 1999 as an editorial consultant and studio analyst for CBS Sports as on-air talent for the NFL Today pre-game show.
Videos
---