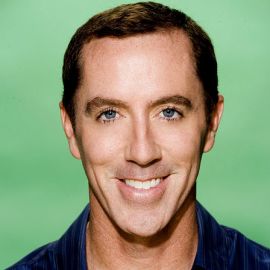 Michael McDonald
Michael James McDonald is an American stand-up comedian, actor, director, writer, and comedian. He is best known for starring in the sketch comedy show MADtv.
McDonald has also directed several episodes of the comedy-drama series Scrubs, on which he has guest-starred 6 times.
McDonald currently divides his time between writing, directing, and acting on various film and television projects, as well as performing live on stage across the country.
McDonald graduated from St. Juliana Catholic Elementary School in Fullerton, California and later went to Servite High School in Anaheim, California, and graduated from the University of Southern California with a business degree. While at USC, he was a member of the Phi Delta Theta fraternity. He worked as a loan officer at a bank in Los Angeles.
After college, a friend took McDonald to see an improv comedy show at Groundling Theater. McDonald quit his job at the bank and enrolled in Groundling's improv program. He was a member of the troupe from 1992 to 1997. During that time, he was also involved in writing and directing films for Roger Corman.
Later on, McDonald would guest star in such shows as Seinfeld (in two episodes playing two different parts), Just Shoot Me!, Family Matters, Scrubs and NewsRadio. He also made brief appearances in all three Austin Powers movies. McDonald had a starring role with Will Forte and Nicole Sullivan on the short-lived MTV show Clone High as the voice of Gandhi.
Michael is currently touring at stand up comedy clubs across the country. His stand-up comedy special Michael McDonald: Model Citizen premiered on Showtime on October 9, 2010. Filmed in Orange County at the OC Pavilion, it has been described as "Part stand-up comedy, part one man show, this special is for anyone who – like Michael – finds humor in the strange world all around us."
McDonald is also a writer, director, and producer of the ABC TV series Cougar Town.
He's directed a number of episodes of the show, among which: Letting You Go, 2010 Everything Man, 2010 When a Kid Goes Bad, 2010 Stop Dragging My Heart Around, 2010 Don't Come Around Here No More, 2009 McDonald also wrote the episode "Wake Up Time."
McDonald joined the cast of MADtv in 1998, eventually becoming the longest-standing cast member in the show's history (10 seasons). He performed several recurring characters, including Stuart, Rusty Miller, Marvin Tikvah, Sean Gidcomb, Bible Dude, the Depressed Persian Tow Truck Driver, and F. Michael McKrofsky of "Real M*********ing Talk."
His repertoire also included impressions of celebrities and well-known figures, including Al Gore, Bob Barker, John Kerry, Dr. Phil, Bill O'Reilly, Maury Povich, Chris Martin, Steve Jobs, Mel Gibson, Chris Hansen, Roy Horn, Ozzy Osbourne, John Ramsey, Freddie Prinze, Jr., J. K. Simmons (as Mac McGuff, Juno's father), William Petersen (as Gil Grissom), Jack Coleman (as Noah Bennet), Hugh Laurie (as Gregory House), Hugh Beaumont (as Ward Cleaver), Sarah Jessica Parker (as Carrie Bradshaw), Dr. Drew, Adam Sandler, Howie Mandel, Dick Cheney, Clint Eastwood, Gray Davis, Simon Cowell, JC Chasez, Bruce Jenner, Michael Richards, Chris Burke, Charlie Sheen (as Charlie Harper (Two and a Half Men)), David Schwimmer (as Ross Geller), Jeff Probst, Tim Gunn (Project Runway), Howard K. Stern, Tommy Lee, Bob Goen, Criss Angel, Jeff Foxworthy, Saddam Hussein, Matthew Good, Daniel Powter, Larry David, Barry Gibb, Eddie Vedder, and Brad Garrett.
McDonald was the last member of the cast to have appeared on the show during the 1990s, and the last cast member to have been born in the 1960s.
After 10 years on MADtv, McDonald left the show, but was still a contributing director and writer. McDonald is the only cast member to have a BEST OF Compilation Episode on MADtv.
Related Speakers View all
---
Will Sasso

Actor, Comedian and Vine Star

Dan Harmon

Creator & Executive Producer for the NBC Television ...

Jamie Masada

FOUNDER AND CEO, LAUGH FACTORY, INC.

Cameron Esposito

Stand-Up Comic, Actor & Writer Known for "Take Me As...

Anderson Davis

Actor and Model; Starred in the Kraft "Zesty" Dressi...

Frank Caliendo

Renowned Comedian, Actor & Impressionist; Star of "F...

Simon Lovell

English Comedy Magician, Card Shark Actor and Con Man

Demián Bichir

Academy-Award Nominated Actor; Best Known for "The H...

Michael Lembeck

Michael Lembeck is an American actor, television and...

Patrick Cassels

Comedian, writer, actor.

Wilmer Valderrama

Actor, Producer, Activist & Television Personality

Amber Tamblyn

Actress, Author, Poet & Film Director

Terence Winter

Emmy Award-Winning Writer, "Boardwalk Empire," "The ...

Dane Cook

Comedy Icon & Actor

Heidi Gardner

"Saturday Night Live" Cast Member, Comedian, Voice A...

Dee Snider

Daniel "Dee" Snider is an American singer-songwriter...

Colin Meloy

Colin Patrick Henry Meloy is the lead singer and son...

Erik Charles Nielsen

American actor and comedian best known for his recur...

Ben Schwartz

Actor & Comedian, Known for "Parks and Recreation," ...

Gary Barlow

Host of UK's X-Factor/ Recording Artist. Songwriter....
More like Michael