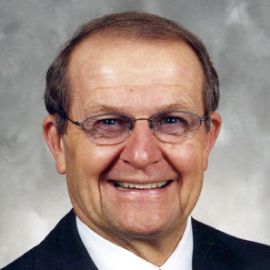 Michael McKinley
Expert in Management Performance
Mike McKinley is a businessman, motivational speaker, consultant, author, business owner, and developer of a showcase garden destination. For over 25 years, he was involved in the daily operations of the multi-million dollar educational publishing house that he founded.
Presenting hard-hitting business content delivered in a fun way, McKinley entertains while he teaches—presenting as the keynote speaker at corporate trainings, in-house programs, and for professional association meetings. His long-term client list includes Daimler-Chrysler, The Toro Company, American Airlines, Great Clips for Hair, Subway, American Family and Kellogg Company. Hundreds of companies—from construction to healthcare, high technology firms to the auto industry—have relied on McKinley for insight into creating today's business innovation and success.
With a career in manufacturing and retail, and experience in radio and television broadcasting, McKinley has a breadth of business expertise from which to draw when he shares his ideas and programs with large audiences, individuals, management teams, and boards of directors across the country.
As a committed civic volunteer, McKinley enjoys assisting various organizations, bringing his professional and personal strengths to help those in need. He often visits his alma mater, volunteering his time and sharing his business expertise with students whom he considers the business leaders of tomorrow. Through sponsorship of United Way functions, providing scholarships and support at his alma mater, and working with those dealing with terminal illnesses, McKinley appreciates the many opportunities he has to give back to his community.
McKinley works to share his message of maximizing performance—and enjoying the ride!
Speech Topics
---
Change
You simply must change to keep up with your competition. But change doesn't have to be intimidating. Learn how to react to change constructively, thereby encouraging flexibility in the people around you.
Maximizing Performance
The business bottom line is affected by how you minimize mistakes and achieve consistent productivity. Learn how responsibility and accountability are essential to your survival and growth.
Motivation
Learn to make the most of each day. People with a positive outlook are happier and more effective both at work and at home. Mike sparks permanent changes by motivating you to focus on what is important in your life.
Customer Service
Right now your competition is busy trying to win over your customers. Don't let that happen! Learn how to take your clients beyond customer service to a place called "customer specialness," where your clients are loyal advocates and your sales continually increase.
Teamwork
In an era of cutbacks, improving productivity with fewer employees becomes essential. However, accomplishing more with fewer people takes teamwork. Learn how to meet or exceed your goals—without compromising quality or service standards—by building self-motivated teams.
Leadership
Learn when to manage and when to lead. Businesses need to be managed, but people need to be led. Effective managers who are also leaders become resource people for, not bosses of, others. And isn't that what supervision is all about?
Balancing Work and Home
It's hard to succeed at work and at home when both are filled with goals, expectations, and demands. Finding the right balance can increase your productivity and improve your attitude. Put more balance in your life!
Motivation
Learn to make the most of each day. People with a positive outlook are happier and more effective both at work and at home. McKinley sparks permanent changes by motivating you to focus on what is important in your life.
Transform Today's Challenges into Tomorrow's Business
Related Speakers View all
---
Howard Putnam

Former CEO of Southwest Airlines

Tim Sanders

Bestselling Author, Technology Pioneer, Expert on Co...

Vince Poscente

Former Olympic Speed Skier, Leadership & Sales Exper...

Amanda Gore

CEO, The Joy Project; Hall of Fame Motivational Spea...

Marcus Buckingham

Peak Performance Expert, Best-Selling Author, Resear...

Tony Alessandra

Premier Communications Expert; Author of "The Platin...

Dr. Nido Qubein

Award-Winning Speaker and Author, President of High ...

Sam Geist

Consultant / Facilitator

Robert Kriegel

Expert in Sports & Performance Psychology

Garrison Wynn

Comedian & Motivational Business Expert

Mark C. Thompson

Executive Coach & Author

Afterburner

US Fighter Pilots & Team-Building Experts

Matthew Kelly

Best-Selling Author & Motivational Coach

Mark Victor Hansen

Founder & Author of Chicken Soup for the Soul Book S...

Joseph Grenny

New York Times Bestselling Author; Leading Social Sc...

Emory Austin

Authority on Leadership, Change & Customer Service

Mike Abrashoff

Former Commander of USS Benfold & Author of "It's Yo...

JP Pawliw-Fry

Co-Founder of the Institute for Health and Human Pot...

Grant D. Fairley

Inspirational Speaker and Teacher, Executive Coach &...

Shawn Achor

Harvard Professor, Researcher & Positive Psychology ...
More like Michael