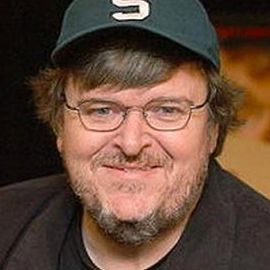 Michael Moore is an American documentary filmmaker and author. He is best known for his work on globalization and capitalism. Born in Flint, Michigan, Michael was an Eagle Scout, Newspaper Boy of the Week, and, at 18, the youngest person ever elected to public office in the state of Michigan.
Moore is the Oscar and Emmy-winning director of the ground-breaking, record-setting films Roger & Me, Bowling for Columbine, and Fahrenheit 9/11, which also won the top prize at the 2002 Cannes Film Festival and went on to become the highest grossing documentary of all time. It became the first documentary ever to premier No. 1 at the box-office in its opening weekend. Film Comment called it "The Film of the Year." In his newest documentary, Where To Invade Next, Moore visits various countries to examine how Europeans view work, education, health care, sex, equality, and other issues. The film premiered at the 2015 Toronto International Film Festival.
His 2007 documentary, Sicko is self described as, "a comedy about 45 million people with no health care in the richest country on Earth." Moore investigated American health care horror stories, focusing on large American pharmaceutical companies, the corruption in the Food and Drug Administration, and even brought injured 9/11 rescue workers to Cuba to receive treatment.
Moore also earned the label of America's No. 1 selling nonfiction author, with such books as "Stupid White Men and Other Sorry Excuses for the State of the Nation," and "Dude, Where's My Country." No other author has spent more weeks on the New York Times hardcover non-fiction list from 2002-04 than Michael Moore. "Stupid White Men" was also awarded Britain's top book honor, "British Book of the Year," the first time the award has been bestowed on an American author.
His book, "Here Comes Trouble: Stories From My Life," takes readers on an unforgettable, take-no-prisoners ride through the life and times of Michael Moore. Breaking the autobiographical mode, Moore's memoir is alternately funny, eye-opening, and moving; it's a book he has been writing-and living-his entire life.
Moore has two additional books: "Will They Ever Trust Us Again—Letters from the War Zone," which is a compilation of letters he has received from soldiers in Iraq and from their families back home and "The Official Fahrenheit 9/11 Reader," which contains loads of backup materials for the film, plus essays and the film's screenplay.
In addition to winning the Academy Award for Bowling for Columbine, Moore won the Emmy Award for his NBC and Fox series, TV Nation and was also nominated for his other series, The Awful Truth. Moore also wrote and directed the comedy feature Canadian Bacon starring the late John Candy, and the BBC documentary, The Big One. He has directed music videos for R.E.M., Rage Against the Machine, Neil Young, and System of a Down.
His other best-selling books include "Downsize This! Random Threats from an Unarmed American" and "Adventures in a TV Nation."
In 2005, Time magazine named Moore one of the world's 100 most influential people.
Related Speakers View all
---
Morgan Spurlock

Film Director and Screenwriter, Most Known for the D...

Robert Kenner

Documentary Filmmaker; Known for "Food, Inc."

Ben Stein

Political Economist, Commentator, Author & Actor

Al Franken

Former Senator from Minnesota; Former SNL Writer; Si...

Ken Burns

Historian & Award-Winning Filmmaker

Jose Antonio Vargas

Journalist, Filmmaker & Immigration Activist

Sebastian Junger

Award-Winning Journalist, New York Times Best-Sellin...

Bill Maher

Political Satirist & Host of HBO's "Real Time"

Spike Lee

Academy Award-Winning Writer, Producer, Actor & Dire...

Sean Hannity

New York Times Best-Selling Author; Host of "The Sea...

Danny Glover

Acclaimed Actor, Producer & Leading Social Activist;...

Jeffrey Tambor

Emmy Award-Winning Actor of "Arrested Development," ...

Joe Pantoliano

Emmy Award-Winning Actor & Film Producer

Jehane Noujaim

Academy Award Nominated Director of The Square & Con...

Van Jones

CEO of REFORM Alliance, CNN host, Emmy Award-winning...

Richard Dreyfuss

Academy Award-Winning Actor

Jason Alexander

Star of Seinfeld

Kirby Dick

Award Winning Documentary Director; Best Known for "...

Joshua Oppenheimer

Film Director Who Pushes the Boundaries of Fiction a...

Simon Chinn

Academy Award winner for "Searching for Sugar Man" a...
More like Michael