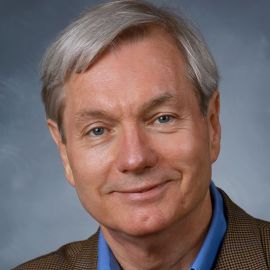 Michael Osterholm
Author of "Deadliest Enemy: Our War Against Killer Germs" & Director of Center for Infectious ­Disease Research & Policy
Dr. Michael Osterholm is Regents Professor, McKnight Presidential Endowed Chair in Public Health, the director of the Center for Infectious Disease Research and Policy (CIDRAP), Distinguished Teaching Professor in the Division of Environmental Health Sciences, School of Public Health, a professor in the Technological Leadership Institute, College of Science and Engineering, and an adjunct professor in the Medical School, all at the University of Minnesota. From June 2018 through May 2019, he served as a Science Envoy for Health Security on behalf of the US Department of State. He is also on the Board of Regents at Luther College in Decorah, Iowa.
He is the author of the 2017 book, "Deadliest Enemy: Our War Against Killer Germs," in which he not only details the most pressing infectious disease threats of our day but lays out a nine-point strategy on how to address them, with preventing a global flu pandemic at the top of the list.
In addition, Dr. Osterholm is a member of the National Academy of Medicine (NAM) and the Council of Foreign Relations. In June 2005 Dr. Osterholm was appointed by Michael Leavitt, Secretary of the Department of Health and Human Services (HHS), to the newly established National Science Advisory Board on Biosecurity. In July 2008, he was named to the University of Minnesota Academic Health Center's Academy of Excellence in Health Research. In October 2008, he was appointed to the World Economic Forum Working Group on Pandemics.
Previously, Dr. Osterholm served for 24 years (1975-1999) in various roles at the Minnesota Department of Health (MDH), the last 15 as state epidemiologist and chief of the Acute Disease Epidemiology Section. While at the MDH, Osterholm and his team were leaders in the area of infectious disease epidemiology. He has led numerous investigations of outbreaks of international importance, including foodborne diseases, the association of tampons and toxic shock syndrome (TSS), the transmission of hepatitis B in healthcare settings, and human immunodeficiency virus (HIV) infection in healthcare workers.
Dr. Osterholm has been an international leader on the critical concern regarding our preparedness for an influenza pandemic. His invited papers in the journals Foreign Affairs, the New England Journal of Medicine, and Nature detail the threat of an influenza pandemic before the recent pandemic and the steps we must take to better prepare for such events. Dr. Osterholm has also been an international leader on the growing concern regarding the use of biological agents as catastrophic weapons targeting civilian populations. In that role, he served as a personal advisor to the late King Hussein of Jordan. Dr. Osterholm provides a comprehensive and pointed review of America's current state of preparedness for a bioterrorism attack in his New York Times best-selling book, "Living Terrors: What America Needs to Know to Survive the Coming Bioterrorist Catastrophe."
The author of more than 315 papers and abstracts, including 21 book chapters, Dr. Osterholm is a frequently invited guest lecturer on the topic of epidemiology of infectious diseases. He serves on the editorial boards of nine journals, including Infection Control and Hospital Epidemiology and Microbial Drug Resistance: Mechanisms, Epidemiology and Disease, and he is a reviewer for 24 additional journals, including the New England Journal of Medicine, the Journal of the AmericanMedical Association, and Science.
Dr. Osterholm has received numerous honors for his work, including an honorary doctorate from Luther College; the Pump Handle Award, CSTE; the Charles C. Shepard Science Award, CDC; the Harvey W. Wiley Medal, FDA; the Squibb Award, IDSA; Distinguished University Teaching Professor, Environmental Health Sciences, School of Public Health, UMN; and the Wade Hampton Frost Leadership Award, American Public Health Association. He also has been the recipient of six major research awards from the NIH and the CDC.
Related Speakers View all
---
Jennifer Nuzzo

Epidemiologist & Senior Scholar at the Johns Hopkins...

Steffanie Strathdee

Epidemiologist, Author of "The Perfect Predator," Fo...

Gavin Yamey

Director of the Center for Policy Impact in Global H...

Tom Inglesby

Director of the Center for Health Security of the Jo...

Keiji Fukuda

Epidemiologist, Public Health Expert, Director & Cli...

Amanda McClelland

Senior Vice President of Prevent Epidemics & Resolve...

Dean Blumberg

Chief of Pediatric Infectious Diseases at UC Davis C...

Tom Frieden

Former Director of the Centers for Disease Control &...

Amesh Adalja

Senior Scholar at the Johns Hopkins University Cente...

Rick Hanson, PhD

Neuropsychologist Senior Fellow of the Greater Good ...

Dan Ariely

Behavioral Economist; Professor at Duke University; ...

Dr. Eric Feigl-Ding

Renowned Epidemiologist & Health Economist

Stuart H. Cohen

Chief of Infectious Diseases at UC Davis Health

Christine Kreuder Johnson

Epidemiologist, Associate Director of The One Health...

Tracey Goldstein

Virologist, Associate Director of One Health Institu...

Patricia Benner

Nursing Theorist, Academic & Author of "From Novice ...

Peter Hotez

Dean and President, National School of Tropical Medi...

Daniel Altman

Sports Analytics & Strategy Expert

Dr. Anthony Fauci

Director, National Institute of Allergy and Infectio...

Dr. Carl Hart

Professor of Psychology & Chair of Department of Psy...
More like Michael