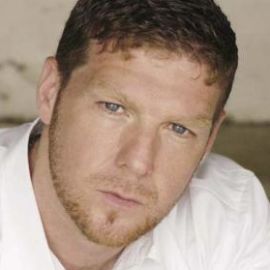 Michael Patrick MacDonald grew up in the Old Colony Housing Project in South Boston, a neighborhood that held the highest concentration of white poverty in the United States. After losing four of his eleven siblings and seeing his generation decimated by poverty, crime, addiction and incarceration, he learned to transform personal and community trauma by becoming a leading Boston activist, organizer and writer.
MacDonald is the author of the New York Times Bestselling memoir, All Souls: A Family Story From Southie and the acclaimed Easter Rising: A Memoir of Roots and Rebellion. These two books are often selected as First Year Experience reads, for which MacDonald is available to speak at colleges and universities. He has been awarded an American Book Award, A New England Literary Lights Award and a fellowship at the Rockefeller Foundation's Bellagio Study Center. MacDonald has written a number of essays and short stories, including The Resurrection of Cornelius Larkin and An Immigrant's Tale, written for the Dropkick Murphy's theme album "Going Out in Style." He is also a regular contributor to The Boston Globe's Op Ed page and is currently writing a series with Schuster Institute for Investigative Journalism regarding the 40th anniversary of busing and ongoing race and class issues in Greater Boston.
As an activist, MacDonald has focused his efforts on multi-cultural coalition building to reduce violence and promote grassroots leadership from our most impacted communities. He has developed Gun Buyback programs and local support groups, which give voice to adult and youth survivors of poverty, violence and the drug trade. MacDonald is on many local and national boards, including the Children's Defense Fund's Beat The Odds Essay Selection Committee, Crittenton Women's Union National Advisory Committee and Families First of Greater Boston Advisory Board.
Michael Patrick MacDonald serves as Author-in-Residence at Northeastern University's Honors Department, where he teaches his curricula: "Non-Fiction Writing & Social Justice Issues" and "The North of Ireland: Conflict, Reconciliation, and a Lasting Peace with Justice" every fall. He is also a Guest Lecturer at California State University, Northridge CA during the spring and at The University of Mannheim in the summer.
MacDonald is currently completing the screenplay for All Souls and is working on his third book, which will use narrative non-fiction storytelling to reveal issues of trans-generational trauma in our communities. In addition, he has developed a community-based writing and healing curriculum, Transforming Trauma: Finding Your Voice, which is currently being used with the Crittenton Women's Union in Boston to help women who are transitioning out of poverty find their voices on the page and in the world.
As a speaker, MacDonald passionately and knowledgeably addresses a wide range of topics, including finding your voice, transforming trauma into leadership, race and the unspoken issue of class, grassroots organizing to reduce guns, violence and drugs in America, and other current topics personal to him, such as the Whitey Bulger case. Audiences will hear personal stories from MacDonald and be inspired to participate in the creative process of building a strong, better community.
Speech Topics
---
Grassroots Organizing to Reduce Gun Violence
Coming from a family and community that suffered from gun violence, Michael Patrick MacDonald recognized that those most affected by gun violence are also those who would be the key to solving the problem. Operating under this belief, he worked to recruit survivors across the racial divide in Boston's most impacted communities. The result was Boston's successful Gun Buyback program - which offered cash and vouchers to people who turned in their guns, no questions asked - of which MacDonald is founder and lead organizer. Through four annual Gun Buybacks, the program collected and destroyed over 2,900 working firearms and promoted a diverse citywide grassroots movement led by youth and survivors of gun violence. Following the Gun Buybacks, Boston experienced two years without one single juvenile homicide and a nationally recognized anti-violence movement was born.
In this program, speaker Michael Patrick MacDonald tells audiences about the factors that made the program such a success, sharing both the high-risk stories behind the hotline calls and the unprecedented history of the grassroots movement itself. The Gun Buyback's effectiveness - due in large part to Boston's populations coming together across boundaries of race and neighborhood balkanization - is a lesson in how a united voice for peace on the streets can make a profound and measurable difference in a community.
Finding Your Voice: Helping Young People Transform Trauma into Leadership
Michael Patrick MacDonald is the author of two best-selling coming-of-age memoirs: All Souls: A Family Story from Southie and Easter Rising: A Memoir of Roots and Rebellion. Both deal with the issues he experienced growing up in South Boston's Old Colony Housing Project, an area found to have the highest concentration of white poverty in America and some of Boston's highest death rates from substance abuse and its attendant violence (including suicide). Having lost four siblings to poverty, violence, and the drug trade, MacDonald has used his personal story to promote a conversation about trauma in the lives of young people and about the possibility for individual healing and community-wide change.
Before becoming a full-time writer, MacDonald worked as a community organizer, helping to build coalitions to reduce substance abuse and street violence by promoting leadership from among those most impacted by the drug trade. "Finding Your Voice" uses stories from his own teen years to illustrate the impact of poverty and trauma (specifically violence and drug abuse) on young people and the transformative power of empathy and listening among service providers and therapists. This lecture strives to help youth workers and service providers:
Using Circle Process as a Technique for Creating the Space to Tell Our Stories (Workshop)
In this workshop, Michael Patrick MacDonald provides specific answers to the following question: how do we allow our young people the space to find their voice - first, to find their voice to tell their story at their own pace, completely owning every step they take in that process, and then to find their voice in the world? Speaker Michael Patrick MacDonald says we must begin by listening, something he does with his Circle Process. Circle Process (literally "sitting in a circle") creates a space without hierarchy where we all feel listened to and where we lose separation, gain empathy for the other, and find company in our stories. It's all about constructing our narratives, owning our narratives, and finding ways to connect with others through our stories and theirs. From MacDonald's own experience and his observation of young people healing from past trauma, this has proven to be a powerful way forward in the aftermath of trauma.
The Legacy of South Boston Crime Boss Whitey Bulger
Our Common Ground: Race & the Unspoken Issue of Class in America
Organizing to Reduce Violence & Drug Use
Cross-Cultural Community Building
Books
---
Related Speakers View all
---
John Zogby

Trendspotter & Leading Pollster

Victoria Rowell

Classically Trained Dancer, Actress on "The Cosby Sh...

Jonathan Kozol

Educator & Social Justice Advocate

Geoffrey Canada

Inner-City Youth & Education Advocate

Sheryl WuDunn

Pulitzer Prize-Winning Journalist; Co-author of Half...

Kevin Powell

Writer, Humanitarian, President of BK Nation

Wes Moore

CEO of Robin Hood Foundation, Best-Selling Author & ...

Alvin Poussaint

Psychiatrist, Media Consultant & Author

Asra Nomani

Journalist & Author, Women's Rights Activist

Sonia Nazario

Pulitzer Prize-Winning Author & Journalist; Author o...

Tonya Lewis Lee

Author, Producer & Activist

Mary Frances Berry

Professor, Author & Historian; Former Chairperson of...

Dean Karlan

Behavioral Economist, Social Entrepreneur & Author

Juan Williams

New York Times Best-Selling Author, Fox News Politic...

Nicholas Kristof

Pulitzer Prize-Winning New York Times Columnist & Po...

Rye Barcott

Co-Founder & CEO of With Honor, Veteran and Author o...

Raj Patel

Award-Winning Writer, Activist & Academic

Liz Seccuro

Victims' Rights Activist & Author

Judge Glenda Hatchett

Former Juvenile Court Judge & Star of "Judge Hatchet...

Ellis Cose

Award-Winning Journalist & Author
More like Michael