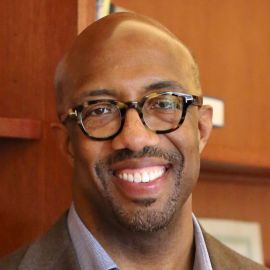 Michael Sorrell
34th President of Paul Quinn College
Michael J. Sorrell is the 34th President of Paul Quinn College. Under his leadership, Paul Quinn has gone from an institution on the verge of collapse to one that is now nationally renowned for its innovative approach to higher education. Among the College's accomplishments during President Sorrell's 10-year tenure are the following: transforming the football field into the WE over Me Farm in order to battle the food desert conditions of the community surrounding the campus; becoming the first federally-recognized urban Work College; implementing a business casual dress code; winning the HBCU of the Year, and rewriting all of the institution's fundraising records.
Michael received his J.D. and M.A. in Public Policy from Duke University and his Ed.D. from the University of Pennsylvania. While in law school, he was one of the founding members of the Journal of Gender Law & Policy and served as the Vice President of the Duke Bar Association. He is a product of the small, liberal arts college tradition, having graduated from Oberlin College with a B.A. in Government. While at Oberlin, he served as Secretary-Treasurer of his senior class, was a two-time captain of the men's varsity basketball team, and graduated as the school's fifth all-time leading scorer.
While President Sorrell has won many awards throughout his career, the honor that has meant the most to him was being selected as the "Father of the Year" for the City of Dallas in 2016 for his relationship with his wife Natalie and their two wonderful children, Michael Augustus and Sage Louise-Sinclair.
Videos
---