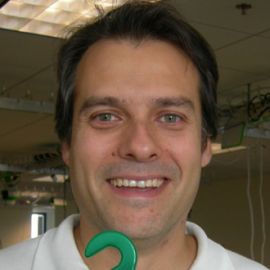 Michail Bletsas
Chief Connectivity Officer, One Laptop Per Child (OLPC).
Michail Bletsas is OLPC's (One Laptop per Child) Chief Connectivity Officer. The goal of the foundation is to provide children around the world with new opportunities to explore, experiment, and express themselves. To that end, OLPC is designing a laptop, educational software, manufacturing base, and distribution system to provide children outside of the first-world with otherwise unavailable technological learning opportunities.
As Chief Connectivity Officer, Bletsas is responsible for integrating the software, hardware and service provider agreements needed for the laptops to be connected together and to the Internet after deployment. He is a research scientist (on leave) from MIT, where he was the Director of Computing at the Media Laboratory for over a decade. He designed and deployed most of the internet network infrastructure systems at the Media Lab. His research involves experimenting with wireless networks that are implemented using off-the-shelf, low-cost components to provide broadband Internet access to underserved areas. He has taught seminars on Computer and Network Security at MIT. He has lectured internationally on a variety of Internet subjects and has been the keynote speaker in a number of international conferences.
Before joining the Media Lab, Bletsas was a systems engineer at Aware, Inc., where he designed and wrote high-performance software libraries for Intel's distributed-memory parallel supercomputers, and was involved in the development of one of the first ADSL Internet-access test beds. With over 20 years of professional experience, he has consulted for a number of companies and has served on various governmental committees. Currently he sits on Mayor Thomas Menino's (City of Boston) WiFi task force and on Greece's Ministry of Development Competitiveness Program Committee. Bletsas has served as an advisor to a variety of high tech startup companies. He is a founder of Velti S.A., a successful Greek software company which focuses on the telecom and banking sectors.
Besides his professional engagements, Bletsas has been involved with various NGOs. In 1995, he was a founder and the technical director of the HR-Net project which at that time operated the largest news aggregator website for the Balkan region. He currently serves on the board of directors of Access2Democracy. Bletsas holds a diploma in electrical engineering from Aristotle University of Thessaloniki, Greece and an MSc in computer engineering from Boston University.
Related Speakers View all
---
David Houle

Global Futurist & Strategist, Honorary President and...

Steve Wozniak

Co-Founder of Apple Computer, Inc.

David Thornburg

Educational Technology Specialist

William Powers

Best-Selling Author of Hamlet's BlackBerry

John Wood

Former Microsoft Marketing Executive & Founder and B...

Vicki Hoefle

Professional Parent Educator, Author, Duct Tape Pare...

GA Gardner

Artist, Art Educator, Creative Speaker, Former Profe...

Charles Petty

Humorous Professional Motivational Speaker

Rudy Ruettiger

Motivational Speaker & Former Football Player; Inspi...

Fonzworth Bentley

Musician, Author and TV personality; MTV's "From G's...

Clay Shirky

Expert on New Technology & Social Media, & How They ...

Professor Richard Dawkins

English Ethologist, Evolutionary Biologist, Charles ...

Anastasia Goodstein

Award-Winning Blogger & Tween Marketing Expert

James Vollbracht

Author of "Stopping at Every Lemonade Stand: How to ...

Ken Jennings

Jeopardy! "Greatest Of All Time" Winner; Longest Jeo...

Erik Wahl

Internationally Recognized Graffiti Artist, Entrepre...

Tony Wagner

Senior Research Fellow at the Learning Policy Institute

Watts Wacker

Futurist & Commentator

John Sculley

Vice-Chairman of MDLIVE, Former CEO of Apple Compute...

Dave Pelzer

Motivational Leader; Best-selling Author of "A Child...
More like Michail