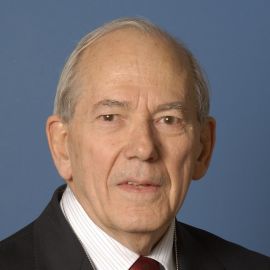 Michel Camdessus
Former Managing Director of the IMF
Michel Camdessus is a French economist and administrator who was Managing Director of the International Monetary Fund (IMF) from 16 January 1987 to 14 February 2000. To date, he is the longest serving Managing Director of the IMF.
Previously, he was Deputy Governor and Governor of the Bank of France from November 1984 until his move to Washington, D.C..
He is currently president of the social initiative Semaines sociales de France [fr] (French social weeks) and is a member of the Commission for Africa established by Tony Blair. He is also a member of the Pontifical Commission for Justice and Peace.
Camdessus is a member of the Africa Progress Panel (APP), a group of ten distinguished individuals who advocate at the highest levels for equitable and sustainable development in Africa. As a Panel Member, he facilitates coalition building to leverage and broker knowledge, in addition to convening decision-makers to influence policy and create lasting change in Africa.
Camdessus is also a member of the Fondation Chirac's board of directors, ever since the foundation was launched in 2008 by former French president Jacques Chirac to promote world peace. He also participates in the jury for the Conflict Prevention Prize awarded every year by this foundation, and in the scientific committee of its Water and Sanitation programme.