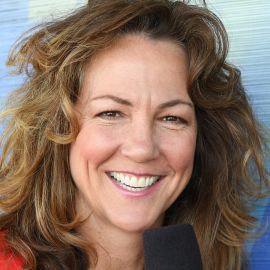 Michele Mary Smith is left-handed fastpitch softball pitcher. Smith is a double Olympic Softball gold medalist with the United States women's national softball team, having played in the 1996 and 2000 Summer Olympics. She has been ESPN's lead college softball color analyst since 1998.
In 2012, Smith became the first woman to serve as commentator for a nationally televised Major League Baseball game.
Smith started playing softball at the age of 5. She attended Voorhees High School in Glen Gardner, New Jersey, where she set school records for wins, strikeouts and no-hitters. She continued her pitching career at Oklahoma State University, earning a Bachelor of Science in health and wellness and finishing with a 0.75 Earned Run Average.
On July 21, 1986, while Smith's father was driving her home from an oral surgeon's appointment, the sleeping Smith was thrown from the truck when her door opened on a turn. She was thrown into a roadside post, chopping off part of her elbow bone and tearing her triceps from her left arm, which severed the muscle and nerve endings in her golden pitching arm. The accident forced her to not only face the trauma of her injury, but also the end of her life as she had known it. "It was like losing my identity," she says. Her life was far from over: after 9 intensive months of rehab she made her comeback as a pitcher at Oklahoma State University. She returned throwing 3 mph faster than before the accident.
Videos
---