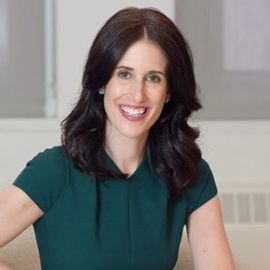 Michelle Peluso is the Chief Executive Officer of Gilt, an innovative online shopping destination offering its seven million members special access to the most inspiring merchandise and experiences every day at insider prices. Prior to assuming the CEO role at Gilt, she served for over three years on the company's Board of Directors.
Before joining Gilt, Michelle was at Citigroup from 2009 until early 2013, where she was the Global Consumer Chief Marketing and Internet Officer. In that role she was responsible for the digital experience for Citi's 100 million consumers globally as well as for Citi's global consumer marketing strategy and execution. She also oversaw customer experience. Under Michelle's leadership, Citi has been widely recognized for significantly improving its online marketing and digital capabilities around the world.
Prior to Citigroup, Michelle was the CEO of Travelocity for six years. She took that post after serving as the company's Chief Operating Officer and Senior Vice President of Product Strategy and Distribution for several years prior. Under her leadership, Travelocity experienced a significant turnaround in both growth of revenue and profitability.
In her role as CEO, she launched Travelocity's innovative net-rate hotel and dynamic packaging programs, its one-of-a-kind customer service guarantee, and she oversaw the award-winning Roaming Gnome marketing campaign. These efforts catapulted Travelocity back to growth and profitability. Peluso also spearheaded Travelocity's emergence as a global player with organic growth and acquisitions in Europe, Latin America, and Asia.
Peluso joined Travelocity following the company's acquisition of Site59, a travel site she created and launched in 2000 in her role as CEO. Site59 became the leader in the U.S. "last-minute deals" arena and won numerous honors for innovation before it was acquired by Travelocity in March 2002. Prior to leading Site59, Peluso served as a White House Fellow and Senior Advisor to Labor Secretary Alexis Herman and worked as a case leader for The Boston Consulting Group in New York and London.
Peluso has been tapped as an executive to watch by Forbes and The Wall Street Journal and has been featured in several "40 under 40" lists. She has received multiple awards, including the Stevie Award for Lifetime Achievement in Business and has been recognized by the National Italian American Foundation with a Special Achievement Award in Business. Fast Company magazine named her a "customer-centered leader." Most recently, she was named as one of the world's most influential CMOs according to a Forbes study conducted by Appinions. She is also a noted speaker and previously served on the Board of Directors for OpenTable.
Peluso received an MA in Economics, Philosophy and Politics from Pembroke College at Oxford University where she was a Thoroun Scholar, and her BA from the University of Pennsylvania's Wharton School of Business. She lives in New York City with her husband, Marc, and their two children, Auden Grace and Cole Hudson.