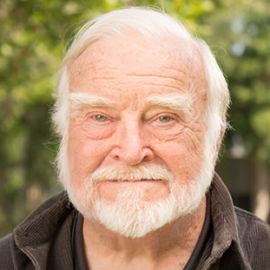 Mihaly Csikszentmihalyi is a Distinguished Professor of Psychology and Management at Claremont Graduate University. He is also the founder and co-director of the Quality of Life Research Center (QLRC). The QLRC is a nonprofit research institute that studies positive psychology, the study of human strengths such as optimism, creativity, intrinsic motivation, and responsibility.
Csikszentmihalyi received his Ph.D. in Psychology from the University of Chicago. Since receiving his doctorate, he has served as the head of the Department of Psychology at the University of Chicago and of the Department of Sociology and Anthropology at Lake Forest College.
Csikszentmihalyi is known for his research on the experience of flow, a psychological concept he introduced in his bestselling 1999 book "Flow: The Psychology of Optimal Experience." The book has received much praise and attention, being described by the Library Journal as "…an intriguing look at the age-old problem of the pursuit of happiness and how, through conscious effort, we may more easily attain it." Though published in the early 1990s, "Flow" has continued to draw attention from both researchers and the general public and has been translated into more than 20 languages. Since then, Csikszentmihalyi has written numerous books and articles on managing flow. In 2004, Csikszentmihalyi delivered a TEDTalk titled "Flow, the Secret to Happiness," which has over 3.5 million views.
He has been the principal investigator on eight grants in the last 10 years, receiving funding from the Public Health Service, the Atlantic Philanthropies, the Getty Trust, the Sloan Foundation, the W.T. Grant Foundation, the Hewlett Foundation, and the Spencer Foundation, for a total of over $10 million. He is a member of the American Academy of Education, the American Academy of Arts and Sciences, and the National Academy of Leisure Studies.
Related Speakers View all
---
Eduardo Briceño

Growth Mindset and Improvement Expert; Co-Founder of...

Shawn Achor

Harvard Professor, Researcher, Positive Psychology E...

Anthony Colannino

International Center for Leadership in Education Sen...

Erin Gruwell

Founder & Executive Director of the Freedom Writers ...

Robert Cialdini

New York Times Best-Selling Author & The Foundationa...

George Couros

Author & Educator; Innovative Teaching, Learning and...

Philip Zimbardo

Psychologist Known for the Notorious '1971 Stanford ...

Gever Tulley

Founder of the Tinkering School & Brightworks School...

Linda Darling-Hammond

CEO of the Learning Policy Institute & Founder of th...

Geoffrey Canada

Inner-City Youth & Education Advocate

Mark Sanborn

Leadership, Teamwork & Performance Expert; New York ...

Ralph Nader

Former Presidential Candidate for the Green Party, C...

Heather Staker

Senior Research Fellow on Education at the Clayton C...

Larry Rosenstock

Founder & CEO of High Tech High; Former Lecturer at ...

Arne Duncan

Managing Partner, Emerson Collective; Former U.S. Se...

Bill Gates

Co-Founder of Microsoft; Co-Chair of the Bill & Meli...

John Wood

Founder & Board Co-Chair of Room to Read; Former Mic...

Seth Mattison

Co-Founder & Chief Movement Officer of Luminate Labs...

Benjamin Zander

Conductor of the Boston Philharmonic Orchestra; Cele...

Vince Papale

Former NFL Player & Inspiration for the Movie "Invin...
More like Mihaly