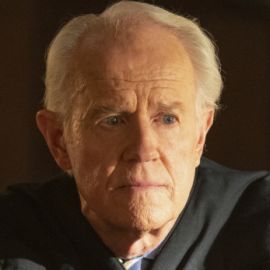 Even before becoming a beloved favorite of American television viewers for his roles on the hit series M.A.S.H. and NBC's Providence, Mike Farrell was dedicated to the belief that being a responsible citizen meant working for the ultimate benefit of all citizens.
The issue of human rights has long been his concern. As spokesperson for CONCERN/America, an international aid and development organization, Farrell has won worldwide admiration for his efforts to assist Third World refugees. In concert with the United Nations and Amnesty International, he has circled the globe to bring support and comfort to the dispossessed.
He has also been actively involved with a host of other issues, including the American Civil Liberties Union, the American Indian Movement, the United Farm Workers Union and Greenpeace. He currently serves as co-chair of Human Rights Watch in California and advisor to the National Coalition to Abolish the Death Penalty.
His informed and passionate presentations shine a light on such often neglected topics as arms control, illiteracy, veterans' rights, prison reform, ex-offender rehabilitation and animal welfare.
Videos
---
Speech Topics
---
Dr. Keeling's Curve (One Man Show)
Noted actor and activist Mike Farrell plays Dr. David Keeling, the scientist whose research on CO2 gave the world its first early warnings of global warming. In this highly acclaimed performance, Farrell brings to life the quirky and brilliant man who created the Keeling Curve, the iconic chart that illustrates the rise in atmospherice CO2 levels from 1958 to the present.
The story combines Keeling's personal journey with the insights of atmospheric scientists who, hundreds of years earlier, made discoveries that laid the foundations for Keeling's own extraordinary work. We meet Jean Joseph Baptiste Fourier whose obsession with heat led to an understanding of the greenhouse effect, and Svante Arrhenius who proved a link between global warming and CO2. The play paints very human portraits of these and other great scientists.
Becoming Informed, Getting Involved, Making a Difference
The Social Consequences of the Death Penalty
Books
---