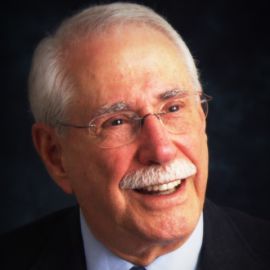 Mike Gravel
U.S. Senator from Alaska (1969–1981); Presidential Candidate in 2008 & 2020; Helped Publicize the Pentagon Papers & End the Draft
Mike Gravel is a former U.S. Senator from Alaska who ran for president in 2008 and 2020 elections. He served in the Alaska House of Representatives from 1963-66; in his second term as Speaker of the House. He was then elected to two terms in the U.S. Senate, representing Alaska from 1969-81.
Senator Gravel served on the Finance, Interior, and Environment and Public Works committees, chairing the Energy, Water Resources, Buildings and Grounds, and the Environmental Pollution subcommittees.During the environmental and energy watershed decade of the 1970s, he co-sponsored or co-authored every piece of meaningful Senate legislation dealing with air, water, waste and energy.
In 1971, as a freshman senator critical of the Vietnam War and of government secrecy, Gravel used his position as a senator to release the "secret" Pentagon Papers and facilitated their publication as "The Senator Gravel Edition, The Pentagon Papers," Beacon Press (1971).
This publication occasioned litigation, U.S. v. Gravel, resulting in a landmark Supreme Court decision relative to the Speech and Debate Clause of the United States Constitution, establishing the precedent that members of Congress cannot be bound by the official secrets of any presidential administration.
Senator Gravel waged a successful lone filibuster for five months, effectively ending the military draft in the United States. He forced an end to the undersea testing of obsolete nuclear warheads in the earthquake-prone area of Amchitka Island, Alaska, which could have compromised the food chain of the North Pacific.
He also initiated the national and global critique of nuclear power generation and was instrumental in capping the number of nuclear power plants built in the United States.Despite being opposed by all political stakeholders in Alaska, and initially even the oil industry, in 1973 Senator Gravel introduced the amendment that provided for the Congressional authorization for the construction of the Alaska oil pipeline.
Over a five month period he built the support and allies to secure passage of the amendment by a single vote. In addition to providing jobs and a wide array of economic benefits to Alaska citizens, the pipeline has been responsible for providing 20 percent of the United States' oil supply and considerable national economic benefit with respect to our balance of payments for more than a generation.
Senator Gravel's business activities have encompassed real estate, finance, and energy. He also worked as a cab driver in New York City, as a clerk on Wall Street, and as a brakeman on the Alaska Railroad.
Senator Gravel was the founding president of The Democracy Foundation, Philadelphia II, and Direct Democracy––nonprofit corporations dedicated to the establishment of direct democracy in the United States through the enactment of a legislative proposal by American voters of a federal ballot initiative called the National Initiative.
Senator Gravel lectures and writes about governance, capitalism, foreign policy, taxation, energy,transportation, the environment, and democracy.
He has written three books, "The Kingmakers: How the Media Threatens Our Security and Our Democracy," "A Political Odyssey: The Rise of American Militarism and One Man's Fight to Stop It," and "Citizen Power: A People's Platform."
He was born in Springfield, Massachusetts, to French Canadian immigrants. He attended French-speaking Catholic schools, and as a teenager, when he wasn't working with his father and brothers in the house painting and construction business, he volunteered in local Springfield politics, developing an avid interest in governance.Mike Gravel enlisted in the U.S. Army (1951-54) and served as the Adjutant in the Communications Intelligence Service in Germany and as a Special Agent in the Counter Intelligence Corps in France.
Related Speakers View all
---
Brian Hoffstein

Contributing Writer

Cody Adams

Managing Editor of The Floating University.

Peter Thiel

Former CEO and Co-founder of PayPal; Technology Entr...

Calvin Trillin

Author, Columnist, Humorist & Political Satirist

Parag Khanna

Leading Geo-Strategist & Author

Sir Richard Branson

Businessman & Founder of Virgin Group

Ingrid Newkirk

President, PETA

Rebecca MacKinnon

Director, Ranking Digital Rights, New America

Dr. Anthony Fauci

Director of the National Institute of Allergy and In...

Gerry Adams

President, Sinn Fein

Fredrik Carlström

CEO, Great Works America

Tom Freston

Principal, Firefly3; Former CEO, Viacom Inc.

Gillian Caldwell

CEO of Global Witness

An Phung

Multimedia Journalist

Shashi Tharoor

Diplomat & Author; Former United Nations Under-Secre...

Irwin Kula

Irwin does challenge the status quo in the American ...

Matthew Bishop

Managing director, Rockefeller Foundation and Former...

Moby

Musician, DJ, Photographer

Ronen Bergman

Investigative Journalist

Robert Lacey

Author, "The Kingdom"
More like Mike