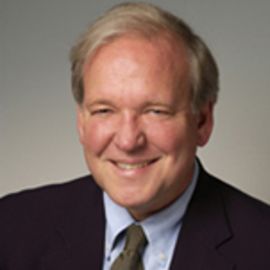 Mike McCurry is a principal at Public Strategies Washington, Inc., where he provides counsel on communications strategies and management to corporate and non-profit clients.
McCurry is a veteran political strategist and spokesperson with over three decades of experience in Washington D.C. McCurry served in the White House as press secretary to President Bill Clinton (1995-1998). He also served as spokesman for the Department of State (1993-1995) and director of communications for the Democratic National Committee (1988-1990). McCurry held a variety of leadership roles in national campaigns for the Democratic ticket from 1984 to 2004.
McCurry began his career in the United States Senate, working as press secretary for the Chairman of the Senate Labor and Human Resources Committee, Harrison A. Williams Jr. (D-NJ) and then for Daniel Patrick Moynihan (D-NY).
McCurry serves on numerous boards or advisory councils including Share Our Strength, the Children's Scholarship Fund, and the White House Historical Association. He is co-chairman of the Commission on Presidential Debates, which organizes the quadrennial debates in the general election between the major candidates for President and Vice President.
McCurry received his Bachelor of Arts from Princeton University in 1976 and a Master of Arts from Georgetown University in 1985. Additionally, he earned a master's degree in Theology in 2013 from Wesley Theological Seminary, where he is now a distinguished professor of Public Theology and organizing The Center on Public Theology.
Videos
---
Speech Topics
---
What's Happening in Washington
There is always news coming out of Washington and there are few who are as qualified to talk about what it all means than Mike McCurry. A respected Washington veteran best known for his jovial yet commanding presence as the Press Secretary for President Clinton, McCurry offers exceptional, candid, insider analysis of current national and world events. From politics, the press and the presidency to national and foreign policy, McCurry gives audiences his take on the always-charged world of life in the White House and Washington D.C. McCurry forecasts what's ahead for Congress and Obama Administration, providing an insightful and often humorous look at politics in America.
Politics and the Press in the Digital Age
The game has changed. Gone are the days when provocative newspaper ads and great television spots meant the difference between being elected and looking for a new job after Election Day. Now more than ever, political and public affairs campaigns rely on a full-fledged media mix that involves traditional media and online organizing, blogs and other new media technologies to make the difference in swaying public opinion. A veteran who has cut his teeth on public affairs campaigns for the last three decades, McCurry looks at the use of technology in affecting politics and diplomacy, discussing what trends will rule our digital future.
Related Speakers View all
---
Craig Newmark

Founder of Craigslist; Internet Entrepreneur; Leader...

Donald Trump

45th President of the United States; Businessman & T...

Calvin Trillin

Author, Columnist, Humorist & Political Satirist

Tim Sanders

Bestselling Author, Technology Pioneer, Expert on Co...

Richard Florida

Leading Urbanist, Economist & Author of "The Rise of...

Bill Rancic

"The Apprentice" Winner; Entrepreneur; Star of "Giul...

Graham Hill

Founder of Life Edited & TreeHugger.com

Mark Sanborn

Leadership, Teamwork & Performance Expert; New York ...

Robert Ballard

Renowned Ocean Explorer & Scientist

Ben Stein

Political Economist, Commentator, Author & Actor

George Ross

Trump's Right Hand Man

Paul Orfalea

Founder of Kinko's, Philanthropist-Chairman of the O...

Scott McKain

Customer Experience Expert & Best-Selling Business A...

Parag Khanna

Leading Geo-Strategist & Author

Robin Crow

Acclaimed Musician, Entrepreneur & Bestselling Autho...

Todd Buchholz

Former White House Director of Economic Policy & CNB...

Sir Richard Branson

Businessman, Founder of Virgin Group

Blaise Aguera y Arcas

Works on Machine Intelligence at Google; Former Arch...

Mihaly Csikszentmihalyi

Leading Researcher in Positive Pscyhology; Creator o...

Geoffrey Canada

Inner-City Youth & Education Advocate
More like Mike