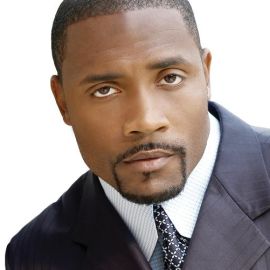 Mike Minter
Former Carolina Panthers Safety, Head Football Coach at Campbell University & CEO of Minter Enterprises
Former Carolina Panthers standout and Nebraska Football Hall of Famer Mike Minter completed his fifth season as head football coach at Campbell University in 2017.
Over the last five seasons, Campbell has reset nearly every school record in the books. 23 Camels have been named first or second team all-conference, while 37 have been tabbed honorable mention all-league.
Campbell finished 2017 6-5 overall and 5-3 in PFL play, matching the program's best overall and conference records in its 10 year history. The Camels also set a record for road wins (3).
Ten Camels earned All-PFL recognition, with safety Carolos Merritt and defensive end Emmanuel Olenga taking First Team nods. Quarterback Daniel Smith, wide receiver Aaron Blockmon and offensive tackle Shuler Littleton were also tabbed Second Team All-PFL, while five others were named honorable mention All-PFL.
Smith was named the PFL's Offensive Freshman of the Year, and was a finalist for the STATS Jerry Rice Award for FCS freshman player of the year, finishing fourth in the final voting. Smith finished the 2017 regular season with the fourth-most rushing yards in the country, with his 1,272 yards on the ground leading all FCS freshmen and quarterbacks. Smith set Campbell single-season records for rushing yards, total offense (3,161), all-purpose yards (1,272) and touchdowns responsible for (30). After just one season, Smith is already Campbell's career leader in touchdown passes with 18.
The Camels set 16 team single-season school records in 2017, plus 19 individual single-season marks on the way to their historic season. Additionally, CU set Barker-Lane Stadium records for average, total and single-game attendance for the second straight season.
In Minter's fourth season at the helm, Campbell went 5-5 on the year, notching the program's second season at .500 or better in its nine year history, and ranked third in the PFL in rushing offense, standing 19th nationally at 209 yards per game, as well as 17th in the country in total defense (322.1 yards per game). Sophomore wide receiver Aaron Blockmon also led the PFL in receiving yards (1,038) and touchdowns (10), headlining a group of 11 Camels that earned all-conference accolades.
The Camels ranked fifth in the nation in total defense in 2015 (279.3 per game), standing third in team sacks per game (3.55) and ninth in scoring defense (17.7). The team shattered program records for all three categories, adding single season marks for tackles for loss (85.0) and total sacks (38.0).
16 Camels were honored on the conference's All-PFL teams following the 2015 season, with junior running back De'Shawn Jones, redshirt senior defensive lineman Ugonna Awuruonye and senior defensive lineman Greg Milhouse Jr. all receiving First Team All-PFL accolades.
The PFL 2015 Freshman Defensive Player of the Year went to Campbell's Jack Ryan. Four Camels were also named to the 2015 Academic All-PFL teams.
The offseason saw another Campbell first, with defensive tackle Greg Milhouse Jr. (New York Giants) and long snapper Danny Dillon (Arizona Cardinals) both signing NFL contracts.
2014 saw the Camels notch their second-most total and conference wins at 5-7 overall and 4-4 in PFL play. A school record seven Camels, plus eight honorable mentions, were named to the 2014 All-Pioneer Football League teams, including four first teamers. Eight CU student-athletes, with six first team members, were tabbed PFL All-Academic.
In Minter's first season as head coach at CU, the Camels set 21 offensive team records, including rushing yards (2,800), passing yards (2,436), and total offense (5,236). The Camels also established four defensive marks, including sacks (27), and posted three team records on special teams.
Senior Kurt Odom became Campbell's first football All-America selection, earning Third Team honors from the Sports Network. Odom was also named First Team All-PFL while seven Camels took home honorable mention nods.
In May 2014, CU quarterback Brian Hudson signed a contract with the Canadian Football League's Calgary Stampeders.
The quarterback from Stafford, Va. played his lone season at Campbell in 2013 after transferring from Liberty. Hudson set Campbell single-season records for rushing yards, rushing attempts, pass completions, passing yards, passing touchdowns, passing yards per game, total offense and all-purpose yards, earning Honorable Mention All-PFL accolades.
Minter picked up his first win as a collegiate head coach in his home debut as the Camels cruised to a 56-21 triumph over UVA-Wise.
Minter, a member of two national championship teams at Nebraska and the Panthers' 2003 Super Bowl squad, joined the Fighting Camel program after serving as assistant coach at Liberty University in 2012 and Johnson C. Smith University in 2011. He also brought head coaching experience from First Assembly Christian School in Concord, where he guided his teams to 33 victories and two state titles in three seasons.
During his 10-year NFL career, Minter earned a starting safety role six games into his rookie year in 1997, and held that position until he retired after the 2006 season. A second-round draft choice, he helped lead the Panthers to three playoff trips, the 2003 NFC Championship and a berth in Super Bowl XXXVII.
In the Super Bowl against the New England Patriots, Minter suffered a broken left foot in the third quarter, but remained in the game and collected a career-high 18 tackles. At the time of his retirement, he held Panthers franchise records for starts (141), consecutive starts (94), fumble recoveries (11) and interceptions returned for touchdowns (4).
At Liberty, Minter worked as special teams coordinator/assistant defensive coach under head coach Turner Gill. He mentored three 2012 Big South all-conference performers in long snapper Richard Wright, place kicker John Lunsford and punter Grant Bowden.
Liberty finished the regular season ranked No. 4 in the country in kickoff return yardage defense, allowing only 14.04 yards per return. The Flames also finished 38th nationally in kickoff returns (21.3 yards).
In addition to his on-field coaching responsibilities at Liberty, Minter was involved in many aspects of the Flames operation. He helped run the scout team in practice, served as liaison with the athletic training and weight room staffs, and reviewed team members' academic achievement weekly with the Associate A.D. for Academic Affairs.
His primary recruiting territories focused on North Carolina, South Carolina, Oklahoma, Kansas, Nebraska and Colorado.
During his time at Johnson C. Smith, Minter helped the Golden Bulls dramatically improve in many phases of the game. Under his guidance as assistant head coach, defensive passing game coordinator and special teams coordinator, JCSU ranked fifth in the nation in punt return yardage in 2011.
The Golden Bulls also finished the season with 24 turnovers caused (which tripled the previous year's total) and won Pioneer Bowl XIII 35-33 over Miles College for the program's first-ever bowl victory.
Minter was a two-time national champion at Nebraska (1994 and 1995) where he played linebacker, free safety and strong safety for the Cornhuskers. He was a three-time all-conference performer and was inducted into the Nebraska Football Hall of Fame in 2006. He graduated in 1997 with a Bachelor of Science degree in engineering.
Born Jan. 15, 1974, in Cleveland, Ohio, Minter led the State of Oklahoma in rushing yards (1,589) as a senior at Lawton High School in 1991. He was an all-state performer, National Honor Society member and also averaged 21 points per game on the Lawton basketball team.
In addition to playing and coaching football, Minter is CEO of Minter Enterprises, a multi-faceted business impacting real estate development, general contracting and construction, business consultation, publishing, public speaking engagements and a non-profit organization focused on youth development.
Minter and his wife Kim have four children – Michael Jr., Isaiah, McKenna and Brianna.
Speech Topics
---
"One Team, One Heartbeat"
How does a group of people become One Team, One Heartbeat? It starts on the front end, with the right leaders. With the right People leading the charge, a Plan and Process will be put in place to take the team to victory!
Once the right People, Plan and Process are in place, every team can become a HIGH PERFORMING unit, working as One Team, One Heartbeat.
Related Speakers View all
---
Jim Morris

Known for His Brief MLB Career & Subject of Disney's...

Story Musgrave, M.D.

Retired NASA Astronaut; Physician & Professor at Art...

Brian Holloway

Five-Time NFL All-Pro; Motivation & Team Building Ex...

Shawn Harper

Former NFL Football Player, Successful Businessman &...

Pat Williams

Motivational Speaker & Sports Executive; Senior Vice...

Josh Davis

5-Time Olympic Medalist & Motivational Speaker

Inky Johnson

Sports Motivation Expert & Author; Former Collegiate...

Coach Ken Carter

Coach, Author, Educator & Inspiration for the Film "...

Vince Papale

Former NFL Player & Inspiration for the Movie "Invin...

Jim Abbott

Former One-Handed Major League Baseball Pitcher

J.R. Martinez

Actor, Best-Selling Author, Motivational Speaker, Ad...

Heath Calhoun

Alpine Skier & Veteran of the United States Army

Darryl Strawberry

Former American Major League Baseball Outfielder

Tom Osborne

Former Head Football Coach of the Nebraska Cornhuskers

Dave Dravecky

Former Professional Baseball Player; Cancer Survivor...

Dabo Swinney

Head Football Coach of the Clemson University Tigers

Muggsy Bogues

Former NBA All-star for the Charlotte Hornets

Scott O'Grady

Former U.S. Air Force Captain, Fighter Pilot Who Sur...

Steve Gilliland

Renowned Business & Motivational Leader; Award-Winni...

Bobby Bowden

Legendary Former Head Football Coach for Florida Sta...
More like Mike