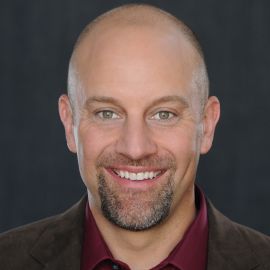 Mike Robbins
Motivational Speaker & Author of "Focus on the Good Stuff" and "Be Yourself, Everyone Else is Already Taken"
Mike Robbins is the author of five books, "Focus on the Good Stuff," "Be Yourself Everyone Else is Already Taken," "Nothing Changes Until You Do," "Bring Your Whole Self to Work" and "We're All in This Together." He's an expert in leadership, team performance, and company culture who delivers keynotes and seminars around the world that empower people, leaders, teams, and organizations to be more successful.
Prior to his speaking and writing career, Mike was drafted by the New York Yankees out of high school, but turned them down and chose to play baseball at Stanford University where he pitched in the College World Series. After college, Mike signed with the Kansas City Royals. He played three seasons in the Royals organization before arm injuries ended his playing career while he was still in the minor leagues.
After his athletic career was cut short by injuries, Mike worked in sales and business development for two tech companies, before starting his own consulting business in 2001.
Mike's clients include some of the top organizations and institutions in the world, such as Google, Wells Fargo, eBay, Gap, Microsoft, Schwab, Airbnb, the Oakland A's, Harvard University, Coca-Cola, and many others.
Mike and his work have been featured on NPR, ABC News, the Oprah radio network, and in Fast Company, the Wall Street Journal, and The New York Times. He's a regular contributor to Forbes, hosts a weekly podcast, and his books have been translated into fifteen different languages.
Speech Topics
---
Building Authentic Relationships Enhance connection, trust, and success by deepening relationships
In just about every important aspect of life and business, building strong relationships is an essential quality of individuals and teams that truly win. According to Mike Robbins and his work, two core elements of building meaningful and effective relationships, are authenticity and appreciation (each themes of books he has written). This interactive program allows people to deepen and strengthen their relationships, even the most difficult and challenging ones.
Be Yourself, Everyone Else Is Already Taken: The Power Of Authenticity
Authenticity is fundamental to relationships, communication, and success. Now more than ever, people, leaders, and teams must utilize the power of authenticity in order to build trust, resolve conflicts, and create cohesion. Some fascinating research in the field of emotional intelligence is proving that being real, honest, and even vulnerable are key elements to success and engagement. Through this program, which is based on the core principles of his book, Be Yourself,Mike Robbins illustrates exactly how authenticity impacts relationships, trust, and productivity.
Related Speakers View all
---
Marcia Reynolds

Executive Coach & Thought-Leader in Leadership Effec...

Tony Alessandra

Premier Communications Expert; Author of "The Platin...

Grant D. Fairley

Inspirational Speaker and Teacher, Executive Coach &...

Montel Williams

Emmy Award-Winning Talk Show Host Best Known For "Th...

Clint Swindall

President & CEO, Verbalocity

Robert Stevenson

Business Speaker & Author of "How to Soar Like An Ea...

Eileen McDargh, CSP, CPAE

Healthcare Consultant & Author of "The Resilent Spirit"

Patrick Lencioni

Management Consultant, Founder & President of The Ta...

Mark Victor Hansen

Founder & Author of Chicken Soup for the Soul Book S...

Jeffrey Gitomer

World-Renowned Sales & Customer Service Innovator

Christine Cashen

Hall of Fame Motivational Speaker; Author of "The Go...

Jack Canfield

Co-Author of "Chicken Soup for the Soul" Series; Pea...

Dianna Booher

Communication Expert & Chief Executive of Booher Res...

Emory Austin

Authority on Leadership, Change & Customer Service

Charlie Alejandro

Motivational Speaker, Writer, Actress & Radio Talk S...

Joseph Irons

Speaking nationally and Internationally on motivatin...

Dr. Mollie Marti

Dr. Mollie Marti is a performance psychologist, univ...

Bryan Crump

Covering Topics like Creativity, Inspiration, Goal S...

Monica Strobel

Igniting Positive Culture, Positive Leadership, High...

Liz Nead

Executive Business & Life Coach
More like Mike