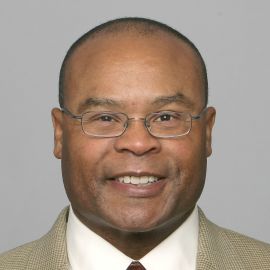 Mike Singletary is perhaps most recognized as one of the Chicago Bears' toughest middle linebackers with the ferocious eyes peering across the line into the opposing quarterback's face. He was a member of the famed '85 Super Bowl team and made 10 trips to the Pro Bowl in his 12 years as a player. He also led the NFL as Defensive Player of the Year three times, and was the Bears' team captain for ten years.
Since retiring from football in 1993, he spent ten years as a motivational speaker and corporate consultant helping companies elevate their strategies for teamwork and overall success. However in 2003, after swearing off many previous requests to coach, he answered the call and became the Linebackers coach of the Baltimore Ravens. He followed that up with a move to San Francisco, ultimately being named Head Coach for two years, and then spent the last three years with the Minnesota Vikings.
For the 2014 NFL season, he has been named Defensive Consultant to the Executive Vice President of Football Operations, with the intention of coaching again following this season. A proven teacher who values work ethic and discipline, the 49ers linebackers excelled under Singletary's direction.
Prior to joining the 49ers, Singletary served as the inside linebackers coach for two seasons with the Baltimore Ravens. Players have flourished under his tutelage, including Ray Lewis, who earned 2003 NFL Defensive Player of the Year honors. Under Singletary, the inside linebackers at Baltimore finished first and second in tackles in each of his seasons coaching the position. He was also part of a coaching staff that directed the Ravens defense to a third overall finish in 2003 and sixth overall in 2004.
After coaching for two seasons in Baltimore, Singletary's wisdom and commanding respect sent impressionable waves throughout the organization and team. When Baltimore's coach took the head coaching position in San Francisco, Singletary was his first coaching hire and set the tone for the type of team he would be building. After his exit from San Francisco, he spent two years with the Minnesota Vikings, followed by two years as a consultant to the VP of Operations of the NFL League offices. He wanted to learn the inner workings of the NFL at the corporate level in order to gain a better understanding of the product on the field. In 2016, he was back on the sidelines with the Los Angeles Rams until their staff was released at the end of the season.
In 2001, Singletary won Walter Camp's "Man of the Year Award" based on his reputation for integrity and leadership within his profession and contributions benefiting his community, country and fellow man. He also co-founded Leadership Zone, a company that provides leadership training.
Singletary was inducted into the Pro Football Hall of Fame in 1998 after a stellar career with the Chicago Bears from 1981-92. He boasted 1,488 career tackles (885 solo), finishing as the Bears' first or second leading tackler each of his last 11 seasons. Singletary was named to the NFL Team of the '80's after being selected to play in a team-record 10 consecutive Pro Bowls. The former Bears defensive captain was also named All-Pro eight times (1983-89; 1991) and an All-NFC selection nine consecutive times (1983-91). He also started a defensive team record 172 games for the Bears, trailing only running back Walter Payton's 184 career starts for the all-time team lead.
Singletary was drafted in the second round of the 1981 NFL Draft out of Baylor University. In addition to his coaching duties for the Vikings, Singletary has authored three books: "Singletary One on One", "Calling the Shots" and "Daddy's Home at Last". Singletary and his wife, Kim, have seven children and five grandchildren.
Videos
---
Books
---
Related Speakers View all
---
J.R. Martinez

Actor, Best-Selling Author, Motivational Speaker, Ad...

Joe Theismann

World Champion Quarterback, Broadcaster & Entrepreneur

Rudy Ruettiger

Motivational Speaker, Author & Inspiration for the A...

Scott Hamilton

Olympic Gold Medalist Figure Skater, Three-Time Canc...

Coach Ken Carter

Coach, Author, Educator & Inspiration for the Film "...

Dominique Dawes

Olympic Gold Medal-Winning Gymnast, Former Co-Chair ...

Jim Craig

Gold Medal Olympian; Inspiration for Disney Film "Mi...

Katie Sowers

Former Assistant Coach for the San Francisco 49ers; ...

Inky Johnson

Sports Motivation Expert & Author; Former Collegiate...

Melissa Stockwell

First Lieutenant (Retired) & Three-Time Paratriathlo...

Michael Oher

Former NFL Player & Subject of Drama Film "The Blind...

Lisa Leslie

WNBA Champion, Olympic Gold Medalist & Author of "Do...

Vince Poscente

Former Olympic Speed Skier, Best-Selling Author, Lea...

Emmitt Smith

Leading Rusher in NFL History, Three-Time Super Bowl...

Vernice "FlyGirl" Armour

America's First Black Female Combat Pilot, Former Ma...

Mike Eruzione

Captain of the 1980 US Olympic Hockey Team & Subject...

Brian Holloway

Five-Time NFL All-Pro; Motivation & Team Building Ex...

Jim Abbott

Former One-Handed Major League Baseball Pitcher

Herman "Herm" Edwards

Arizona State Head Football Coach, Former ESPN Footb...

Magic Johnson

Basketball Hall of Famer, Entrepreneur, Philanthropi...
More like Mike