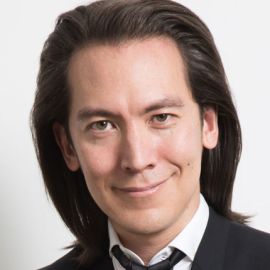 Mike Walsh
CEO of Tomorrow; Global Nomad & Futurist; Bestselling Author of "The Algorithmic Leader"
Mike Walsh is the CEO of Tomorrow, a global consultancy on designing companies for the 21st century. A global nomad, futurist and author of the bestselling book, The Algorithmic Leader, he advises some of the world's biggest organizations on digital transformation and disruptive innovation in this new era of machine intelligence.
A prolific writer and commentator, Walsh's views have appeared in a wide range of international publications including Harvard Business Review, Inc. Magazine, BusinessWeek, Forbes and the Wall Street Journal. Each week he interviews provocative thinkers, innovators and troublemakers on his podcast, Between Worlds.
His book, The Algorithmic Leader: How to be smart when machines are smarter than you, offers a hopeful and practical guide for reinventing leadership and organizations. Walsh's other books include Futuretainment (winner of the design award by the Art Director's Club in New York), and The Dictionary Of Dangerous Ideas.
Walsh has delivered close to a thousand keynote speeches around the world to companies in almost every industry. His customized presentations leave audiences prepared and inspired to transform the way they do business. In 2014, he was invited to be a main stage keynote speaker at the Million Dollar Round Table with an audience of more than 8,000 people, one of the most prestigious events on the global speaking circuit.
Videos
---
Speech Topics
---
WORLD NEXT - Your Roadmap To The Global Future
Social unrest, economic turmoil, rapid technological change - we live in a world seemingly dominated by crisis. And yet if you look more closely, you may also see a different set of patterns giving rise to new markets, new consumers and new ways to do business.
The future is already here, you just need to know where to look. Disruptive mobile technology from China to India's low cost business models, next generation mobile banking in Africa and social consumerism in South America - innovation is shifting to a new geography.
How we interact, transact and entertain ourselves in the future will be shaped by a billion new consumers from emerging markets. WORLD NEXT is your roadmap to understanding and accessing the growth potential of tomorrow's world.
FLEX - Business Re-Imagined
What does it take to lead a 21st century company? New technology is not only an opportunity to improve productivity, it invites us to ask a much bigger question - can we re-imagine the way we do business?
FUTURETAINMENT - Yesterday The World Changed - Now Its Your Turn
Based on Mike Walsh's best selling book, FUTURETAINMENT is a fast paced tour of the latest technologies, global trends, and case studies that will forever change the way you think about your relationship with your customers.
The BIG DATA Revolution
There is a new war coming - over the future's most valuable asset. Big Data, once just the domain of technology professionals, will soon be the number one issue for all business leaders. Consumers are producing more of it, marketers are starting to leverage it, and governments are seeking to control it - and most importantly, business leaders will be asked to make decisions based on it.
The real Big Data revolution is not just about the amount of data that has to be processed, but a mindset change about how data gets used in the enterprise.
With original research, practical evaluations of disruptive strategies and case studies from some of the world's most innovative firms, Mike Walsh will give you the roadmap you need to set your Big Data strategy in place for 2013. He offers cutting-edge information that each type of audience member needs to hear.
Designing Your Business for the 21st Century.
The companies that thrive in the near future will be the ones that not only embrace change but are the first to break the rules. If you could start with a clean sheet of paper, how would you design your company? Should your youngest staff member be making coffee or running your R&D team? Is Big Data something for your IT department to worry about, or a weapon to be wielded by your management team? Do you ban social networks or use them to collaborate more effectively?
Most companies are simply not designed to survive. They become successful on the basis of one big idea or breakthrough product. That early success then becomes a rigid code, and as customer habits and markets change, many fail to see that everything that made them successful is exactly what will destroy them later.
Based on interviews with you and your choices on the 7 strategic priorities, Mike will cover a range of thought provoking issues including:
The Seven Strategic Priorities for 21st Century Business Design
Smart leaders realize that the future of their company depends on business design decisions that must be made today. In his ongoing research on the world's most innovative companies, Mike has categorized those decisions into seven strategic priorities.
When you engage Mike as your keynote speaker, he will work with you to select the strategic priorities most relevant to your future roadmap. Then, during his research phase, he will conduct in-depth interviews with your team, clients or top performers in your industry in order to identify specific case studies that will resonate with your audience.
RE-IMAGINING IT
The IT strategies that made you successful until now are also the biggest threats to your future. Upgrading your systems is easy. How will you upgrade the DNA of your people?
Yesterday's IT organization was defined by a "break-fix" mentality. Today, a new era of automation, virtualization and cloud IT service management means that your technology teams must flip from managing risk and downtime, to delivering innovation and enablement. This is a business revolution no CEO can ignore.
DURING HIS PRESENTATIONS ON THIS TOPIC, MIKE SHARES:
The 21st century CIO and the traits IT leaders will need to succeed

Why the Cloud should challenge the way you think about your organizational design

Aligning IT and business to deliver continuous innovation for your end customers

How to apply speed, agility and the new lean IT mindset to your technology teams
Related Speakers View all
---
Josh Linkner

Five-Time Tech entrepreneur, Hyper-Growth CEO, New Y...

Erik Qualman

Top Digital Transformation Expert, Futurist & Bestse...

R "Ray" Wang

Founder, Chairman & Principal Analyst at Constellati...

Randi Zuckerberg

CEO & Founder of Zuckerberg Media, Author

Mitch Lowe

Co-founding Executive of Netflix & President of RedBox

Brian Solis

Digital Analyst, Futurist & Author of "What's the Fu...

Jim Carroll

One of the World's Leading Global Futurists, Trends ...

Dr. Michio Kaku

World-Renowned Futurist & Theoretical Physicist

Terry Jones

Digital Disruptor, Author & Venture Capitalist

John Rossman

Former Amazon Executive, Author & Expert on Digital ...

Daymond John

"Shark Tank" Investor; Founder & CEO of FUBU; Presid...

Peter Diamandis

Founder & Executive Chairman of the XPRIZE Foundatio...

Daniel Burrus

Technology Futurist, Business Strategist & Hall of F...

Richard Florida

Leading Urbanist, Economist & Author of "The Rise of...

Jeremy Rifkin

Leading Global Technologist, Futurist, Authority on ...

James Canton

Futurist, Author & Visionary Business Advisor

Geoff Colvin

Editor & Columnist at Fortune Magazine; Author of "H...

Scott Klososky

Enterprise Social Technology Expert, Start-Up Pionee...

Guy Kawasaki

Chief Evangelist of Canva & Executive Fellow of the ...

Marc Randolph

Entrepreneur, Netflix Co-Founder, National Best-Sell...
More like Mike