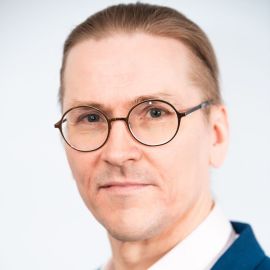 Mikko Hypponen has been working with information security for 30 years. He was selected as the Cybersecurity Person Of The Year in 2020 by CISO Mag.
Hypponen has dedicated his career to combatting security threats, tracking online crime and sharing his work with the world - including his creation of Hypponen law, which states, "whenever an appliance is described as being 'smart,' it's vulnerable." He is a widely regarded security expert who has written on his research for The New York Times, Wired and Scientific American.
Mr. Hypponen is a sought-after speaker, having lectured at the universities of Oxford, Stanford, and Cambridge - Hypponen's TED Talk has been seen by 1.5 million people and translated to 40 languages. In addition to his ongoing research, Hypponen also serves as curator for the Malware Museum at the Internet Archive.
Mikko Hypponen has been the subject of countless interviews in global TV and print media, including a nine-page profile story in Vanity Fair.
Speech Topics
---
Future of Technology
Technology around us is changing faster than ever. We've already become dependent of our digital devices, and this is just the beginning. As connected devices open new opportunities for imagination, they also open up new opportunities for online criminals. - What's happening with attacks linked to cryptocurrencies. - What's happening with machine learning? - Where are we today? - Where are we going? And how are we ever going to secure ten billion new devices that will be going online over the next decade?
Related Speakers View all
---
Pablos Holman

Technology Futurist, Inventor, World-Renowned Hacker...

Misha Glenny

Journalist & Broadcaster, Expert on Southeast Europe...

Ben Goldacre

Physician; Best-Selling Academic & Science Writer

Brian Krebs

Leading Cybercrime Journalist & New York Times Bests...

Geoffrey West

Theoretical Physicist, Distinguished Professor & Pas...

Marco Tempest

Cyber-Illusionist

Maajid Nawaz

Counter-Extremism Activist

Ben Kacyra

Ben Kacyra is the founding director of CyArk, a nonp...

Bunker Roy

Founder of Barefoot College

Pavan Sukhdev

President, WWF International; Environmental Economist

Paul Snelgrove

Paul Snelgrove led the group that pulled together th...

Josette Sheeran

President and CEO of the Asia Society; Former Vice C...

Harald Haas

Communications Technology Innovator & Chair of Mobil...

Mike Biddle

Co-founder, MBA Polymers

Svante Paabo

Max Planck Institute Director, Department of Genetics

Rebecca MacKinnon

Director, Ranking Digital Rights, New America

Anna Dietrich

‎Entrepreneur; Consultant; Speaker; COO & Co-Founder...

Jeremy Gilley

Actor, Filmmaker & Founder of the Peace One Day Non-...

Justin Hall-Tipping

The Energy Evangelist, Justin Hall-Tipping works on ...

Adam Ostrow

Chief Digital Officer, TEGNA
More like Mikko