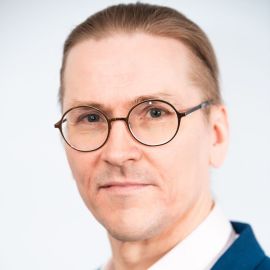 Mikko Hypponen is the Chief Research Officer for F-Secure. He has worked with F-Secure in Finland since 1991. He is known for the Hypponen Law about IoT security, which states that whenever an appliance is described as being "smart," it is vulnerable.
Hypponen has led his team through the largest outbreaks in history. His team took down the world-wide network used by the Sobig.F worm. He was the first to warn the world about the Sasser outbreak, he named the infamous Storm Worm and he has done classified briefings on the operation of the Stuxnet worm.
Hypponen has assisted law enforcement in the U.S., Europe and Asia on cybercrime cases. He has written for magazines such as Scientific American and Foreign Policy and for newspapers like The New York Times.
Hypponen has addressed the most important security-related conferences worldwide. He is also an inventor for several patents, including US patent 6,577,920 "Computer virus screening." He has been the subject of dozens of interviews in global TV and print media, including one in Vanity Fair.
Born in 1969, Hypponen was selected among the 50 most important people on the web by the PC World magazine. He also received the Virus Bulletin Award, awarded every ten years, as "Best in industry".
He has delivered hundreds of talks in over 40 countries over the last 20 years, including keynotes in the most important security conferences. In 2010, he was awarded the Virus Bulletin Award as the best educator in the industry.
He has also been credited by Twitter as helping improve Twitter's security.
Speech Topics
---
Future of Technology
Technology around us is changing faster than ever. We've already become dependent of our digital devices, and this is just the beginning. As connected devices open new opportunities for imagination, they also open up new opportunities for online criminals. - What's happening with attacks linked to cryptocurrencies. - What's happening with machine learning? - Where are we today? - Where are we going? And how are we ever going to secure ten billion new devices that will be going online over the next decade?
Related Speakers View all
---
Pablos Holman

Technology Futurist, Inventor, World-Renowned Hacker...

Misha Glenny

Journalist & Broadcaster, Expert on Southeast Europe...

Brian Krebs

Leading Cybercrime Journalist & New York Times Bests...

Keren Elazari

Cyber Security Analyst, Author & Senior Researcher a...

Ben Goldacre

Physician; Best-Selling Academic & Science Writer

Eric O'Neill

Cyber-Security Expert & Former FBI Counter-Terrorism...

John Sileo

America's Top Identity Theft Expert, President & CEO...

James Lyne

Cyber Security Expert & Information Security Speaker...

Geoffrey West

Theoretical Physicist, Distinguished Professor & Pas...

Marco Tempest

Cyber-Illusionist

Andrew Fastow

Former CFO of Enron; Expert Keynote Speaker on Finan...

Maajid Nawaz

Counter-Extremism Activist

Ben Kacyra

Ben Kacyra is the founding director of CyArk, a nonp...

Bunker Roy

Founder of Barefoot College

Pavan Sukhdev

President, WWF International; Environmental Economist

Paul Snelgrove

Paul Snelgrove led the group that pulled together th...

Josette Sheeran

President and CEO of the Asia Society; Former Vice C...

Harald Haas

Communications Technology Innovator & Chair of Mobil...

Mike Biddle

Co-founder, MBA Polymers

Svante Paabo

Max Planck Institute Director, Department of Genetics
More like Mikko