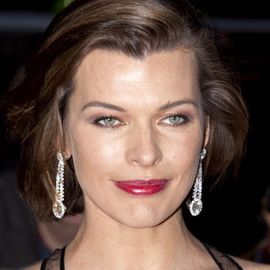 Milla Jovovich (pronounced "mee-luh" "yo-vo-vitch") was born December 17, 1975 in Kyiv (Kiev), Ukraine to father Bogdanovitch Jovovich (Serbian doctor) and mother Galina Loginova Jovovich (Russian actress). In 1981, Milla and her family left the Soviet Union and moved to London, England and then to Sacramento, California, ultimately settling in Los Angeles.
Milla married director Paul W.S. Anderson (director/writer of the Resident Evil series) on August 22, 2009. They have a daughter together, Ever Gabo J. Anderson (born 11.03.07).
Milla and Paul have worked together on the Resident Evil franchise and will team up again for the 3-D version of The Three Musketeers (2011).
At the age of eleven, Jovovich was spotted by photographer Richard Avedon, who featured her in Revlon's "Most Unforgettable Women in the World" advertisements. In October 1987, she was on the cover of the Italian fashion magazine Lei, her first of many covers. In 1988, she signed her first professional modeling contract.
Milla has appeared in hundreds of magazines and on dozens of covers. She has been featured in ad campaigns for several brands, including Banana Republic, Christian Dior, Damiani, Donna Karan, Gap, Versace, Mango, Etro and several others (see "Gallery" dropdown menu above). Milla has been an international spokesmodel for L'Oréal cosmetics since 1998. In addition to L'Oréal, Milla has recently been in campaigns for Chic Outlet Shopping, ICB, Ann Taylor, Mercedes-Benz, Metrocity, and Jacob & Co. Milla starred in 2012 calendars for Campari and Pirelli.
Milla's early modeling led to acting roles, and in 1988 she appeared in her first film role in the romance thriller Two Moon Junction. Her first leading role was in Return to the Blue Lagoon in 1991, for which she was nominated for the "Best Young Actress Starring in a Motion Picture" in the 1991 Young Artist Awards. She appeared on some TV shows around this time and also in the films Kuffs (1992), Chaplin (1992), and Dazed and Confused (1993).
Milla's breakout role was as Leeloo, the perfect being in Luc Besson's The Fifth Element (1997). She later starred in several other action movies, including Ultraviolet (2006), A Perfect Getaway (2009), and The Fourth Kind (2009).
Milla and husband Paul W.S. Anderson have made 5 Resident Evil films to date: Resident Evil (2002), Resident Evil: Apocalypse (2004), Resident Evil: Extinction (2007), Resident Evil: Afterlife (2010), and Resident Evil: Retribution (2012).
Milla has also been in several comedies and dramas, including Spike Lee's He Got Game (1998), The Messenger: The Story of Joan of Arc (1999), The Claim (2000), The Million Dollar Hotel (2000), Zoolander (2001), Dummy (2003), No Good Deed (2003), You Stupid Man (2003), a faux trailer for a non-existent remake of Caligula (2005), .45 (2006), Palermo Shooting (2008), Stone (2010), and Vykrutasy (2011).
In 1994, Milla released her critically acclaimed folk album, The Divine Comedy. Inspired by a love of "elves and magic trees", Milla wrote the lyrics at 15 and recorded the album when she was just 16. Acoustic, folky, and hard to categorize, the eleven songs on The Divine Comedy are laced with Slavic sadness and X-istential self-doubt. "In a Glade" is a beautiful traditional Ukrainian folk song that Milla sings in her native tongue.
Milla led a band called Plastic Has Memory which played about a dozen shows in Los Angeles and New York City in 1999. Although Plastic Has Memory never released a record, they did contribute one song, "On the Hill", to Hollywood Goes Wild, a benefit CD for The Wildlife Waystation.
Milla performed the song "Left and Right" at Fashion Rocks in London, England in October 2003 (MP3). She has also had songs on several albums, including 2 cover versions of Lou Reed's "Satellite of Love" on the The Million Dollar Hotel soundtrack (2000), "Rocket Collecting" on the Underworld soundtrack (2003), and "Shein Vi Di L'Vone" & "Mezinka" (Yiddish Klezmer songs) on the Dummy soundtrack (2003).
Milla has collaborated with Puscifer (Maynard James Keenan of Tool and A Perfect Circle) several times. She sang on "Rev 22:20" on the Underworld soundtrack (2003) and also on the Renholder remix of The Cure's "Underneath The Stars" on the Underworld: Rise of the Lycans soundtrack (2009).
Milla also sings on "The Mission" and performed live with Puscifer at The Pearl in Las Vegas on February 13, 2009
Milla released the single "Electric Sky" on May 18, 2012 and performed it the following night in Vienna, Austria at the Life Ball.
Milla will be releasing an EP soon!
Milla sang on "We Are Family" (2001) (American Red Cross benefit CD), "Former Lover" from Deepak Chopra's album, A Gift of Love II: Oceans of Ecstasy (2002), and "I Know It's You" by The Crystal Method (2004).
Milla continues to write demos. These demos are available here for free. Fans are encouraged to enjoy them and remix them, but may not sell them.
Jovovich-Hawk was a fashion line founded by Milla and Carmen Hawk in 2003. Jovovich-Hawk was a finalist in 2006 for the Council of Fashion Designers of America (CFDA)/Vogue Fashion Fund initiative. Milla's character Alice wore Jovovich-Hawk clothing in Resident Evil: Extinction (2007). Mango released a Jovovich-Hawk for MNG collection in 2007. CNN interviewed Milla and Carmen for a feature on Jovovich-Hawk in 2007 (video). Jovovich-Hawk ended in 2008. Milla is an ambassador for amfAR (The Foundation for AIDS Research) and also supports several other charities, including OCRF (Ovarian Cancer Research Fund), The Dian Fossey Gorilla Fund, Wildlands Project, and UNESCO World Heritage Centre.
2009: Milla attended the Montblanc Signature for Good opening event for the official unveiling of her portrait along with 11 other actresses on February 20, 2009 in Los Angeles, CA. Milla posed as Esmeralda from Victor Hugo's classic The Hunchback of Notre Dame to raise funds for United Nations Children's Fund (UNICEF). Milla's print was sold for $20,000 USD in September 2009
Milla was one of the featured artists in a global campaign titled "tck tck tck: Time for Climate Justice" addressing climate change headed by Bob Geldof. The campaign features a collaborative single recording a reworded version of Midnight Oil's 1987 protest song "Beds are Burning". The single, available as a free download from iTunes is designed to both to raise awareness and act as a "giant digital petition" by those who download it.
2010: Milla was photographed by Helena Christensen for the Tommy Hilfiger Breast Cancer Awareness Campaign. Milla: "As a devote supporter of charitable causes, I really am grateful to be the ambassador for Tommy Hilfiger's initiative to support Breast Health International. To be a part of such an inspirational initiative is an incredible honor, and I hope that through our partnership we can help make a difference in the thousands of lives touched by the horrible disease.
2010: Milla decorated a t-shirt designed by Isabel Marant for auction to benefit Crafts for a Cause.
2012: Representing the US AIDS research foundation amfAR, Milla will join former US president Bill Clinton and others for this year's 20th edition of the Life Ball in Vienna, Austria on May 19, 2012 to benefit AIDS charities. Milla will also be performing her new single, "Electric Sky".
Milla is part of Got Your 6, "a campaign led by the entertainment industry that will help create a new conversation in America, one where veterans and military families are perceived as both leaders and civic assets.
Videos
---
Related Speakers View all
---
Molly Sims

Actress, Model & Lifestyle Expert; Environmental & O...

Ali Larter

Actress, Author & Model; Known for "Heroes" & "Final...

Joyce Giraud

Cast member on Real Housewives of Beverly Hills, Joy...

Kylie Jenner

Founder & Owner of Kylie Cosmetics, Television Perso...

Scarlett Johansson

Award-Winning Actress & Singer; Known for Portraying...

Amber Valletta

Model, Actress and Fashion Icon

Audrina Patridge

Actress, Model & Reality Television Star, Best-Known...

Cynthia Nixon

Actress Known for her Role as Miranda Hobbes on HBO'...

Katie Holmes

American actress on stage and television; Star of ne...

Amy Brenneman

Actress, perhaps best known for her roles on "NYPD B...

Simon Lovell

English Comedy Magician, Card Shark Actor and Con Man

Natalie Martinez

American Acress & Model

Bailee Madison

Award-Winning Actress & Author; Most Known for "Trop...

Ashley Hinshaw

Actress and Model

Anderson Davis

Actor and Model; Starred in the Kraft "Zesty" Dressi...

Paz Vega

Paz Campos Trigo, better known as Paz Vega, is a Spa...

Emily Ratajkowski

Actress and Model

Sofia Vergara

Actress, Entrepreneur, Comedian Known for "Modern Fa...

Randy Fenoli

Fashion Designer & Bridal Consultant; Star of TLC's ...

Yeardley Smith

For the past 25 years she has been the voice of 8-ye...
More like Milla