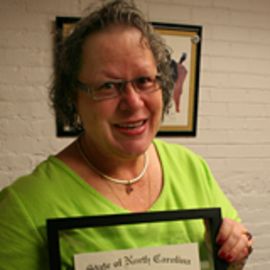 Mindy Sopher
Academic Advisor, visiting faculty member in the Department of Communication at NCSU; Former fraternity/sorority advisor at The University of Memphis, ODU, and NCSU
A Wittenberg (OH) and Bowling Green State University (OH) alumna, Mindy Sopher has a long history of working with college students at her alma maters, as well as Heidelberg College, Grove City College, Memphis State, Old Dominion, and NC State Universities. She now teaches Public Speaking (COM 110), Interpersonal Communication (COM112), and Nonprofit Leadership & Development (COM 466), while serving as an Academic Advisor in OASIS (Office of Advising, Support, Information and Services) at North Carolina State University! She also found some free time to teach Leadership History and Public Speaking courses at nearby Peace College. Volunteer service includes judging a few Greek awards now and then, mentoring a number of Peace College Leadership Studies majors, serving 2 terms as Kappa Delta Alumnae Association President and assisting with the Faculty Advising Development Committee on campus.
Early in her career, Mindy Sopher was a full-time fraternity/sorority advisor at The University of Memphis, Old Dominion University, and most recently at North Carolina State University. She has won numerous awards for her contributions to Greek Life, including a Distinguished Service Award from the Association of Fraternity and Sorority Advisors. She has been honored with top awards from Delta Upsilon and Sigma Nu national fraternities for her service to those organizations. The N.C. State Panhellenic Associations top award is called The Sopher Cup, a testament to the extraordinary respect the students feel toward her contributions to their community.
What really matters is that Mindy is a three-time breast cancer survivor, thanks to amazing medical professionals, friends, and family! Mindy is also deeply involved with her local Susan B. Komen Foundation Race for the Cure.
Mindy's research interests include small group communication, team building, and Community College Outcome Assessments. She has co-authored several publications for the National Initiative for Leadership and Institutional Effectiveness (NILIE) through NC State College of Education. She counts herself lucky to be asked to speak at various honor society, class and community programs, including CSLEPS Leadership Development Series programs on ethics and team building.
Her passions? Cheering for Western Pennsylvania's professional sports teams (Go Stillers!), leadership development, angels, college athletics, Ben & Jerrys ice cream, community service-learning, pursuing wisdom and justice, thinking like Leonardo DaVinci, making huge newspaper hats, struggling through Portuguese and Chinese languages, scrapbooking, African violets, and building the community. Mindy and her faithful bulldog, Queen Victoria, live in Raleigh, North Carolina. When shes not traveling for CAMPUSPEAK, she enjoys teaching non-profit development and participating various Student Life activities on behalf of her beloved Wolfpack.
Related Speakers View all
---
Dr. Lori Hart

Lori has an undergraduate degree in Education from A...

Tracy Maxwell

executive director of CAMPUSPEAK

Rick Barnes

Founder and President of Rick Barnes Presents

Elaine Penn

Nationally Recognized Speaker, Trainer and Performer...

Travis Apgar

Anti-Hazing Activist Involved in a Variety of Activi...

Mike Dilbeck

Founder of the RESPONSE ABILITY Project Chair of RES...

Steve Whitby

speaker of unique style and substance , storyteller

Dr. Kevin Snyder

Award-Winning Author and Inspirational Keynote Speaker

Amber Krzys

Founder of Bodyheart

Erica Austin

Associate Dean of Students at Cornell University

Hajii Otto

Hajii, "The Chill Out Guru"™, is President of ...

Michelle Guobadia

Michelle received her bachelor's degree from the U...

David Stollman

Co-Founder of Campus Speak

Mark Sterner

Mark has been a keynote presenter for the Northeaste...

Angela Rose

Professional Speaker, Author, Humanitarian & Entrepr...

Jason Regier

Jason has been playing Quad Rugby for over 10 years.

Andrea Mosby

A Powerful Speaker Who Truly Believes in Inspiring C...

Erle Morring

Erle received a Bachelor of Arts degree in Public Re...

Trish Downing

Trish has completed over 50 triathlons from sprint t...

Mitch Crane

Mitch served six years as a Municipal Judge in Chest...
More like Mindy