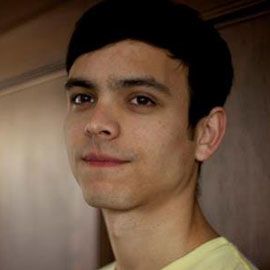 Canadian singer, actor and biology student Mitchell Moffit and his partner Gregory Brown created AsapSCIENCE,the YouTube channel and video series. The channel features simple colored sketches on various scientific topics with voice-over commentary. As of March 2014, AsapSCIENCE has over 2.2 million subscribers and 208 million video views.
AsapSCIENCE was created on May 28, 2012. Its first video, named How to SEE or HEAR the Big Bang, was posted on June 6, 2012. The video explains the history of Big Bang and how people can detect the remnant of it. The duo set out to create interesting videos on scientific topics that are appealing to everyone but not common knowledge. During their research of each topic, they look through published papers and consult scientific journals to find the facts and interesting tidbits.
Their most popular video, titled Which Came First - The Chicken or the Egg?, was posted on January 24, 2013. It attempts to explain the well-known paradox of which came first, the chicken or the egg. As of March 2014, the video has over 14.4 million views.
Mitchell Moffit entered the Best Job in the World contest ran by Tourism Queensland. His entry video had the 3rd most votes among the shortlisted submissions.
Moffit and Brown attended University of Guelph in Ontario, Canada. Moffit is a singer and actor, who studied biology at the university.
Videos
---
Related Speakers View all
---
Kevin Allocca

Head of Culture & Trends at YouTube

Malcolm London

Young Poet, Educator & Activist; Known for his TED T...

Dr. Heather Knight

Creative Inventor & Specialist in Human-Robot Intera...

Joe Sabia

Head of Development at Conde Nast Entertainment, Dir...

Mark Adams

Director at The Audience, Founder at The Social Medi...

Grace Helbig

Comedian, YouTube Personality, Actress & Author

Tyler Oakley

YouTube Personality & New York Times Bestselling Aut...

Rachel Fine

Howard Stern Show / Watch Rachel on Howard Stern's "...

Jon Steinberg

Founder & CEO of Cheddar; Former President and COO o...

Nash Grier

Social Media Guru & Digital Influencer

Sabine Heller

CEO of invitation only social community ASMALLWORLD...

Share Ross

CEO at Video Rockstar University; Speaks on How to G...

Rebecca MacKinnon

Director, Ranking Digital Rights, New America

Moby

Musician, DJ, Photographer

R "Ray" Wang

Founder, Chairman & Principal Analyst at Constellati...

Igor Beuker

World Authority on Marketing and Media

Shavone Charles

Director, Consumer Communications at VSCO

Mike Tompkins

Acapella producer who makes his instrumentals using ...

Chester See

American YouTube personality, singer and actor

Fabrice Sergent

Founder & CEO of Cellfish; Managing Partner at Bands...
More like Mitchell