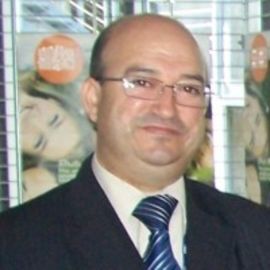 Mohamed Jemni
Mohamed Jemni develops intuitive tools to make the web more accessible for people with disabilities.
In his lab at the University of Tunis, Mohamed Jemni is building e-learning environments for students with disabilities, and improving accessibility for the deaf community by the use of information and community technology (ICT) and sign language -- with tools like the app MMS Sign, which makes mobile phones accessible for deaf people, and the new WebSign, which unlocks web data using an avatar who speaks sign language. (Watch his TED Talk about WebSign.)
Jemni and his lab won the UNESCO Prize in 2008 for their e-learning curriculum for visually impaired people, and the World Summit Award (WSA) Mobile 2010 in the field of social inclusion. He is a member of the steering committee of G3ICT United Nations, the Global Initiative for Inclusive Information and Communication Technologies, and the president of the Tunisian Association of e-accessibility.
Videos
---
Related Speakers View all
---
Ajit Narayanan

Ajit Narayanan is the inventor of Avaz, an affordabl...

Raghava KK

Raghava KK's paintings and drawings use cartoonish s...

Edward Tenner

Smithsonian Institution Distinguished Scholar & Auth...

Kevin Allocca

Head of Culture & Trends at YouTube

Kelli Anderson

Creative Residence, Adobe

Debbie Millman

Writer, Educator, Artist, Brand Consultant & Host of...

Lori Cheek

Architect; Entrepreneur; Founder & CEO of Cheekd

Adam Spencer

Sydney Drive-Time Radio Talk Show Host on Tech and S...

Denise Herzing

Research Director & Founder of the Wild Dolphin Proj...

John McWhorter

American Academic, Political Commentator, and Lingui...

Saki Mafundikwa

Founder & Director of the Zimbabwe Institute of Vigi...

Jake Barton

Principal & Founder of Local Projects

Pablos Holman

Technology Futurist, Inventor & Hacker

Cesar Kuriyama

Director, Producer & TED Speaker; Known for 1 Secon...

Harald Haas

Communications Technology Innovator & Chair of Mobil...

Adam Ostrow

Chief Digital Officer, TEGNA

Marco Tempest

Cyber-Illusionist

Ray Kurzweil

Chairman of Kurzweil Technologies; Inventor; Futurist

Rachel Fine

Howard Stern Show / Watch Rachel on Howard Stern's "...

Anthony Saladino

‎Co-Founder & CEO of Kitchen Cabinet Kings
More like Mohamed